Chris Oglesby
Interviews
Deanna Shoemaker
503 Coffee House
Austin, TX; 8/17/00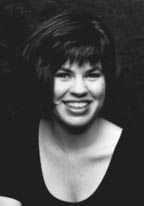 Deanna Shoemaker is a young director, playwright, & performance artist. She was living and working in Austin at the time of this interview, and is now a Porfessor at Monmouth University in New Jersey.

Deanna had moved to Lubbock when she was in junior high school and then graduated with honors from the accelerated "Lubbock Exemplary Academic Program" [LEAP] at the academically acclaimed Lubbock High School.
It was the independent, free-thinking environment of the Lubbock High LEAP program of the early-'80s that provided Deanna the milieu to discover her true calling of Drama.
Like many intrepid West Texans before her, Deanna had to move on to points over the horizon to blossom into the working artist she is today.
After many years on divergent paths, Deanna & I recently spent an afternoon drinking coffee and getting re-acquainted. We shared many common emotions and memories of our wild, free-spirited youth on the High Plains.

---

DS: As we were talking about Lubbock and what's happened with some of these friends we went to school with…I think that there's something about Lubbock that inspires certain people to go really bad. [Laughs].

Chris: Oh, Yes. I agree.

DS: That whole conservative climate and just the bleakness - I think, for some people, it's been pretty destructive.
But for other people, that same exact conservative, sparse landscape…

Really, it's just intense.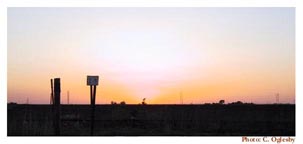 It's almost like being on another planet sometimes.
Like when that sun is going down and you're driving outside of town and there's no trees anywhere and there's like this big red ball of the sun…It's weird!
It's a weird place. For me, when I'm in Lubbock, suddenly all of my head just sort of explodes with creativity! Because there's so much room there!
I lived in Chicago after I left Lubbock; As a Texas girl, I was watching the way I experienced Chicago - having so much less space than I ever had in Lubbock, or in Texas in general. Really, it did something very different to me.
It was hard for me in Chicago.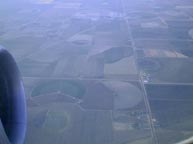 I'd go back to Texas, and I would fly into Lubbock and drive out to Plains - way outside of Lubbock, where my parents live, way out towards New Mexico…
That landscape…
Suddenly I would be having so many thoughts; It was like I could suddenly think in a way that I wasn't able to think in Chicago - because of all the space.
Also the slower life, I guess.
But it's a weird place. It's a "mixed place," for me.
There's some people I know who have gone on and really used where they came from in very creative ways; And there's other people who have just gotten caught up in a lot drugs - kind of the smallness of the life - when they're actually capable of so much more.
Chris: I think that what happened with that one person we were talking about earlier was…It had really gotten to the point where so much of his problem was he had a really strong sense of morality; He's one of the most moral people I've ever known, and I think that he saw so much wrongness and hypocriteness and badness, especially around his own particular environment, that he really lashed out in a way that was very personally destructive.
DS: Yea. That makes a lot of sense. Coming from a pretty prominent family in that town, where everybody knows your name, everybody knows who you are…That must be pretty difficult, too. 'Cause it's the kind of town where the people with the names…I mean, it's not a tiny town at all but there are those "prominent names."
Chris: I think the thing is, he saw so much wrong, I think that nothing was ever gonna be right for him. The "Black & White" thing is very a big deal there in Lubbock.
DS: Do you mean racially?
Chris: I meant Yin-Yangly; 'This or That" - Duality.
DS: "This is Right, and that is Wrong." "This is Good, and that is Bad…"
Chris: "God-Satan" kind of thing, Yea. Exactly. Lubbock doesn't really give you a lot of room to straddle any fences.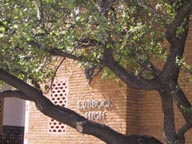 DS: That's exactly why I ended up at Lubbock High School.
I think about, "How did Lubbock feed me creatively as an artist?"
When I first came to Lubbock, I was in junior high and I went to Atkins Jr. High - It was the middle of junior high, so that was really hard 'cause you're already all freaked out about things in general at that stage in life. So all of the people that I was in school with at Atkins went to Monterey, but I'm so glad that I didn't. Because it seemed like Lubbock High provided me with a place where there was a more diverse population of people. You could be a freak and be at Lubbock High.
[NOTE: Lubbock High is the academic "magnet" school in Lubbock, featuring accelerated college prep courses, as well as artistic programs such as dance, music & theatre; One of the most awarded & academically recognized public high schools in Texas. Monterey was, at the time when we were in school, traditionally the more socially conscious school where good looks and athletic ability seemed to be valued more than one's ability to ace the SAT or win State in orchestra. (Of course, this is the opinion held by Lubbock High graduates; I'm sure our readers who went to MHS will take issue. I admit my own bias. LHS Rules!)
Created pursuant to a federal court's requirement that the school board integrate Lubbock High School - which had become more than 90% Hispanic at that time - the LEAP magnet programs began at Lubbock High just two years before I began school there in 1981; Deanna arrived the following year. - c.o.]
DS: [Laughing] I remember all the people…I remember the punks; I remember the deaf guy who was a cross-dresser and wore make-up…
I traveled in between groups. I hung out with who I guess you would call the "Magnet" kids, the Honor Society…
Chris: Weren't you the President of the Student Council?
DS: Yea; In my Junior year. And yet, I had this other circle of friends who were really more like the Mexican-American students - who lived in that school district, who didn't transfer in so they could be in the LEAP Program.
I met lots of diverse people at Lubbock High, and I got to be theater geek. Whereas at Monterey I think I would have been caught up in those "popularity battles" that I was caught up in at Atkins; Like trying to hang with the popular girls but never quite making it because I was a little bit different from them.
I just think I had more space at Lubbock High. I could be a real chameleon. I tried out a lot of different things.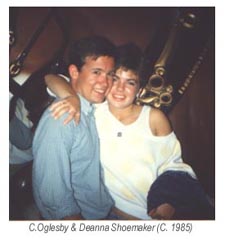 Chris: I met you the first week of school when you were a Sophomore; And you changed a lot, after you came to Lubbock High. I remember a lot of it was you getting into Drama; "Dames at Sea", I think…
DS: That was my "first show"; Yea.
That's where it all started for me, and I'm still doing that kind of work today.
Chris: What did you end up doing? Tell me about your education experience.
DS: After I graduated from Lubbock High, I went to U.T. to the Theater Department for two years and really hated it.
I loved U.T.; but the Theater Department didn't feel serious enough. It felt like a bunch of kids who were gonna drop out eventually. You didn't get a lot of personal attention. So I started auditioning for theater conservatories all over the nation, where the training would be much more intense.
I ended up going to this school in St. Louis. It's a pretty small school called Webster University. I chose them because they have a conservatory but they still allowed you to take more academic classes in the morning. Most conservatories are night-and-day training; But I still wanted to have an education, also.
After that, I went to Chicago and worked as an actor and did some directing for five years. I met my husband there, and then we came back here so I could go to graduate school in Performance Studies, which is not a theater degree. It's in the Communications Department at U.T. but it's a more scholarly approach to performance. It can be more of a theater kind of thing or it can be performance art, which I've done a lot of. It could also be the "performance of culture." Like I could go to Mexico and study the parades and look at how the culture is "performed." More anthropological.
Some people do the "performance of gender." I'm kind of getting into that now, too. Like masculinity and femininity, that those are ways that we perform, certain constructs of gender.
It's much more academic than a straight theater degree is. I ended up feeling like theater programs weren't really stretching my mind enough.
Now I'm back here in Austin, and I don't get back to Lubbock much any more. But I really do look at Lubbock as the place where…I mean, if I'd stayed in San Angelo, Texas - where I grew up - I don't know if I would have had nearly the experience of meeting all these different kinds of people and having a pretty decent theater department at Lubbock High School; doing Texas Tech theater.
I really feel like I got a pretty decent high school education. I worked my butt off. I was this split-personality. I was always the good student, like I would work really hard. But I would also be a part of the "party crowd" and try to kind of keep both lives going at the same time. But I liked the challenge.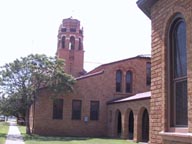 I still think about Lubbock High. I loved that building. I just thought it was beautiful. That is one of my biggest connections to Lubbock still.
Because, as far as "Lubbock music" - thinking about your web-site - I mean, I've been exposed to most of those "Lubbock" musicians through living in Austin. I was clueless about all that then.
One thing that's interesting about the conservatism of Lubbock is that, I really do think I ended up reacting to that conservatism by hanging out with certain crowds of people - I don't know if I should use specific names - But we would go to what they call the Tech Ghetto and find these little clubs that were basically gay bars, what in Lubbock would be very underground, seedy, pretty drug-infested places…But it was great! It was like this whole other world that you could tap into there.
Then you come down to Austin and you can find all of that really easily. But there in Lubbock, it was nice to know that there was something else going on. It wasn't all as conservative as it seemed, or as wholesome as it seemed.
Chris: Maybe that intense need to break out is the well-spring of creativity I'm looking for?
DS: That town drives you to a certain kind of intensity that is either constructive or destructive for you. I wouldn't go back to raise a family there; But I feel like I can really appreciate it.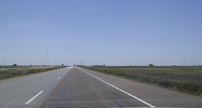 I'm very nostalgic for that Panhandle; the land - the landscape. Because - you know - most people drive through Lubbock and say, "God! What an ugly-ass town!" And the Panhandle: "What a hideous drive!" But as soon as I hit that part of Texas, I feel very connected to that minimalism. I love the cotton fields. I love the big tumbleweeds. Kind of the starkness of the "strip-mall" look. There's just something about it. Everybody going out to eat at Chili's, or all these big chains.
Chris: Little things take on a lot of miracles.
It was a strange thing for me going to college in Lubbock because once I realized that you don't have to be in school for eight hours a day…When I realized the concept of "fifteen hours" means there's only fifteen hours a week that you're required to be somewhere…I mean, that's a LOT of free time! … In Lubbock.
DS: How do you spend your free time in Lubbock?
Chris: It took a lot of energy on my part trying to work other people up to have the enthusiasm to do as much as I wanted to do. I mean, I was just pretty much constantly bored.
I was pretty much the go-to-guy if you were sitting around and didn't have anything to do, you could call me and say, "Hey Chris, you wanta go do something?" And I'd go, "Yea! Lets' go!"
DS: Yea, 'cause there really isn't a lot to do.
Chris: You gotta stir it up a lot.
DS: Do you go back? Do you go back to Lubbock a lot? I mean, your family is still there.
Chris: Yea. I've been going back a whole lot more the last couple of years, with all this Lubbock involvement….
DS: Sure. I wonder if it's changed much? If it feels like it has?
Chris: Yea. I mean, everything changes. One, it's a lot bigger; Two, it's a little bit "cooler," really. I think it's gotten a little bit hipper. I think Rock-n-Roll has kind of been around enough, and people aren't terrified of Black people anymore.
DS: Yea. It was a weird place, racially.
Chris: I think it's [the City of Lubbock] a little bit cooler. But it's still super-gung-ho conservative. I don't know; I always have a good time whenever I go back. But I don't have to live there.
Tell me what you're doing in Austin; I hear your name on the radio occassionally.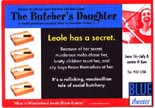 DS: Oh, yea! That was probably the workshop production of The Butcher's Daughter. We did a staged production on the radio; I mean, it wasn't just a reading. I had actors on their feet and we actually had a live band there in the studio. The show has a live band. The whole show is scored, basically.
So I've done that type of thing. I've done a lot of performance work in the Ph.D. program.
Chris: Were you involved in writing The Butcher's Daughter? I mean, was this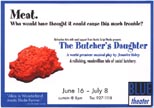 Jennifer Haley a friend?
DS: The woman who wrote it - Jennifer Haley- is a good friend. This was done by a group of artists who all of us are connected in very weird ways. I know some of the artists through my college in St. Louis; I know some people from moving here; there's this intricate web of people. But it's a group of artists who've done a lot of work together before. Jennifer was part of a theater company here in Austin, and had moved to Seattle.
But I had always loved this play; so I directed it. It's about a girl with a butcher knife for a hand, and I just think that's a really great idea. It's kind of a metaphor for being socially ostracized.
I've done lots of other work here, too. I've written some of my own pieces and performed them at Frontera Fest at Hyde Park Theater [in Austin]. They do Frontera-Fest every year, a big festival where tons of people can do short performances. I've done several things there.
Done some kind of weird performance-art work at U.T.
Chris: What's "weird performance-art work?"
DS: Well, I guess I say that because most people have these ideas about performance-art being really goofy and abstract. [Laughs] It's definitely more experimental than my high school Dames at Sea production. [Laughs]. But just based on some of the stuff I'm focusing on in graduate school.
Chris: And then do you have any long term…
DS: Goals? [Laughs] Yea, my 5 year plan & my 10 year plan…[Laughs]
Chris: I don't want nail you down to anything but I'm just curious. I mean, it's been a long time since I've seen you.
DS: No, I don't. I don't ahve any plans. I mean, everybody thinks that when you get a Ph.D. you're gonna go teach at a university and do all that. And I'm a little bit suspicious of that 'cause it's a very competitive, very high-stress life. So I may try to use it in a less traditional way and teach part-time, and direct and perform. 'Cause it seems like once people end up going into teaching, they have no time to do artistic work at all, and that's where my passion is still. So that's really what I wanta keep doing.
It's just so hard to make a living doing what you want to do.
Chris: It is. [Sighs]
DS: I've never done anything that is practical, that would lead me to a real practical kind of job. Even this Ph.D. is not that practical.
Chris: Yea. I've done some things that would lead to practical jobs, and I've never found a practical job that I really wanted to do, unfortunately. [Laughs]
DS: That you could live with, right.
Chris: I tried. I was a candidate for practical jobs but I never found one that I liked.
DS: Well, what about you, as far as your life in Lubbock? I mean, do you really see yourself being here, or what?
Chris: I've tried to get away so many times from Austin. It's always getting so big, and I'm always trying to leave. I moved to California a couple of times. And I tried to go back to Lubbock a couple of times, and every time something ended up happening.
I'm just stuck in this unfortunate position of trying to make a living while trying to be creative. It's like working two jobs. It's tiring but I guess it's going forward because that's what I want to do. I don't really know what's gonna happen. I guess some day somebody will appreciate it. [Laughs] So I just keep trying to go forward with these things that interest me because I feel like you gotta do what's…the stuff that drives me forward.
But the stuff that I do during the day to make money: I feel happy with what I'm doing but I feel like it's sad that I have to spend so much time sustaining things that are really kind of silly, like furniture and a car…
DS: That's exactly…That's always been my struggle. And there's the perception of people around you. Like, "You're still doing that 'art-thing?' You're still bringing in poverty-level wages? I mean, when are you gonna grow up?"
Chris: That is it. It is that.
DS: I think being married makes a difference for me. I mean, there's this perception of, "Well, okay. At least she's married…"|

Return to Interviews or Home
---
Do you like the interviews you have been reading on virtualubbock.com?
Buy the book by author Christopher Oglesby
Fire in the Water, Earth in the Air:
Legends of West Texas Music

"As a whole, the interviews create a portrait not only of Lubbock's musicians and artists, but also of the musical community that has sustained them, including venues such as the legendary Cotton Club and the original Stubb's Barbecue. This kaleidoscopic portrait of the West Texas music scene gets to the heart of what it takes to create art in an isolated, often inhospitable environment. As Oglesby says, "Necessity is the mother of creation. Lubbock needed beauty, poetry, humor, and it needed to get up and shake its communal ass a bit or go mad from loneliness and boredom; so Lubbock created the amazing likes of Jimmie Dale Gilmore, Butch Hancock, Terry Allen, and Joe Ely." - University of Texas Press