Fire in the Water, Earth in the Air: Legends of West Texas Music
by Christopher Oglesby
Published by the University of Texas Press:
"As a whole, the interviews create a portrait not only of Lubbock's musicians and artists, but also of the musical community that has sustained them, including venues such as the legendary Cotton Club and the original Stubb's Barbecue. This kaleidoscopic portrait of the West Texas music scene gets to the heart of what it takes to create art in an isolated, often inhospitable environment. As Oglesby says, "Necessity is the mother of creation. Lubbock needed beauty, poetry, humor, and it needed to get up and shake its communal ass a bit or go mad from loneliness and boredom; so Lubbock created the amazing likes of Jimmie Dale Gilmore, Butch Hancock, Terry Allen, and Joe Ely."
"Indeed, Oglesby's introduction of more than two dozen musicians who called Lubbock home should be required reading not only for music fans, but for Lubbock residents and anyone thinking about moving here. On these pages, music becomes a part of Lubbock's living history."
- William Kerns, Lubbock Avalanche Journal
---
---
Chris Oglesby interviews
Doctor Skoob (aka Doug Haines)
January 5, 2008 @ Author's home in South Austin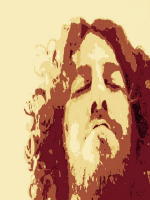 Chris: Before we start, do you prefer to be called Doctor Skoob or Doug Haines?
Skoob: Well, Doug is my name.
Chris: Let's clear this up: Are you Doctor Skoob, or is that the name of the band? What is the difference between Doctor Skoob and Doug Haines?
Skoob: I got nicknamed Doctor Skoob by a bass player I used to play with named Jesse Dalton; Jesse plays with Green Mountain Grass now. Jesse is kind of smartass. I had this Skooby Doo T-shirt which I guess I wore more than I realized. My mom has that shirt now because I'm not allowed to wear it anymore. One day when some girl asked us what the name of our band was, Jesse looks up, points at me and says, "Well, that guy over there is Doctor Skoob and we're the Snack-tones." Since we didn't have a name yet, we became Doctor Skoob and the Snack-tones. We eventually dropped the Snack-tones part and the band became known as just Doctor Skoob. That was right around the same time I started playing with Los Sonsabitches.
Chris: You aren't originally from Lubbock; so how soon after you got to Lubbock did you start playing in bands? Go back to how you first got to Lubbock and then tell me about Los Sonsabitches.
Skoob: I came to Lubbock on accident. I was on my way to California. I have a friend who had inherited a cabin at Lake Tahoe; he and I were going to live out there and be ski bums. At that time, I did not play guitar or anything do to with music. I did own an atrocious looking green guitar, which I had bought only because I just happened to be driving by a music store right when I heard a radio advertisement they were having a going-out-of-business sale, but I had never played the damn thing. I was living in College Station at the time, where I was an Aggie for two years. My mother grew up in College Station, so with family ties there, A&M was the only school I had even applied to. I had taken a lesson or two on the guitar but it just wasn't really clicking for me at the time.
My friend was someone I had gone to high school with and lived with in College Station but he had already moved out to California ahead of me, where his family was originally from. I was going to meet him out in Tahoe, and I was driving a 1986 Suburban at the time, which we all called "Urb." This was in 1994. I was just getting the hell out of Texas when the transmission went out in Post. While I was waiting to get the transmission repaired, I stayed with a friend of mine in Lubbock and ended up blowing most of the money I had saved getting the transmission fixed. So I was stuck in Lubbock. My friend in Lubbock is a girl who needed a roommate for that summer, so I lived in that house at 27th and Avenue Q for awhile. I ended up liking Lubbock for some reason - I don't know why - and ended up just settling there; I still had enough money saved up to cover the cheap rent but not enough to move on to California.
When the summer ended another guy and I moved into a place on 22nd and Q. It was in that house where we had a storm door which was loose and always swinging back and forth in the wind. One night, it was a friend's birthday and we were having a party. I went out in the backyard and the door swung at me; I put my hand out to keep it from hitting me, and my arm went right through the glass. I cut the crap out of myself, so bad you could see the bone. I told my roommate to call 911; I was fairly calm but kind of in a daze, so they took me to the doctor. The only reason this is important is because, had I been somewhere else other than Lubbock where they have lots of farming accidents, the doctor might not have been near as qualified to work this injury. The doctor did an amazing job repairing my hand; turns out he's one of the top people in his field of repairing hands. As my hand got better, I made up my mind that I was going to start playing guitar because that was at the top of the list of things I would regret never having been able to do if I didn't get the use of my hand back, almost like a near-death experience. After I injured my hand, my father and I made a deal that he would pay for my medical bills if I would continue to finish college, since he was disappointed I had dropped out anyway. So I stayed in Lubbock and became a Tech student for awhile. To be honest, at A&M I was still too wild and immature for college, but when I enrolled at Tech my first three semesters I earned a 4.0 GPA. I got into school more and enjoyed my classes. So the hand injury gave me a whole new lease on life.
I took guitar lessons from David Brandon, who is a world famous classical guitarist. He frequently plays with Christopher Parkening, who wins all the Grammy's for classical. David is his partner and lives in Lubbock, Texas. David taught me, and he taught my friend Shad Daugherty. He's an amazing teacher and has been teaching guitar since he was about eleven years old. He has a way of explaining things; I had had lessons before and never got it and after just a couple of lessons with David, I was playing and I was hooked.
Chris: How did you get connected to David Brandon?
Skoob: He was the only guitar teacher listed in the Lubbock Yellow Pages at the time.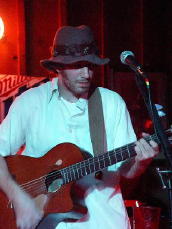 Up until that time, I had been trying to be a writer; I was working on a novel and couldn't finish. Once I learned chords on the guitar, I realized that I could write songs a lot quicker than I could write a book, say what I wanted to say, and actually complete them. That's how I became a songwriter.
Early on, I wrote a bunch of songs and was playing guitar a lot but I didn't have the guts to actually get out on stage and play anywhere. Some friends talked me into going to an open-mic night at the Recovery Room at the Lubbock Inn. It was my first open-mic, and they asked me if I wanted the regular Thursday night gig. That's how I got my first regular gig. I played my original songs and a lot of John Prine, Roger Miller, and Donovan covers. They were great because no one knew those songs; everyone thought they were originals.
Chris: Briefly describe the Recovery Room.
Skoob: They have these machines on the ceiling which are supposed to suck out all the cigarette smoke, but they are never on so it is just a cloud of smoke in there. It's a hotel bar that looks like something out of a Bukowski novel; it is dark and shady, built in the 'seventies. It has a great jukebox. There is always someone in there playing music, and they are not getting paid shit. It's a great place to drink in the afternoon because it's dark, so you don't feel as bad about it. It technically is a hotel lounge.
I played a couple of other open-mics around town, when John Sprott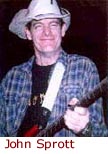 complimented me on my version of Neil Young's "Needle and the Damage Done," which was actually me forgetting the words and making up different ones on the spot. Sprott said, "I've never heard that version; it was great." Around Lubbock, there is a story about Sprott and D.G. Flewellyn collaring Pat Green when he was still at Tech and telling him to stop giving it away, that he needed to charge more for his shows because he was too good and he was taking too much money out of the other musician's pockets. The story I heard was that Pat Green came from some family money and would just pay his band out his own pocket and play for next to nothing, if anything at all. The older guys informed him that he needed to charge for his shows because it was taking food out of their families' mouths. They ended up talking to me about the same thing but they were much nicer about it. There came a point when some of the older musicians around Lubbock sat me down and said, "You've cut your teeth, and now you're good enough to start charging more." They were very nice and I took it as a compliment but they explained exactly what they thought I ought to be charging.
I have always played lead guitar like B.B. King or Jimmy Vaughan, where there's a lyric and a run; I don't play a lot of chords or switch back and forth. Right about the time Sprott and D.G. confronted me, that is when I hooked up with Los Sonsabitches and I played lead guitar for them. Los Sonsabitches describe their music as alternative meta-country: comprised of Bryan Wheeler; Matt Lara, from Amarillo, on accordion, harmonica, and didgeridoo; Jeremiah Goyette was in and out of the band; a girl drummer named Amanda Keys; Shad Daughtery joined later. Bryan Wheeler is an artist who I had met around the Hub City Brewery; he and his brother Jeff Wheeler did all the chalk board drawings there. Bryan and Jeff used to host these art and music events called Ulterior Motifs at their downtown studio. I had gotten to know Matt Lara through mutual friends and he asked me to try out with them as lead guitar when Jeremiah was going to Buffalo for that summer. Bryan Wheeler, a/k/a Bubba Earl, is probably my all-time favorite songwriter; the guy writes amazing songs and he throws a lot of curve balls. I made it through the audition and hung in there. We were all pretty early in our careers, so the fact that I even made it through the rehearsal was impressive to him so he asked me to come again the next day. I learned a lot about running a band from Bubba, some of it good and some not so good. One thing Bubba has always done is that it is usually every man for themselves, sink or swim; you are not going to get a lot of talk about what key the song is in; you are expected to just be ready to go. Any time anybody sits in with Los Sonsabitches, you know they are good. If someone tries out with us and stumbles through it the first time out, usually they won't last. We are spontaneous, especially when we play live; it's a feeling thing. If you don't feel it the first time, you probably won't feel it the next. If you work toward it and eventually get it, that's great; come back and see us then.
Chris: How does Los Sonsabitches describe its music?
Skoob: If you go to their MySpace page, it is described as "alternative meta-country." When I first started with Los Sonsabitches, they were trying to be a country band, and they called themselves Bubba Earl and the Panhandlers. Bubba Earl is primarily an artist, first and foremost. As great as Bubba is at writing songs, music was always his side-gig and he never really took it that seriously. When I first joined them, we shot around some other names, like The Drunken Assholes; Faces for Radio was another good one. When someone came up with Los Sonsabitches, I wanted to go with that because, in a lot of ways, it was really the least offensive one. Another suggestion was I Chingaderos, which Bubba had used before but had gotten in trouble with the Lubbock Avalanche Journal because they finally figured out what it meant after they already had been printing promotions for his shows. For awhile back then, we would show up for gigs and play under a different name every time, like the Idalou All-Stars, the Janet Reno Project, or Marty McFly and the Flux Capacitors. We played Einstein's Coffee a lot back then, around 1996-97.
Chris: Did you have good crowds and were you making any money at it, or were you just doing it to get drunk and laid? What was keeping you interested in being in the band?
Skoob: We didn't make any money at all. We were really just starting out. For me, I had gotten completely absorbed in music, and I wanted to play all the time. I got pretty good at lead guitar but I got to the point where I knew that I wasn't going to get any better at lead. Bubba always leaves Lubbock in the summers, and he took off about this time. I did one or two more gigs where I fronted the band and we used some different guys. That's when I put the Snack-tones together but that band was not together very long because there were two young kids in the band, nineteen years old, and neither made their grades so they both had to go back to their hometowns. While I was in school, I spent very little time on school work; I'd go to class everyday, take really good notes, read the notes right before the test, and I slid through like that. I was spending all my time practicing and writing music. But I had really never run a band yet. Jesse, the bass player who named me Skoob, really ran the Snack-tones, although we did do some of my original songs. And I had played with Bubba and tried to use his band while he was out of town; there were some great moments but there were also some train wrecks. So I was getting my first taste of being in a band and all that.
Well, I graduated from Tech, and I just decided that I was going to move to Oregon. I wasn't tied to Lubbock anymore, so I took off for awhile. I did move to Oregon and tried to play some solo gigs as Doctor Skoob, but I just could not get a gig out there. I dropped off CDs at several venues and didn't get a call for about three and half months, and I hadn't even been able to get a job delivering pizza because the economy there was crappy. A friend offered me a job building decks in Colorado. I had never built decks but I was willing. I took advantage of the mountains, did some rock climbing, but I wasn't spending any money. I wasn't really playing much music because my hands were so torn up at the end of each day; although I was writing a lot of songs. I'd pick up the guitar just long enough to write the song. I did play a couple of gigs at a local bar in Arvada, between Boulder and Denver but not much. Solitude is good. I was building up a stack of songs.
I came back down to Lubbock to record what originally was going to be a demo but became a full twelve song CD. I came back to Lubbock because I could pretty much record it for free there. John Williams from Los Sonsabitches and Bubba Earl had gotten hold of a studio space in the old Masonic Lodge in downtown Lubbock. That's the place where they later held their Ulterior Motif parties. They lived in the back of that place and set up the computer and sound system for their own studio. We recorded my first record there, called "Where Sleeping Dogs Lie." It was an interesting record because it has a lot of really odd instrumentations, like the mixture of trumpet and banjo. I am always interested in unusual combinations of instruments; and I think the accordion with anything is interesting. Matt Lara played accordion, harmonica, and hand drums. John Williams mixed the sound and did all the bass parts. Nic Shute played trumpet. Austin Davis on electric banjo; he's a kid phenom, extremely talented.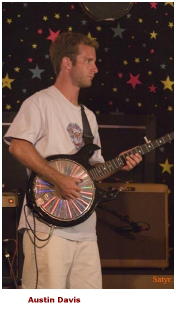 I played the rhythm and lead guitar, both. We knocked out all twelve songs in about in week. To me, the highlight of that album is a song called "Brenda," which is about a girl who steals this orca-fat guy's remote control and thus his heart. That is the hidden track at the end of the CD but turns out that is the one song people like best off that album. It's funny because it was a total joke which I wrote in about fifteen minutes in the studio while John was recording his bass parts. For the backup vocals, we decided to go to the Hub City Brewery and get smashed and then come back to sing it, so the backups are all off-key and horrible sounding. It was meant as a joke but that song caught on and people like it.
Working with all those guys on that record, I felt like I was home again. Oregon and Colorado never felt right. I came back to Lubbock because I feel comfortable there. After a week and a half in Lubbock working on that album, I called my friend in Colorado and said, "Dude, I am not coming back; I'm staying down here."
Chris: Was your plan to start making it now as a professional musician? Recording more? What were you going to do in Lubbock?
Skoob: I don't think I had much of a plan still. That same first week, I picked up a job from Jason Courtney, who was the brewmaster at Hub City Brewery; he and his wife Sarah owned the home brew supply store across the street. They asked me if I know how to use a scale and I said yeah, so I was hired. We'd get maybe two customers a day, and half the time one of those was trying to walk into the barber shop next door or people who were just curious. All the customers who actually did homebrew knew exactly what they wanted so really all I had to do was work the register and weigh out hops, one of the easiest best jobs I've ever had. I did that until they sold the store.
During that time, I was doing a lot of weird performance art things. I had written a couple of scripts, and we did one of my plays, which was a disaster because I had never directed a play before but it was fun and funny; it did get a good reaction. When Matt Lara and I get together we come up with these bizarre ideas, and a lot of times we'll actually try to do them. One night, Matt dressed up like a German organ grinder and I dressed up like a monkey. Matt had printed up some crazy manifesto to pass out to all the drunk kids down in the Depot District, on the corner in front of Clouseau's; Sgt. Steve Monday was playing there that night. I got in full-on monkey character, including simulating the throwing of feces and humping people's legs. We had a sign that said, "Give me $5 or I'll kick the monkey." Everybody tried to give us five dollars for a chance to kick the monkey, so I was constantly having to run away from these drunks but I never broke monkey character. Another friend of ours filmed it and we actually showed it at an art show, where it got a great response.
Chris: Okay, so tell me, how was this helping your career?
Skoob: This helped my career because Fletcher Murchison, the mandolin player, walked by when we were doing this. He was going in to see Sgt. Steve Monday. That was the only time I broke character. I ran over and grabbed him and told him I was starting a new band and would he be interested in playing with us?
Chris: Yeah, the guy in the monkey suit…
Skoob: Well, Fletcher and I already knew each other. Fletch had tried out for Doctor Skoob and the Snack-tones on guitar but the problem with Fletch was that I was the lead guitar and he's far better than I was, so I couldn't let him in the band at that time. Actually, another guy named Brian Hamilton (everybody calls him Bone, like hambone) tried out for the Snack-tones and didn't get it for the same reason, and he's now the amazing guitar player in a band called Yamn, which is pretty big on the jam band circuit. Bone grew up with Jesse, the guy who named me Skoob. I could do an entire interview about great players who tried out to be in my bands. But getting Fletcher in the band was the start of putting together Doctor Skoob and the Acoustic Groove.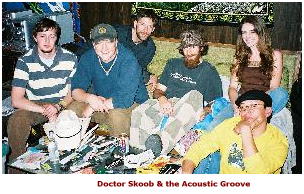 I shopped the demo CD around and the Spoon called to book me. We had a regular Monday night gig and a lot of people came out. It was mostly college kids in the jam band crowd, hippie deadhead types, although we weren't really a jam band then; we were an accordion, guitar, and mandolin although we did have a hand drum, which is kind of hippie. We started picking up other gigs, and the steady Wednesday night gig at Jazz is when we really started to get big in Lubbock. Jazz became the place to be on Wednesday night. By this point, there constantly were guys coming in and out of the band, to the point where, when I booked a gig, I didn't always know who was going to show up to play. Matt moved to Austin. Fletcher joined a bluegrass band. Nic was just filling in at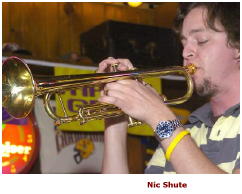 first but he stayed with me the whole time, and his trumpet became what a lot of people think of as our sound. But I was the only person who remained constant in the band, so I was Doctor Skoob by default. I have had a dozen different guitar players and I'm always open to different things, like the banjo.
We were playing all the right places at the right times, like Jazz and Crickets because we had gotten popular enough that we were able to book anywhere we wanted. Also, I was on the bill at all the Ulterior Motif parties and those did a lot for our exposure because they bring in a lot of people who would have never seen you or heard of you. Once we got good enough, everyone remembered our name. And we were different; for one, we didn't play any cover songs, or if we did they were very obscure.
Chris: That's interesting, because I frequently hear people say that to survive playing music in Lubbock you have to play cover songs because that is all anybody wants to hear but then the bands that end up being really popular are the bands with the balls to play their original music.
Skoob: Yes, you're right. It is tough, but like I've told Andy Eppler, you just gotta keep doing it. Andy is good; he's holding true. It's like giving a kid medicine; the audience may not want it so you have to sweeten it up so they'll like your stuff. You react to the crowd and play off their emotions, sense what they're into and take the show more that direction; interact with the audience. We've done as well with teenagers as with much older crowds, y'know people older than me.
Chris: So you developed a good crowd, earned the respect of your musician peers, things seemed to be going fairly well for you in Lubbock. I may be jumping ahead here but I'd like to know how you made the decision to become another Lubbock musician in Austin?
Skoob: By that point, I was already fully committed to music. There was nothing else I could do, or at least nothing else I was that good at. I was making a living at it, not a great one but I was making enough money to survive just playing music. Eventually, I wanted to be on the road and tour. I felt that if I kept playing my original music in Lubbock, then everybody was going to get sick of me. I wanted to get on the road and get the songs out there because nobody is going to hear them unless I play them. I had gone on a four or five week tour with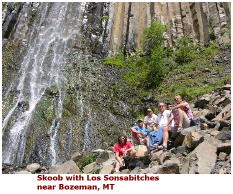 Los Sonsabitches up through the Pacific Northwest and back down the coast; we played about twenty gigs. And my band hit Taos and Houston and Austin. We came down to Austin fairly regularly. I knew we played well to diverse crowds because we had always done well every place we played, so I really wanted to be on tour.
However, the musicians in Lubbock, most of them, are very set on just being in Lubbock. They don't want to go on the road, for whatever reason…day job, school, whatever. There is just not a big enough pool of musicians who are willing to go on tour.
I decided to move to Austin because I felt like I had gone as far as I could in Lubbock. I still love Lubbock and it is still one of my favorite places to be, even more so to play. But it got to the point where I thought I had to get to Austin where the industry is. The music industry in Lubbock is pretty much nonexistent; there are a couple of good recording studios but nobody is really pushing anything local. I couldn't even get the college station KTXT to play my records, which blew my mind. I hate to get into this, but they do not play enough local music in Lubbock. Every once in awhile a deejay will play something local but usually because it's by one of their friends. When I was in school, I even deejayed a jam band show on KTXT for awhile, called Electric Kool-Aid. That's how I met Sgt. Steve Monday and thus Nic, who plays with them, because they gave me their CD to play. I was always down for playing local music because if the college stations don't play it, no one will. But my record got more play on FMX than KTXT.
Chris: I've noticed that since you've been in Austin, you have played in Lubbock several times. In fact, I believe you're going back to Lubbock for another gig tomorrow. I don't mean this facetiously but do you ever play in Austin, now that you're here?
Skoob: When I got down here, I don't think I realized how burnt out I was. I was playing easily two hundred and twenty shows a year for the past three or four years.
I had saved a bunch of money before I moved here, and I definitely suggest to any musician that you have some pocket money when you move to Austin because the cost of living is much more here than other places in Texas, certainly much more than Lubbock. And I can live on next to nothing. More than playing music, I was really burnt out on the effort to book gigs. That work really takes a lot out of me. The first couple of weeks I was in Austin, I got thrown a lot of gigs from bands that I knew already. Cellus and the Loose Grip had me come out and play at a number of their shows on 6th Street. Matt Lara's current band Winchester Twin had me play at a few of their shows at Saxon Pub. All the Austin gigs I have played so far since I've been here are ones that just fell in my lap. To answer your question, the reason I have been playing more gigs in Lubbock since I've been in Austin is because I have gotten more calls from Lubbock since I've been here. Lubbock misses me as much as I miss it, which is good. I still haven't gotten back into the swing of booking my own gigs, and I've just been getting my feet wet here in Austin. Also, I had kind of been waiting for Shad Daughtery to move down here, and he is coming back with me to Austin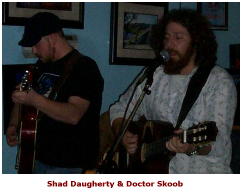 when I get back from a trip to Taos next week.
Chris: Shad is moving to Austin; so Lubbock is losing another good guitar player to Austin, huh?
Skoob: Shad, a/k/a Kid Shadow was a fifteen year old phenom. When he was a kid he would play on stage with people like Jr. Medlow and the Texas Belairs. The Texas Belairs wanted to take him on tour when he was only fifteen but his mom wanted no part of her child traveling the country with the Mings brothers. But he was that good then. He grew up and played in Orange County and a couple of other bands. He moved to a town in Illinois near Chicago where he got a job working for Washburn Guitars. He eventually came back to Lubbock, where I met him through Mike Bee, who played drums for me and Los Sonsabitches, and now he plays for Cellus and the Loose Grip. Mike introduced Shad to Bubba because they needed a guitar player. Shad have never seen me play but apparently had been talking shit about me, saying Doctor Skoob is over-rated. When we met, we got along much to Shad's surprise. Later, he came and saw us play and he actually liked the show. There came a time when I needed a bass player at the last minute and Mike suggested Shadow. I asked if he could even play bass, and Mike said, "Dude, Shad can play anything." As great a lead guitar player he is, Shad is probably the best bass player I have ever worked with, and I have played with some really top-notch bass players. Shad has a great ear and knows when to play and when not to.
I hate playing solo; I just don't enjoy it as much as playing with a band. I like to have somebody to interact with. Shad is probably one of my favorite people to do that with. Also, he and I get along real well; he calls me on my bullshit and I do the same thing with him.
Chris: What should people expect when they see a Doctor Skoob show? Is it more about the music or the lyrics?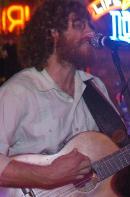 Skoob: It varies. It is always pretty much the same songs but always different versions and takes on them depending on who I have playing with me that weekend. Regarding music and lyrics, it's both; how the music makes the lyrics work. A lot of the lyrics to my songs are kind of sad but playing in bars, I learned early on, you can only get away with playing so many sad songs before you lose the audience. The lyrics may be sad or pissed off but we present them in funky upbeat versions, to make it more listenable. When somebody asks me to describe our show, I stumble because I don't really give it much forethought. I have absolutely no idea what genre we are but I call it Cosmic Americana; we are probably a folk-rock band at heart. I don't think about what message I am trying to convey; I just write the songs as they come to me without really thinking about what anyone should get from it. Usually the presentation is just how we feel that night. Its just music; I try not to overcomplicate what it means.
Chris: Do you prefer people to be dancing and not listening to the lyrics or do you prefer that they stay seated and listen to the words?
Skoob: I prefer to see people get up and dance, then you know they are having a good time and that I've done my job as an entertainer. Cary Swinney has said that he likes my music but he can't understand the lyrics; that's cool with me. That's why people are supposed to buy the albums, because in a crowded bar, odds are that you're not going to be able to understand me.
Chris: Speaking of lyrics, I wanted to ask you about one song in particular which I really like on your Gringo Sol record: "Vegan Interior." Tell me about the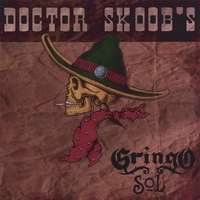 origins of that song and where the title came from?
Skoob: That is a perfect example of a rare song where I actually was trying to say something rather than just tell a story. It's about making fun of the pseudo-hippie culture that you see now, because I was part of that culture. I had dreadlocks at one time, and I went through that phase. I was kind of coming out of that phase around the time of my second move back to Lubbock. The story about where the title came from is a funny story. I was traveling on Interstate 94 going from Chicago to my sister's house in Milwaukee. A friend of mine who was with me had noticed a car which had passed us several times which had a bumper sticker that says "Go Vegan." They all had dreadlocks, and were all hippied out. I said, "So what?" And he told me to look at the interior of their car and it was all leather. That's where the name "Vegan Interior" came from.
I hit a point in my life where that pseudo-hippie culture had been a fun phase but it was time to grow up. That lifestyle is not anything that anyone should really take too seriously; it's a right of passage but it's silly to take your hippie-ness too seriously. You can still smoke pot without making a religion out of it.
Chris: I lived in northern California for awhile and a lot of those people think Jerry Garcia is Jesus Christ and they are worse than Baptists, in that if you don't dress the right way and know the correct canon of the Gospel of Jerry, then you are an ignorant, unwashed outcast. To me, they are naive hypocrites because it is obvious they don't get a word Jerry Garcia was saying. No wonder he was a heroin addict and put himself into a junk food coma for several years. Jerry had a this horde of worshippers who weren't even hearing a word he was telling them, which is to live their own life and not follow the standards of society or some charismatic leader.
Skoob: That is exactly what "Vegan Interior" is about. The first line is "So you say you want to be a hippie..." and the whole song is calling these people out on their hypocritical shit; like these tour kids who drive across the country for a show in their range rovers and SUVs, or they preach to you about saving the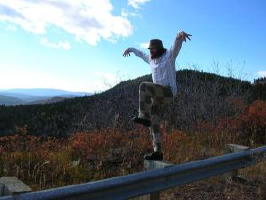 environment while handing out thousands of paper fliers which end up in the trash.
Chris: When you're performing that song, is it popular with those kids?
Skoob: Actually, I lost the hippie crowd in Lubbock over that song. It has a reggae beat, and they liked it at first but pretty soon they caught on and they all thought I was Judas. The deejay who took over my Electric Kool-Aid show at KTXT played the song and afterwards said, "Wow, that was kind of harsh," and as far as I know they never played us again.
Chris: Can you sum up how your experiences in Lubbock had affected you as a musician?
Skoob: Straight up, I would not be a musician if I had never come to Lubbock. Lubbock is one of those towns where the artsy musicians and cool kids all find each other somehow. It's always been like that, even back to the days of Buddy Holly or later Joe Ely. You just end up meeting other people who love music and can play. Lubbock is small enough that coincidences inevitably lead you to meeting other people who share your love of music. My whole life and career have been by accident. I never had a plan, I just wound up there. Same with the way I write my songs, I don't have a plan when I write them but they eventually evolve into something after working them out with other musicians.
END of Interview
video of Doctor Skoob at virtualuubock.com party 2/14/08

more video
Return to Interviews