Chris Oglesby Interviews
HUMAN
Jason Frankhouser, Chris Mosser, Greg Watkins, & Kerry Mosser
at The Music Lab
Austin; 12/6/00

Congratulations to HUMAN -
Named "AUSTIN'S BEST METAL BAND"
by The Austin Chronicle at South x Southwest 2001!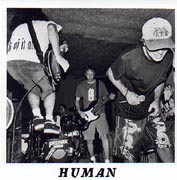 Chris: Here we have the Heavy Metal band Human:
Jason Frankhouser, Greg Watkins, Chris Mosser, and we're missing Kerry Mosser, right?
CM: Kerry has a sick-headache. He couldn't make it tonight.
Chris: What is everybody's part in the band?
CM: I'm Chris, and I play bass; My brother Kerry sings.
Greg: I'm Greg, and I play drums.
Jason: I'm Jason, and I play guitar.
Chris: Jason, you were telling me earlier that this recording equipment here is yours. So you produce y'all's records on your own? The whole concept is something you put together?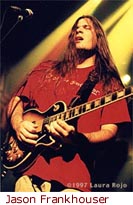 Jason: Yes. But it's not like I produce by myself. I do all the engineering and the mixing, but I don't ever just do it and then bring it to the rest of the band and say, "Here. It's done; That's what it is."
We all have a say in the sound, so it ends up being a "Produced by Human".
CM: Jason sits at the controls, we sit there and whine and moan, and he has to listen to it. Jason then has to back up and change it…
Jason: We all have a hand in it. We record; I engineer it and get it all tracked; When we're ready to mix, then we all come in and say…Like Greg will say, "That's not enough kick; that's not how I want it to sound." Or these guys will even say shit about not even their own instruments, "Man, you need more guitar," or "less guitar" or "You need more vocals." So we all kinda got a hand in what goes on it.
Chris: Are you writing the songs, Jason? Or are you all writing them?
Jason: I write the music. Let's put it this way: I write a lot of the music; but when I bring it to practice, it would be shit unless I had these two guys here. It wouldn't be anything without them.
Greg: He writes the tunes; We pretty much sit down and arrange them.
Jason: They arrange them. Chris also writes a lot. Mainly, he writes his own bass parts because he does a lot of shit that I don't do. We're a "one guitar band" – and I like it like that – So Chris kinda acts like a second guitar and bass player…Like when I'm doing a chord, he'll do a different note. Chris comes up with that on his own. Greg does his own thing.
I mean, Yea I write the music but I can't stress enough how much it would suck unless these guys were involved in it.
Chris: I understand. I'm just trying to get a feel for how the band is working.
Jason: That's cool. Thanks for asking.
Chris: Now, I guess I'll go to Lubbock, since that's what we're here to talk about. I want to start with Jason, because I went to school with your older brothers. In high school, your brother Sean [Frankhouser] was known as "the guy who always had the guitar." He was obviously dedicated to that guitar. He's now known as pretty much the number one bass player in Lubbock, these days. And you were telling me about your brother Eric is also in a band. So you're from a big family of people who are in bands; Tell me a little about your family.
Jason: We moved to Lubbock because my dad bought K "triple-L" radio station. My dad was in the radio business before that for 18 to 20 years. His name is John Frankhouser; Just like my oldest brother John.
We moved to Lubbock when I was little - like 7 or 8 - and my brothers were all older than me. My closest brother is six years apart from me.
I wasn't very musical at all, until probably around 5th or 6th grade. I started playing viola in 5th grade. I went to a "magnet" elementary school, and I started playing viola because it was the only thing I could do there. I went to Iles Elementary…along with the most famous Iles graduate ever – Natalie Maines.
Chris: Are y'all the same age?
Jason: We went to school together all the way through.
At Iles, they started the orchestra program there in fifth grade, where normally you couldn't do it until you were in 7th grade. Since orchestra was the only thing musically to do there, so I started playing the viola…
I was wanting to play music because of my brothers. My brothers were in junior highand early high school, and they were bringing home their instruments from marching band, and I thought that was just the coolest thing. Then they started playing guitar and bass and stuff like that.
In Atlanta, where we came from before we moved to Lubbock, we lived next door to Peter Buck who plays in R.E.M.. Peter Buck sold my brother Sean his first guitar; That was when I was really young. Sean was playing then but he wasn't serious about it; he just kind of beat on it.
When we moved to Lubbock, my brothers started being in bands and bringing 'em into the house to practice; That was it. I hung out with them, and I found out I had a lot of natural ability.
I started playing violin and piano. I sucked at piano so I quit, then when I finally learned how to play viola I realized that I was good at it. I was like, "Wow! This is fun!" and it's a cool instrument. Then I started playing drums.
I played drums in jazz band in junior high, and then in my 8th Grade year I got a guitar. I started playing guitar but wasn't good enough to play in the jazz band yet. I could play like Twisted Sister songs and shit but that's about it. [Laughs]
I got better at guitar, and by 9th grade I was playing guitar and drums in jazz band at Evans [Jr. High]. I got my first Marshall half-stack when I was in 9th grade, and started playing a lot. In high school, I got deeper into jazz music.
Chris: How did you get into that? Did you have a good jazz teacher?
Jason: I went to Lubbock High, which was also the "magnet school," and by the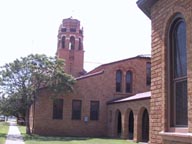 time I had gotten there, it was almost like a "performing arts type" school, where all the bad-ass music and art was all goin' on.
We had the "Number One" jazz band; We actually toured other cities in high school.
I got really, really good at Jazz. I was playing drums and guitar, then finally my Senior year I said I didn't want to play drums any more; I just wanted to play guitar.
I played guitar in jazz band my whole senior year, and I got a scholarship to Tech out of it; won a couple of awards at jazz festivals around Texas.

During the time I was at Tech, I was in a band called Uncle Nasty with these two dudes [indicating Chris & Greg]. Uncle Nasty was a bit of a sensation in Lubbock for awhile.
Chris: Who was in that band?
Jason: When we founded it, it was me; a guy named Chad Chestnut who sang. He's like 4 foot-5 inches tall. Chad was "Uncle Nasty."
Cahd and I founded that band, actually, as a Blues band. We started playing at this little place called Spinnaker's Oyster Bar over on 50th Street. We only did like weird Blues, white-boy Blues like Gary Moore, old Fleetwood Mac, Peter Green.
Then it turned into a Heavy Metal cover-band when these dudes joined. Greg was in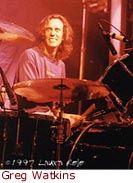 a rival Heavy Metal cover-band called Relapse that was a bit of a sensation around Lubbock as well; They were a big draw. But their band broke up…
I've known Chris and Greg since they were little kids. Me and Greg used to jam together at John Sprott's Caprock All-Star Jam every Sunday at The Depot Beer Garden. I was the only one who would ever go up there out of my band, and Greg was the only one out of his band that would go up there; So we ended up jammin' together all the time.
I told him one night, "Dude, when your ready to head out of this fuckin' band, just let me know." When Relapse broke up, Greg was like, "Dude, lets' fuckin' jam!" So we started jammin'.
Chris: Tell me a little about those "John Sprott Jam" sessions.
Jason: Greg was almost like the "House Drummer" there.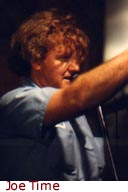 Greg: I was there all the time…And eventually "Joe Time" would bring his drum set, and he'd open the show up and play about four or five songs. I would get there to play with John Sprott.
Jason: Everyone calls him "Joe Time" because - Man - he's like a fuckin' time-clock; he doesn't rush or drag. I don't even know his real name. Everyone just knows him as Joe Time.
CM: Is that not his real name?
Greg: That is his real name, now.
Jason: He bartended at the Town Draw. If you never went into the Town Draw, you didn't miss anything.
Chris: Everyone I knew that had a story about that they almost got killed there.
Jason: My brother got a knife pulled on him the Town Draw, and was told if he played any more Elvis he was gonna get hurt. "Don't disgrace Elvis or we'll kill you." We played the Town Draw, too. But Joe Time was a bartender there…
Greg: There was also a "Main Street Open Jam"…There was one at On Broadway…We ended up running the one at On Broadway. We started off playing The Johnny Ray Jams at Main Street.
Jason: Johnny Ray played drums for Asparagus Nightmares; Him and Mark Murray and Tom Blackburn…
Chris: That seems like that was a long time ago…Are y'all old enough to remember them?
Greg: We were young, but Chris and I would go up there with David Gomez; We were called Rat Salad. We'd go up there and Johnny Ray would let us sit in.
Jason: Rat Salad was THE high school band.
Greg: Yea. We were the "chick-gitters."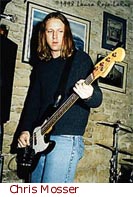 CM: Rat Salad was really my first band. This is when we were very, very young. We were in late junior high at the time. My very first time to play in a club was at Carlo Campanelli's place, Abbey Road.
Chris: A lot of guys' first bands played there.
CM: That was right before Abbey Road closed. But my first experiences hanging around in a club and playing music - and also drinking - was when I was about 17 at Main Street Saloon, at Johnny Ray's Wednesday Jams. We did that like every Wednesday for like two years.
By the time these guys were doing the thing at the Depot, I had gotten into radio and was deejaying at that time. I worked at the Top-40 station FM99 and then I worked at FMX for about two years.
Chris: How did you come about that job?
CM: I had gotten a little monkey-work board operating job from a friend of mine that was working for 99.
Chris: Just thought, as a job, it would be something cool to do?
CM: Exactly. I was unemployed before I did that. You get to hang out at a radio station all day and get paid for it. And luckily we had an owner that was really, really cheap so – with having almost no experience – I ended up doing the evening show for six bucks an hour. But I did the Wednesday night thing at Main Street even up through when I was doing radio, from time to time; playing the bass.
Chris: Enlighten me on growing up in Lubbock and getting into playing Heavy Metal; What does the music means to you - and to your relationship to Lubbock?
Jason: I can answer that right quick. Why all my friends listened to Heavy Metal music when I was a kid growing up is because Lubbock was such a close-minded, narrow-minded place. Not as a whole but…Well, yea, it is "as a whole" - except for that sector of musicians that we're talking about.
There was nothing going on as far as local Heavy Metal bands. But when a band like Iron Maiden would come to the Coliseum, it would sell out - 10,000 people - in Lubbock, Texas; Because there wasn't anything like that style of music goin' on. So a lot of Metal bands would play Lubbock on their tours.
Chris: Why do you think that is?
Jason: The way I saw it was; There's a lot of angry kids out there that don't have a voice - And that's what Metal has always been about, since Zeppelin, since Aerosmith. If you read any interviews from way back, Robert Plant and Jimmy Page were like, "We were the kids at school that no one really understood. We didn't get along, so I started playing guitar…" And the next thing that happened was they were playing that heavy, heavy rock.
Chris: It seems like Heavy Metal is a voice for people who have a lot of stuff pinned down inside of 'em, young teenage guys who are pissed off. And it seems to me that another group of people that was consistently into Heavy Metal were girls who grew up in the Church of Christ...Judas Priest and Ozzie and stuff like that…
Jason: You're right! They were! [The entire band laughs knowingly, and claps their hands].
Greg: They sure were!
Jason: I had my share of those girls. We de-flowered many of them.
Greg: Oh, I did too!
Jason: Back to the reason I wanted to play Heavy Metal is because - at the time, in the mid to late '80s - Heavy Metal was "The Shit." Once I got guitar, and it got around my junior high that I played guitar, I was the coolest fuckin' kid in the whole school…Immediately!
By the time I started playing, it was Ratt, Judas Priest, Iron Maiden, and shit like that…Twisted Sister; That was the cool thing.
So me and my friends were just trying to find our "coolness" in high school. It was "How are we gonna be cool? Let's get a band together!" So it wasn't so much a rebellious thing, at first, as it was, "Let's be cool. Chick's like me now because I have a guitar." And shit, that's still part of it.
Even though I'm married, I still like chicks. [Laughs]. I like to look at 'em, let's put it that way. I look - I don't touch.
CM: There was really never much of what you think of as "a scene" in terms of "more than five or six bands that are playing one sort of music, and clubs that are catering to that sort of music, and people that are patronizing those clubs." I mean there was never anything like that in Lubbock.
We were a sub-culture of a sub-culture. It was ALL young kids. Everybody that I know that was participating in the Metal scene when we were in Lubbock is now either a burn-out or has left Lubbock - like we did. I mean, in terms of there actually being a "Heavy Metal Scene" in Lubbock, there really isn't one.
It's just the kids. It was always difficult to really get major things going – with the exception that Uncle Nasty always did really well in clubs – But there really were never consistent, week-after-week, clubs that were doing Metal shows over and over.
Chris: The audience is too young to get in.
Jason: Yea. And I think even the success that Uncle Nasty had in Lubbock was due to the fact that we were a "variety band." We weren't really a Heavy Metal band; although we thought we were. When you look back at it, we were a cover band, for one…We would do Skynard and then the next song would be Metallica…That variety kept us appealing.
Chris: And the fact that you had a midget for a lead singer…
Jason: Yea, we had a midget lead singer. That's a big reason why we were big, because people were like, "Fuck! Look at that little dude sing! That little fucker can sing, Man!"
But it wasn't really much about the type of music; It was frat-girls going nuts because - Here they are in Lubbock: They're 18, 19, 20 years old, and they're away from their folks back in Dallas, and they can rock out, go nuts and have a good time.
Chris: That's a lot of it. I don't think it's any more complicated than that.
Jason: It probably pretty much boils down to having a good time and being able to sing along to your favorite songs. That's what we catered to: "What was cool." When Nirvana came out, we immediately learned Nirvana. We would play Skid Row and Nirvana in the same set, which - Nirvana effectively killed Skid Row and those types of bands. But we'd play 'em both in the same show 'cause we didn't give a shit.
CM: The "Grunge" thing was a lot slower to kill off Metal in Lubbock because people were so insolated there and not fully connected to the fact that Grunge was essentially taking over Heavy Rock music…
Chris: I don't think that Heavy Metal is even dead yet in Lubbock.
CM: Not so much in Lubbock; You're right.
Jason: FMX is still pretty much a Heavy Metal station.And with the insurgence of what I call "Modern Metal"…The Top 10 albums on Billboard right now: Creed -- which I wouldn't say is Heavy Metal but Hard Rock/Metal -- Papa Roach, Disturbed, GodSmack, these new bands that are leading the new Modern Metal radio stuff…KFMX plays that shit all the time. The popular stuff now is the Modern Metal music.
Chris: Just incidentally, is your dad still in Lubbock?
Jason: He's in Lubbock, but he's completely not in radio at all any more. He sold everything he had. He owned a station in Monterey, California, and he owned one in Albuquerque, and he owned one in Washington, D.C. He sold 'em all.
Chris: How did y'all end up in Lubbock?
Jason: We were in Atlanta, and my dad ran a station called WCGC which is like a big Rock station that's still there. They offered him and his partner at the time a deal, and it looked like it was gonna be a good money move.
We were really only supposed to be there for two years. That was the plan; Dad was like, "We're gonna make some money and get out of here."
Chris: And you just got stuck?
Jason: Well, he actually did get out of it after about three years. Then he owned a station in El Paso after that; he moved there and my mom said, "I'm not fuckin' moving to El Paso." So we stayed in Lubbock and he flew home on the weekends.
Chris: So Lubbock is basically just "better than El Paso?" [Laughs].
Jason: He just bought stations, and then turned them into something really good, sold 'em for a profit, and then'd haul ass and move. There was no reason for us to move because he wasn't in a place long enough.
Greg: One thing about Lubbock; If nothing else, it is one of the best places to raise a family.
Chris: That's what a lot of people say.
Greg: Now, "Live" music and a good night-life and a "Woo-Hoo Good-Time"… Well, maybe not. But to raise a family; take you're pick of churches and schools.
CM: Whereas Austin has changed a lot in the last five years; When I go back to Lubbock, I find that Lubbock hasn't changed that much. There's been no real appreciable change as far as the socio-economic status.
Greg: "The Revolution will cease to exist."
-break in interview-
Go to page 2
-continued-