Chris Oglesby Interviews
John Nelson
Los Angeles; 4/1/00
RE: Southwest Lubbock Garage Band Scene (1980's & '90s)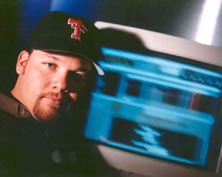 This is a conversation with John Nelson formerly of Conway Studios in Los Angeles, now an independent recording engineer and producer. John has recorded a wide range of world-class artists including Dave Matthews; "Busted Stuff" recently Number One on the charts.
I asked John to provide me some discography highlights from his vita. Never being one short on words, John generously provided this below.
In his own words, here are some of John Nelson's music recording credentials:
Lionel Richie -Louder Than Words- My very first gig as a 2nd engineer. The Engineer, Cal Harris got up from his chair and came over to me to shake my hand to congratulate me when I told him it was my first day as a 2nd. I will never forget it

Motley Crue - Generation Swine- Eight hard rockin days with the Crue. Tommy Lee kicks complete ass. He is the heir apparent to John Bonham.. After only a few hours around him, I knew beyond the shadow of a doubt that I was in the presence of true greatness.

Fleetwood Mac -The Dance- I could not believe I was there, watching Stevie, Lyndsey, and Christine singing, "You can go your own way." I still can't.

BB King -Deuces Wild- I worked with BB King and Tracy Chapman on the duet-remake of "The Thrill is Gone." The thrill will never be gone. It is possible that I was dreaming

Hole -Celebrity Skin- Six months of Courtney Love. Vietnam vets don't know such hell, Stevie Wonder doesn't know such lack of vision, Rolex salesmen on 5th Ave don't know this kind of phony, and Beauty never knew such a beast.

Lyle Lovett -(3)- Step Inside This House, Live in Texas, and the soundtrack from Robert Altman's Dr. T & The Women. Lyle has one of the best bands ever, and the engineer, Nathaniel Kunkel remains one of my best friends and influences.

Barbra Streisand- A Love Like Ours.

Foo Fighters -There Is Nothing Left To Lose- Dave Grohl is hilarious and cool. Curt Cobain was lucky to have such a talent behind him. As a matter of fact, Nirvana wasn't successful until Dave joined the band. Luckily, he has been able to reveal his range of talent with those who fight Foo.

Rickie Lee Jones -Ghostyhead- My cover Art debut.
Rickie is a pure artist. We all lost our minds a bit during this trip-hop adventure. Very well engineered by my good friend, Barry Goldberg, the perfect companion with whom to enter any crazy situation.

Etta James- (3)- Love's Been Rough On Me, 12 Songs of Christmas, Blue Gardenia. Etta James!!! Wow.

Sammy Hagar -Little White Lies. He is one of he nicest, coolest guys in rock. He is the Red Rocker. Slash was a guest guitarist on this album, and Mike Clink (Guns & Roses) produced. Three legendary dudes in one session, Lucky me.

Phil Collins-Tarzan Soundtrack-"You'll Be In My Heart"
[Note: Academy Award winner for "Best Original Song" - c.o.]
Major, Major talent, Major fucking talent. He did the vocals in the control room. I sat three feet away from him the whole time. During the 80s I was immersed in the metal scene so I paid little attention to the pop music. However, I now recognize that this guy was on top of it all for good reason, he is great.

Earl Scruggs and Melissa Etheridge -Earl Scruggs and friends- This aged man unobtrusively slides in to the studio and introduces himself to everyone, "Hi, I'm Earl Scruggs." He makes his way into the recording room and opens his banjo case. The lid opens to reveal a banjo so incredibly beautiful you almost hear music while it's still in the case. Legendary and almost magical on the banjo, and Melissa was perfect.

Willie Nelson -The Great Divide- Only a few people can be regarded as prophets who provide a manual for how to exist as a human being on Earth. Willie can sit silently in a room and still inspire everyone around him to perform with their greatest effort. I shamelessly cried several times when he began singing. There will never be another Willie Nelson, ever.

The Dave Matthews Band -Everyday (as a 2nd Engineer) and Busted Stuff (Engineer). I regard all five band members, as well as the producers and engineers from these two sessions, as good friends: Glen Ballard (producer of Everyday), Steve Harris (producer of Busted Stuff), and Karl Derfler (engineer on Everyday). If I can perform in my career with 10% of the talent and inspiration with which these people routinely do, I will have far surpassed my widest dreams and ambition.
John was born and reared in Lubbock, as were both his parents. John grew up playing in Southwest Lubbock garage bands. He became proficient in several musical instruments: drums, bass, keyboards, harmonica (I've never seen John pick up an instrument he couldn't either already play or figure out in forty or so minutes). John also became interested in equipment. Blessed with encouraging parents who happened to have the means to "spoil" their kid, John began amassing a set of sound equipment of which all the local players eventually became aware. John became the "go-to guy" for working sound at the limited number of music venues in town. He built his own sound-room in the backyard.

The man is a mountain of talent.
Whether he was howling with a four piece band on stage or quietly hidden in the dark with the mixing board, John was smack dab in the middle of the garage band scene in Lubbock for almost fifteen years.

---
Chris: The reason I want to talk to you, John Nelson, is because there's a period of that '80s-'90's Rock-n-Roll scene in Lubbock when there was a whole lot of people there in Lubbock rockin' & rollin', and -- because you had the equipment and the talent and the know-how -- you really were behind the scenes a lot of that generation of musicians, for a long period of time. So you have a lot of knowledge.
John: You know that's true: "Behind the scenes." [Laughing] If I had to wrap it all up in three words, it would be: "Behind the Scenes."
Chris: That's where you see everything that's goin' on.
John: No. I understand. Well, that whole '80s scene - Everybody my age that was influenced by "Pop Culture", "Top 40 music" etc. Those of us who were in "Generation X" came up through Disco, and Roller-Boogie, and then almost overnight we were asked to accept Kiss and Motley Crue and Guns-N-Roses. It was Metal's turn to take over the popular culture scene.
Chris: Very good…Let's talk about Metal music and Lubbock. I remember one year Kiss kicked off their world tour in Lubbock on Halloween night. Do you remember that? Or did I make that up?
John: I was at the show.

Chris: Okay. Well, when you're talking about "popular music" in Lubbock: It's either George Strait Country or it's Heavy Metal. Maybe you can talk about the popularity of Heavy metal in Lubbock; comment on that strange duality?
John: The Metal scene and Rock-n-Roll has always been a product of the "Immoral Majority" in Lubbock. There are always those that will fall into line and try to play inside the side-lines. And then there's those whose responsibility it is to go over-the-top, out-of-bounds, as far and as wild as you can, and Heavy Metal is certainly, "As far and as wild as you can go" in Lubbock. Me and a lot of my friends - and a lot of blessed souls that are still there - were trying to push the boundaries.
Ever since Greg Woolum and I were kids at school and were so totally into Kiss where he and I began to drool on our desks as though we were spitting up blood, emulating Gene Simmons the "Bat/Lizard," sticking out our tongues. One particular story is we were in art class one day at Mae Murphey Elementary…And you remember the way Gene Simmons would spit the blood in his little "blood-spitting" segment of the show? It would slowly start to drool out and then he would shake his head and the blood would go flyin' everywhere. So rather than blood, we would just drool all upon ourselves. [Laughs.] We were in about Fourth Grade, y'know.
At one point the teacher caught us starin' across the room, drooling and looking at each other and sticking our tongues out like Gene Simmons. She pointed her finger and said, "BABIES DROOL!" [Laughs.] And that still sticks in both of our brains!
And, y'know, I think that maybe that's true: Babies do drool. But the trick is to be a 40 year-old baby. Now that's entertainment!
Chris: Kiss was such a big deal in Lubbock at the period of time when we were growing up…There was all that "Knights In Satan's Service" business...[Laughs]
John: Yea. Or "Kings In Satan's Service."
Chris: And Kiss is so incredibly benign, really. Other than being loud and flashy, there's nothing much diabolical or threatening about Kiss. I guess it's sort of sexual.
John: Yea. That's one great, wonderful thing about Lubbock: Is that if you were a part of the "Immoral Majority," you were always given credit for being way more clever and evil than you actually were, you know. You're organizational skills were always top-notch, and you were certainly organized to take over.
Chris: Who is this "Immoral Majority" you're talking about? Who are these people: "The Immoral Majority"?
John: The "little dark circles."
I suppose we should get into the "Abbey Road scene." Because to me…When I was 14 and 15 years old, that was our entrée to the Metal scene. There were bands there that were the Rock-n-Roll guys, five and six years older than us, 18 and 20 year olds, that we really looked up to.
One of the big bands that we looked up to were called Battle-Axe, who later became Battalion. They were great! It was Mike Farrell and Kent Tisdell and, for a short time, John Griffith--who plays the keys--joined the band. And David Downham was the lead-guy and played the bass. His father was the principal at Evans Jr. High; [Note: on the Southwest, "up-scale" side of Lubbock]. So he was the ultimate hypocrisy and the ultimate point man for the "Immoral Majority."
Chris: Well who were these guys? What was up with these guys?
John: Downham was a choir singer; ultimately got a degree in music. John Griffith ultimately got a degree in music. Kent Tisdell played in bands for years…I was fortunate enough to play with Mike Farrell and Kent in a band later, called The Lloyds. I really looked up to all those guys.
Really, our big treat was to go to Abbey Road, open for this band and make what Woolam and I called our "Taco Villa money." You make fifty bucks. What's better? You get chicks. You kinda' get to hang there at the bar, and you're under-age, which is a big treat. And you know you're not gonna' get kicked out 'cause you're "the talent."
Chris: Describe Abbey Road.
John: Abbey Road was in a strip-mall on Slide Road, right near the Mall. It was the last door down at the end of the strip-mall. The owner was a guy named Carl Campanelli who was a long-time club owner in Lubbock. He's owned several clubs, and he honestly was THE conduit for the Rock scene in Lubbock for a long time. He ultimately bought the Back Stage, over there on Slide and 34th, by the railroad tracks. That was later called New West.
[John's cell-phone rings.] Hi, honey baby. [Tape stops. Its our friend Denise Robnett, another expatriated Lubbock woman, keeping in touch.]
Chris: [Resuming] So you were telling me about how you and Greg would go open for these bands at Abbey Road.
John: We were a band called Shrapnel. Shrapnel was Rick Ramsey on drums...Who's the best drummer ever in the god-damn world! He's the best drummer ever. And he's a dentist now. [NOTE: Now, remember John has worked with some pretty accomplished drummers, so this is a compliment that John does not make lightly. - c.o.]
Chris: Wow. A dentist. Really?
John: There are some guys that are just born to be drummers. But Bumpy - we called Rick Ramsey "Bumpy" - was the greatest. He was great.
So, Shrapnel...There was a guy named Pat Cooper who played the bass; he was good, too. Chad Bartee was on the rhythm guitar. Greg Woolam was on lead guitar. And then I sang and played some keyboards.
We were all just these sons of professionals, doctors and lawyers, y'know? With instruments and equipment. The diplomat for the group was Bartee. He hit the Abbey Road scene and got us a gig opening for a band called Deep Spirit. Chad Bartee's dad is Dr. Bartee the dentist and is still in Lubbock now. Chad's got a successful medical sales company with his brother. He was good friends with Woolam. The Southwest Little League Baseball got those guys together. God Bless the Southwest Little League Baseball.
I don't remember meeting Greg Woolam. His mother sang in my parent's wedding. We've been best friends since birth. We have a lot of unspoken languages and a lot of coded languages by now. He's just really my best friend and an invaluable musical and inspirational resource for me. We've always done music together. His dad is Gerald Woolam, the current President of the American Cancer Society…So Greg's the son of a doctor; I'm the son of a lawyer; Bartee's the son of a doctor. Whatever…blah, blah, blah.
Chris: Alright. But that's interesting though.
John: That's how you get music equipment when you're a kid: You have rich dads. Being in a band, you gotta' stress your resources.
Chris: You say, "You're gonna' give me this extra allowance, so I'm gonna spend it on equipment, and I'm gonna' build a sound-room, or I'm gonna' put together a band."
I think it's interesting to see how people's parents take that. I mean, when you were buying musical equipment - and your parents were obviously paying for that - How was that taken? Tell me a little bit about your parents; their relationship with Lubbock and their relationship with you. That's real interesting to me.
-continued-
Go to Page 2