Fire in the Water, Earth in the Air: Legends of West Texas Music
by Christopher Oglesby
Published by the University of Texas Press:
"As a whole, the interviews create a portrait not only of Lubbock's musicians and artists, but also of the musical community that has sustained them, including venues such as the legendary Cotton Club and the original Stubb's Barbecue. This kaleidoscopic portrait of the West Texas music scene gets to the heart of what it takes to create art in an isolated, often inhospitable environment. As Oglesby says, "Necessity is the mother of creation. Lubbock needed beauty, poetry, humor, and it needed to get up and shake its communal ass a bit or go mad from loneliness and boredom; so Lubbock created the amazing likes of Jimmie Dale Gilmore, Butch Hancock, Terry Allen, and Joe Ely."
"Indeed, Oglesby's introduction of more than two dozen musicians who called Lubbock home should be required reading not only for music fans, but for Lubbock residents and anyone thinking about moving here. On these pages, music becomes a part of Lubbock's living history."
- William Kerns, Lubbock Avalanche Journal
---
-continued from page 1-
PB: I was on the road with Joe Ely until New Years Eve of '83, when The Joe Ely Band broke up.
At that time, I had started a second band - Ponty Bone & The Squeezetones -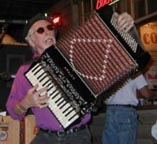 during the last year I was with Joe. So I looked around and thought, "Two things are gonna have to happen: You're gonna have to start being a front man, and you're gonna have to get a day job."
Chris: This was back in Lubbock?
PB: No. I'm in Austin now. As a musician, Lubbock had gotten a little bit too easy; I felt unchallenged. Then it dawned on me - I had been saying that I was on the way to Austin for nine years! I had been in Lubbock from '71 until '80.
The Joe Ely Band had kicked some serious booty for a number of years, and it gave me the credibility to continue. I feel like taking that chance is now being repaid.
It's clear to me now that I've been on the right path.
Chris: Tell me about those days back when you were playing with The Supernatural Family Band.
PB: Put me down on the list that it was a GRAND idea. The Supernatural Family Band was more than a band, y'know. It was our own little "Ken Kesey's Merry Pranksters." They were out in northern New Mexico living in teepees, and

then they moved to Colorado.
Chris: They had a big following there in Colorado?
PB: I got a short list of band leaders that are real successful, and Tommy Hancock's right up there. He's great on keeping business going; It's a real hard thing to make a band actually pay your bills, and Tommy's done it for a long time.
Chris: Do you have any great observations about Lubbock? Or great stories about things that happened in Lubbock?
PB: After I began to make these interesting observations to myself, one of the first things I noticed was Lubbock. Lubbock is a wonderful place to live, once you begin to notice the special things about it. As a guy who was traveling all over the United States and Europe, and then comin' back - And in his time off he's riding his bicycle around Lubbock - it's real "eliminating."
I think once you open up your eyes to it, you start noticing all these - what, individually, might seem like "coincidences" but which, over the long haul, are just… "Coincidence" doesn't explain 'em...It's a strange thing to me that so many of the people I hung out with, at the very least, are subject matter for tons of literature and theatrical productions! And that's the one's who aren't in the limelight themselves.
I guess I'm starting to take this "Devil's Advocate" position now - toward people saying, "Well, that would be the same anywhere else." But, the fact that everybody in the band is from Lubbock; everybody writing about us is from Lubbock – like Michael Ventura… A lot of people who weren't from originally Lubbock immediately noticed it once they got there. Michael is one of them, I imagine; He wasn't originally from Lubbock but he's one of those who immediately noticed, "Whoa! This is way-cool!"
I remember for instance, when we had Linda Ronstadt hanging out in Lubbock with us. And when we had The Clash hanging out in Lubbock with us. I mean, give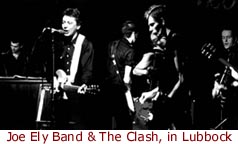 me a break! The Clash didn't hang out anywhere else - I don't think - on their whole American tour that was any more bizarre, any more full of coincidences and crazy stuff. That gig at the Rox…The place was packed! I mean, The Clash at the time wasn't playing any towns anywhere near that small. It was a great night, Man!
And Stubb was with us all the time. Anybody who came to town, we always took 'em to Stubb's. I mean, Stubb would always be at our shows. And one thing he liked to do was produce concerts. He produced some great ones…At his old venue there, the old Stubb's on East Broadway, he brought Stevie Ray Vaughn in there a lot. Stubb was also booking The Cotton Club…I'll never forget the night that Muddy Waters played The Cotton Club. It just doesn't get any better than that!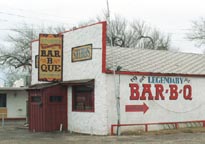 The other thing he liked to do was have The Joe Ely Band all come over on a Sunday when he was not busy, about three in the afternoon, and "have dinner with him," he called it. What was interesting to me was there'd be no barbecue there. He'd cook spaghetti and meatballs, or he'd cook fried chicken…something different from what he had in his place - which we were all like addicted to like a drug - Stubb's barbecue.
Stubb's barbecue was the last meat I ate. I became a vegetarian traveling around with Joe so much; in a lot of strange places that we were staying, it was better if I ate salads and fish. So I'd go back to Lubbock…First thing I'd do is go to Stubb's and get me a big ol' plate. I could go back in the kitchen and fix it myself. So one time, I had been off with Joe for about two months, and I hadn't had any meat that whole time; I went out to Stubb's and afterwards I decided, "Well, I'm a vegetarian now, I guess." I've been one ever since, 20-some-odd years.
Chris: So your last indulgence was Stubb's?
PB: Absolutely.
Stubb is a good argument that Lubbock has produced totally unique characters;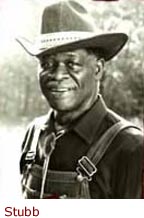 I mean! What a unique character! Did you see Stubb on the Letterman Show that night? Of course, Letterman's famous at that point in his career for these interviews with people where there's a demonstration, especially cooking.
The first thing he asks Stubb is, "Now, what are the ingredients that go into your barbecue sauce that I've heard so much about?"
Stubb looks out at the audience and says, "Love and Happiness." Letterman and Schaefer and everybody were just dumbfounded! Dead silence man! The audience just breaks up!
He was totally, totally "The Real Deal;" You know what I mean? Everybody that knew 'im, loved 'im.
-End-

---
Do you like the interviews you have been reading on virtualubbock.com?
Buy the book by author Christopher Oglesby
Fire in the Water, Earth in the Air:
Legends of West Texas Music

"As a whole, the interviews create a portrait not only of Lubbock's musicians and artists, but also of the musical community that has sustained them, including venues such as the legendary Cotton Club and the original Stubb's Barbecue. This kaleidoscopic portrait of the West Texas music scene gets to the heart of what it takes to create art in an isolated, often inhospitable environment. As Oglesby says, "Necessity is the mother of creation. Lubbock needed beauty, poetry, humor, and it needed to get up and shake its communal ass a bit or go mad from loneliness and boredom; so Lubbock created the amazing likes of Jimmie Dale Gilmore, Butch Hancock, Terry Allen, and Joe Ely." - University of Texas Press