Chris Oglesby Interviews
Richard Bowden
at Stubb's Bar-BQ
Austin; 3/5/98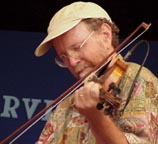 Richard Bowden was the fiddler and mandolin player for more than ten years in Lubbock for The Maines Brothers Band, featuring the incomparable Lloyd Maines on steel guitar and brothers - Kenny, Steve, & Donnie. For years, the Maines Brothers were the premiere C&W dance band from West Texas, specializing in their own style of high-energy Western Swing, Honky-Tonk, and Rock-a-Billy music. Richard lives in Austin now, where he recently retired as a member of the always clever & sardonic "Austin Lounge Lizards." He still performs regularly with Lubbock artists Cary Swinney & Terry Allen.
While he did not grow up in West Texas, Bowden moved to Lubbock in the '70s and spent over ten years deeply involved in the Lubbock music scene.
Ironically, I first met Richard Bowden when I was living in northern California, in rural Yolo County, northwest of Sacramento. My girlfriend at the time and I had been living in California a few months and were pleased to learn of a little live music venue over in Davis called The Palms Playhouse. The Palms had been voted by Sacramento's weekly entertainment tabloid as "Best Venue for Austin Style Music." Yes, Really. Keeping an eye open for some of our favorite bands, Gina and I were happy to see the Austin Lounge Lizards schedule a show at the Palms in December of '97.
I had never seen the Lizards "live," so I was surprised to learn that their fiddle and mandolin player was Richard Bowden. Growing up in Lubbock, I had logged many a mile dancing to the Maines Brothers, and I was very familiar with Bowden's fiddling genius.
I recall one night - when the Maines Brothersopened for Asleep at the Wheel in August of some year past - dancing all night until I could not have been more wet had I dived into a swinmming pool full of sweat…but I digress. Suffice to say I was truly in awe of Bowden's fiddling prowess.
At the break in their set, the Lizards were mingling with the audience there at the Palms. I approached him to confirm that he was, indeed, the same Richard Bowden who had been in the Maines group; I explained I was originally from Lubbock and most recently Austin.
At that time, I had just begun kicking the idea around of writing a book called "Fire in the Water, Earth in the Air," about the amazing musicians, writers, & artists from the Lubbock area, so I mentioned the idea to Bowden, just to see what he'd think about such a book.
Immediately, Richard lit up, "It's about time somebody writes that book!"
After we killed most of the break discussing Lubbock and our intense mixed emotions about the place, Richard added, "You'd be just the one to write this book, 'cause you're not some guy from over in England who's just a Buddy Holly fan. You've lived it. You know Lubbock. You know what you're talking about."
I explained to Richard that I might be coming back to Austin - where many of Lubbock's best artists now live - to work further into this idea. In reality, Gina and I were soon to break up and I figured I would be moving back to Austin soon, anyway. Northern California was not suiting my West Texas tastes. Richard offered to help me out in any way he could. After the show, Richard approached me with his home number and his e-mail address and encouraged me to keep in touch. Richard seemed very enthusiastic about the project.
This chance encounter with the remarkable Richard Bowden was the first in a string of coincidental events that led to the pursuit of this remarkable story. Without the enthusiasm and guidance of Richard Bowden, Virtualubbock would never have been.
I was back in Austin by February of '98. I contacted Richard and he agreed to meet me at Stubb's Bar-BQ downtown for an interview about his views on the West Texas creativity phenomenon. It was a beautiful spring day to sit on the backyard patio at Stubb's and drink iced tea.

---
Chris: You were saying how you could always make a living playing fiddle in a country-western band in Lubbock, but that you got your start playin' "Rock-n-Roll fiddle"? What do you mean?

RB: I taught myself to play when I was in high school. It was the '60s, and at the time I was totally into Rock-n-Roll; Cream, with Eric Clapton; Jimi Hendrix; Bob Dylan. It's a Beautiful Day was a great band that has a lot of Rock-n-Roll violin in it.
I just had a few records, but I'd find one song that would work well for me to practice with, and I'd just try to play along with it; follow the melody and just play around with it. That's how I learned to play.

Chris: Where did you live then?

RB: I was living in College Station. My dad is an economist, a professor, and had been teaching at A&M. I was supposed to graduate from high school in '70, but I was fed up with bein' a little kid; I wanted to be an adult. I couldn't stand it any more. So I went and got my G.E.D. and I went straight to Austin. I had friends from College Station living here - some guys who had a band - and I just moved into the house with them, and lived there for a couple of years.

That's where I was practicing the fiddle and everything. I started my first band, there at that house on 33rd and Guadalupe; The Sitting Ducks - Who were named that 'cause we all got busted together in a rehearsal. We're playin' real loud after ten o'clock and the cops came to the door and looked in…Well, there was some pot there…I didn't even know it was there, to tell ya' the truth. [Laughs] I mean, I was totally cool about the cops bein' there but they found this pot and said, "Okay, boys! Up against the wall!" and they handcuffed us all and took us all to jail for a couple of days. I was only 19. They finally blew it off because it was an "illegal search" or somethin' like that. That was a big experience.

In fact, my first payin' gig was right there…[Indicates the back wall of Stubb's]…On the other side of that brick wall; Four Dollars.
This place was called the One Knight back then. There was a rickety old porch; We'd come outside, clear off the stage, and smoke dope out back here.

God, there was alot happenin' back then! I went to Mexico for awhile and got in all kinds of troubles down there. I was in the mountains of Oaxaca with my girlfriend at the time looking for some Catholic psychedelic mushroom cult we had heard about. We had eaten these mushrooms with these strangers who claimed they new about it, and they ended up robbing us. I always carried my fiddle with me, and they even stole my fiddle!

Then this guru from India was in the States - "The Fourteen Year Old Perfect Master of Self". Anyway, he was 14 then; He's not anymore but…

Chris: Now this was the same guy that Jimmie Dale Gilmore and Tommy Hancock were following?

RB: Yea! The Same guy!

Chris: Did y'all know each other then?

RB: No, I didn't know them. They're both older than me. I was like 19, y'know. And they'd already been playing for a long time. I'd just been playin' for about two years with The Sitting Ducks…

Chris: So how did you end up getting to Lubbock?

RB: Well, I came back from India, after bein' over there for a couple of months.
I had to come home because I was runnin' out of money; But I loved everything I got into over there.
When I came back, my dad was teaching economics in up-state New York at that time. I said, "What the Hell?" and applied for college and was going to college at State University of New York at Fredonia, New York for awhile. They have a good music and recording engineering school.

But I was going to Denver each summer just to get away from up-state New York. I'd hitchhike out to Denver and that's where I ended up meetin' this woman from Lubbock…Well, that was Debbie Gilmore - Jimmie's ex-wife.
The first year, Jimmie and Debbie were living in Denver with their new baby - Colin. But the next year I went out, they were living separately and breaking up, and I ended up with her. Debbie came back to visit me. She got pregnant, and we decided we should get married. But, then, she went back to Lubbock, and I finished up the school year in New York.
Then we met in Austin and made a go at the music scene,trying to make enough money for us to live on; but it was just really tight, really hard.

I had been playin' on a steady basis with Butch Hancock down here; I met him through Debbie. But there was no money to be made in Austin. But we'd go up to Lubbock sometimes to visits Debbie's folks, and I always got work when I was in Lubbock. It was always [Snaps his fingers] "Happenin' in Lubbock…"

I wound up, every time we'd go up there to Lubbock, I'd sit in with Debbie's friends; I sat in with Joe Ely - This was in the Fat Dawg's days in Lubbock, about '76 - '77.

Then I ended up moving up to Lubbock. I got to know Lloyd Maines through The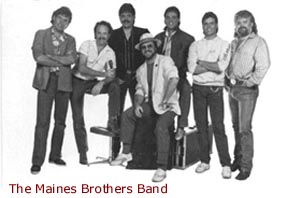 Ely Band, and I went and played with him and his brothers once or twice. Then Lloyd told me, "As far as we're concerned, you've got a steady job with us if you want it." I always got paid really well with them, and they were real professional. And they were awesome! Just a Powerhouse, man! Always Good, and real challenging to me. I was learning lots from them, so I said, "Absolutely." So I moved to Lubbock and lived there 'til about '86. So The Maines Brothers Band got me up to Lubbock for a long time.
Chris: How did you find Lubbock while you were in Lubbock?
RB: A lot of different ways. There's a lot of good things about Lubbock and there's a lot of things about it that made me feel that I really had to get the hell out; I was wantin' to leave Lubbock for a long time before I actually left. It had just gotten "too small" for me. And I really love Austin. I really love the liberal atmosphere here, and Lubbock was sooooo conservative.
But there were a few people in Lubbock - just a handful - who were like The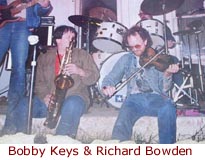 Underground, who I would go to and just hang out with. It was just like bein' in Austin, in a way…Except it's very Lubbock…These people would always have me playin' fiddle at their house, at parties and stuff like that. It was a real musically enlightening experience for me; It kept me 'alive.'
There is an "Underground" community there that's really rich; But it is pushed underground by the general population. It's so conservative there, generally. Lubbock's still got this very strong sense of; "Somebody's watchin' you." I mean - if you're screwin' up, it's gonna' to be talked about. You can't get away with anything in Lubbock - almost. But, that "Underground" is cool. [Laughs]
There just wasn't enough room for me in Lubbock. I mean, it was good; It plugged me into a lot of real basic values. I mean, basic "loyalty" and basic "hard-working" stuff; Some good things. It was refreshing.
But I finally had to move to Austin. I was commuting back to Lubbock every weekend to play with The Maines Brothers for awhile.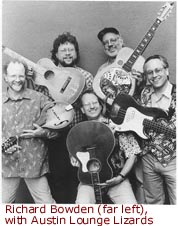 And then The Austin Lounge Lizards gave me a call when I was down here, said, "Do you wanta' job?" And I said, "Maybe." So started playin' with them.
Chris: You were talking about those basic values you learned from Lubbock; I thought that was interesting. What is it that Lubbock has to teach an artist or a musician living there?
RB: One important thing about being a kid in Lubbock - or an up-and-coming musician in Lubbock - is you're not just a kid in any old small town; You're a kid in a small town that has produced a lot of successful musicians, a lot of well-known musicians. So your sights are much higher than some kid in Abilene or Amarillo.
I mean Buddy Holly! Or it's like, "Bobby Keys! He went to high school with me and lookit! He's playin' with The Rolling Stones! And what am I doing?"
I mean, it really makes you set your sights high.
And the quality of music in Lubbock has always been really good, compared to almost anywhere. Go there and it's really "Real"; It's well played, real seriously, in a real business-like way. People are serious about the music business -- the business of playing music -- and playing it well, in Lubbock. You expect everybody to pull their own weight. And that was a good experience for me.
Chris: Beause there really is a solid "Tradition"?
RB: People expect it to be good. Just the general population in Lubbock, I think their ears are more sophisticated than other towns around there. They've been exposed to a lot of good music. And they tend to support weird stuff, y'know, some times. I think they've had their tastes expanded. Cary Swinney for instance. He's pretty radical - For Lubbock, especially.
Chris: Yea. The Johnson Grass Song is pretty funny to hear there. [Laughs]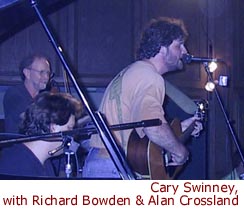 RB: It's amazing. I mean, it's really cool to do that one…Cary's got a lot of support there…It's strange.
But it's that "underground element."
I love that. Cary has an interesting way to look at the world.
Chris: I think this is one of the theories I'm going on, "Why Lubbock is this 'cradle' for artists and writers & musicians?" I think that "conformity" thing is a function of people looking for security; Being out there, you realize you're about the only thing out there. And that can either be scary - and you think you need to start gettin' good with a scary, mean God who's gonna' come kick your ass if you fuck up - Or, you have this other reaction where you're out there in that empty space and you realize you can do anything you want. I think the environment iself is what spawns these little sort of bursts of that individuality - and that strict conservativeness.

RB: There's a couple of brothers up there that I wish you could meet - Mike and Jack Burk. They live outside of town, out in a cotton field.They have been my saving grace in Lubbock - the core of what gets me going about the music. They just love music so much. They're not musicians but they're incredible guys. They love music and do anything to encourage people to play music, at any time of the day or night. That saved me, I think.
But things were happening, man! Things have gone like that in Lubbock. These phases it goes through; These "solar flares" that flare off and then die down again.
Oh, God! That whole place! I mean, Tornadoes! I used to dream about tornadoes when I lived in Lubbock.
Chris: You can really tell when a tornado is about to come. There's something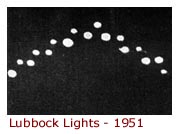 different in the air.
RB: Makes you want to go out in the street and look for the flying saucers! Anything to pass the time, in Lubbock!
-End-

Return to Interviews or Home

---
Do you like the interviews you have been reading on virtualubbock.com?
Buy the book by author Christopher Oglesby
Fire in the Water, Earth in the Air:
Legends of West Texas Music

"As a whole, the interviews create a portrait not only of Lubbock's musicians and artists, but also of the musical community that has sustained them, including venues such as the legendary Cotton Club and the original Stubb's Barbecue. This kaleidoscopic portrait of the West Texas music scene gets to the heart of what it takes to create art in an isolated, often inhospitable environment. As Oglesby says, "Necessity is the mother of creation. Lubbock needed beauty, poetry, humor, and it needed to get up and shake its communal ass a bit or go mad from loneliness and boredom; so Lubbock created the amazing likes of Jimmie Dale Gilmore, Butch Hancock, Terry Allen, and Joe Ely." - University of Texas Press