-continued from page 1-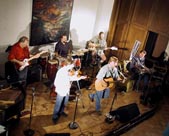 Wade: Somebody asked me, "Where do you want to go play? Where do you want to go specifically?" Well, anywhere that wants to hear us, we'd love to come play. 'Cause these guys are GOOD.
Chris: What would you be doing if you weren't doing this?
Wade: I'd probably be teaching.
Chris: How are you making a living right now?
Wade: I'm trying to book as much of this as I can.
Chris: So you're living off your playing right now? That's good.
Wade: I'm trying to. I'm able to. But that's luck…
Chris: Well, obviously you're putting time and effort into it.
Wade: Yea, but I could put a lot more effort into it. But we've started to get enough response, at least, to be encouraging.
Chris: Following your career is a really great example of the way it happens a lot of

times out here in Lubbock. People just getting together to play music for fun…
Wade: That's what "they" always say…
The adage is: "They play music out here because there's nothing else to do."
There's nothing else to do, Man! [Laughs]
It's too windy to play ball.
Chris: Well, it's a great way to get together. Another aspect of being out here is…Like we're literally sitting out here right in the middle of a cotton field [Wade's house actually is in the middle of a coton field. - c.o.]; If you don't interact with other people you can really go crazy from the loneliness.
Wade: It's easy to become isolated in an environment like this. Maybe that has something to do with how social the music is.
Chris: Exactly. I mean, last night at the Darren Welch show, there were absolutely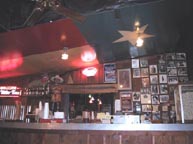 crazy chicks up just dancing like mad. And I'm sorry, but people just don't really do that in Austin - get up and go nuts dancing in the middle of the bar. In Austin, they're more "watching the band." But there last night at The Spoon, people were PARTYING, having a good time! Big Time!
A lot of it, I think, comes from the fact that music is a good way to interact with other people.
Wade: Somebody will throw a good party, and there'll be music there. That's what we found out about his place. There's like a million bands here.
Chris: Is that unique to Lubbock? It seems to be.
Wade: I think so. They say there's more musicians per capita in Lubbock than anywhere else.
Chris: Is that right?
Wade: [Laughs] I don't know. That may be just if you go to the music stores and ask. But there's more people advertising for bands…Like you'd think you were in Houston or some place. Like "looking for a bass player"…"looking for a guitar player"…A lot of that is different kinds of music, of course…
Chris: Where do you think those people are coming from? Are some of them coming from South Plains [College]?
Wade: I don't know. That's how I got my band together. [Laughs]
Chris: A guy was telling me last night at the bar that he has a Heavy Metal-fusion bgroup bu they really just play at the house together. He said, "It's real dark. You probably wouldn't like it." But a lot of it is just to get together and play.
Wade: We're not necessarily making any political statements, that's for sure.
Chris: Its "glass raising music;" Which is a good thing.
So do you have any other "deeper thoughts?" Is there anything to all this? Is there something "magical" here in Lubbock? Do you have any personal feelings about Lubbock? How do you feel here, as opposed to Houston?
Wade: Well, I'm much more comfortable here in Lubbock than in Houston. It took me awhile to feel that way. But I would say…Once I kinda realized that I could grow up enough to get a college degree…And then to find something like tuning your guitar and plugging in and playing on stage, and then the guy says, "Thanks for coming," and then he pays you…You think, "Wow. That's fun." [Laughs] "That sounds like a pretty good idea!" But I'm more comfortable here, especially here in the last three or four years. A lot of that might have to do with the music.
Chris: Do you think it's easier for you to get up there and get paid for it here in Lubbock than it would be in Houston? Or is that a struggle for you? I mean, there's all those other bands out there, like you said; Are they all getting out there and getting paid for their playing, or are they just playing in their garage or at parties?
Wade: As of right now, I'm not too terribly busy with bookings. But that's just because I feel like we're waiting on something with our recent press kit distribution. We're sending a lot of these out to various places we know around the State.
Chris: Is it that you're not working on getting many bookings here, or is it that there's no gigs out there for you to book?
Wade: When I want to call and go book some place, there's a few places that I'm pretty sure I can get booked into.
Chris: On any given weekend?
Wade: I couldn't call and say, "Let me play this Friday," but yea, I play a few different places around town pretty regular. Now there's other joints in town that only book the regional acts; There's places that won't let me just call and book.
Chris: When you say "regional act," is that a level above what you think you are?
Wade: I would say.
Chris: Who are you considering to be "regional acts?" Like The Blues Butchers?
Wade: Yea. The guys who play a lot out of town, on the road. That's a little different level than what I'm on. I would say Elvis T. Busboy and Cary Swinney and Robin Griffin's of the world.
Chris: Cary is "Worldwide Famous." [Laughs] And he doesn't even know why!
Wade: That's crazy, isn't it?
Chris: See - People like it; People hear something that speaks to them.
But it is crazy how you have to go about getting it out to them. I think if you really want to bad enough, you can get your stuff out there and people will buy it.
Are you interested in coming down and trying to do Austin at all?
Wade: I think without having enough original material…And I wish I did, of course…I mean, I'm trying. Three or four months will go by and I'll think, "Oh, that one sounds good." I'd like to go out there and be successful. I mean, it's fun.
But who knows, maybe I could go teach, too. I wanted to coach basketball…. But now, we have a band. [Laughs].
Chris: Hey! It's fun! Like you said, "If somebody's handing you a check…" and you're having fun, gettin' to go to these good parties…It's hard to resist.
Wade: We've had a good time leaving town and like going down to Wichita Falls to watch friends, like The Groobees. To me, that's fun: To leave town and go see friends that you know. It's fun to get out. I think everybody who lives out here in Lubbock ought to leave - at least once a month.
Chris: It's real hard to do that, though. I've gotten to where I almost won't come up here from Austin unless I can fly. You gotta really wanta be here. It just takes so long to get here from anywhere!
And if you want to leave here, you've got to be ready to drive six hours – minimum – to go anywhere. You just start to think, "I don't know about that."
Wade: [Laughs]. Comparatively speaking. Like I'm from Houston and we would go, "Yea, lets' run up to Dallas." To have the luxury is one thing, to have the time to do it is another.
Chris: Yea. It's a much bigger trip from Lubbock. Although a friend of mine and I decided at eleven o'clock one night that we were gonna leave our pitcher of blue margaritas and leave The Spoon, and we were in Fort Worth by 2:30 that morning…It took us three and a half hours…
Wade: From The Spoon to Fort Worth? In the middle of the night?
Chris: Yea!!! [Bursts out laughing]
Wade: Geez!!!
Chris: I mean, we were MOVING! We decided we didn't want to mess around. We wanted to be in Fort Worth, and we DID NOT want to be on the road. [Laughs] Yea, that was not wise. We just gave our pitcher of margaritas to the people at the next table, "Here. Y'all drink this. We're going to Fort Worth. We're outta here."
Oh god, times we ended up going down to Acuña in the middle of the night! That's the closest place in Mexico to go from here, so we'd say, "Mexico's a whole 'nother country - Let's go there!"
Are you happy living here in Lubbock?
Wade: I love it here. I like living here. Strangely, my parents have said, "Are you sure you wanta end up living in a place like this?" And my mother actually called this place "God forsaken" not too long ago - and she's from here.
Chris: There's a lot of people that are from here that think of it in that way.
Wade: I said, "Mom, I kinda like it here. In the last little while, I've grown accustomed to what's goin' on here. I like it."
Chris: So you don't feel like you could really get this experience somewhere else?
Wade: You mean, "If I were living in Houston would I be pursuing music?" I doubt it. I don't see the support. I don't see the interest.
The people that are interested in music here are extremely interested in music; That's for sure. Whatever draws them to it… Around here, they're serious about their music.
But if you're asking about the music fans - that's Me, here. 'Cause I want to know who's playing; I want to go see what else is going on, really.
Chris: So you like it here. You're in this music biz, seeing were it's going.
Wade: Yea. I don't think sackers in a grocery store have that much fun.
-End-
Return to Interviews or Home
---
Do you like the interviews you have been reading on virtualubbock.com?
Buy the book by author Christopher Oglesby
Fire in the Water, Earth in the Air:
Legends of West Texas Music

"As a whole, the interviews create a portrait not only of Lubbock's musicians and artists, but also of the musical community that has sustained them, including venues such as the legendary Cotton Club and the original Stubb's Barbecue. This kaleidoscopic portrait of the West Texas music scene gets to the heart of what it takes to create art in an isolated, often inhospitable environment. As Oglesby says, "Necessity is the mother of creation. Lubbock needed beauty, poetry, humor, and it needed to get up and shake its communal ass a bit or go mad from loneliness and boredom; so Lubbock created the amazing likes of Jimmie Dale Gilmore, Butch Hancock, Terry Allen, and Joe Ely." - University of Texas Press