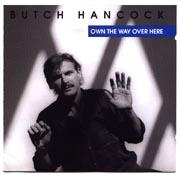 From the liner notes of
Butch Hancock's
OWN THE WAY OVER HERE
Advice To a Young Poet
In the Wings
(HA!)
By Butch Hancock
---

i'm telling ya kid…it ain't in the glass…not in the glass of the bottle…not even after
you've seen gawd's awmighty face scowlin back at you in neon replicas an reflections
on the tiny rim of the mouth of that bottle__an it's not…not in the glass you pour the
contents of the bottle into…as if there's somethin civil or moral or spiritual or humane
or even proper about doin that…like it will dilute the fluid of its duty…which it won't__
it's just another layer you put between you and what you're drinkin
an what you're tryin to drink__

an…it ain't in the dance…tho you're wise, if not innocently so, beyond your ears
to get your ass out there…with the slinkiest or the fattest…or the slowest or the fastest…
or the firmest or the flabbiest…or the floppiest or the flattest…or the craziest or the
classiest…or the cleanest or the clammiest…
SHE-DEVIL-GAWD-ANGEL-WHORE-QUEEN-EARTH-MOTHER-VIRGIN
you can possibly find…
an get your moves down tight...an loose…an everywhere in between…
cause you're for sure gonna need em when you least want em…
an if your lucky…you're gonna want em when you most need em__

no…it ain't in the dance…tho that's one of the places you can get as close to it
without gettin there as it is possible to get__
an it is one of the requisites…sort of puts you in the general vicinity__
it's not there...you can't even see it from there...but sometimes you can actually
see its shadow from there__

an…it ain't in your words…your songs…tho you'll soon think it is__cause it'll come
whizzin past you…come whizzin right thru you when you're writin your best or when
you're singin your best…it'll come an you'll think it came right FROM you…right outta
your own hands or outta your very own throat__it'll feel that good…but it's long gone
like that turkey thru the corn, boy…long before you even get the twitch of reaction
to its been-an-gone-ness…to its dust in your mouth…to its long distance
rumblings over the horizon_________________________
so don't lie to yourself over that one…it could cost you…YEARS!!!
but…don't stop writin' or singin' either…get it?

an…it ain't in the wisecracks…an the fun…an the jokes…an the fronts ya put up…
an the fronts ya put up with__an it ain't in the laffin…an it ain't in the cryin__
an it ain't in the laffin just to keep from cryin__an you'll find out too…
it ain't even in the cruel soul-savin cryin you do
that cryin that is
the cryin that keeps you
from laffin

IT...for lack of a shorter word…slips right thru the wisecracks in the walls we build
an goes on its merry way…not even wonderin or carin if we follow__
IT does not wait

an…it ain't in the wind tho it's close
it's close to breath…tho it ain't there too__but you'll think it is
when you breathe her breath in your lungs…an she, yours in hers

an…it ain't in the breath you grasp for between words in your songs…
tho it's close when you're out of that breath…when your stomach muscles
are locked tight an there's no more air in your body…
an your lungs are vacuums of anti-matter…
an the last bit of void that even resembled breath was squeezed outta your throat
scrapin your vocal chords with a sneer that it's getting out of your system alive
but you're still in there_
an when you've got nothin left to squeeze outta there…an your heart's in your head…
poundin bigger than your head can hold…an your sweat's shootin outta your pores
under pressure…an your spine wants to turn back into its d-n-a corkscrew…
an your neck and back muscles are tryin to help it do just that…
an your eyes went blind on the last verse…an you can feel that sweat streamin
in the inside of your eyeballs…an you realize that sweat and breath are brothers
an THEY are runnin your show for you tonite…
an when your hands go numb…an you can't tell if you're still holdin'
your guitar…much less strummin it…
an your ears fill with light that gets blown back out by the sweat
comin out of them now…an you know that your whole existence is a
ONE WAY EXPLOSION…
when you get there AND you know you still have
two more lines in a song to sing before you can take a breath…
an to do otherwise you lose the beat…
even then…that's not it…it's close…but you're not there
cause somehow you sing those two lines…the exhale…the explosion is complete
__but HA! NOT ETERNAL…you didn't get IT out…
__an what you did get out…comes roarin right back in__
an it brings more back in with it than what went out with…a kind of maniacal
cruel cosmic feed-ing process__it comes back in with the sights you didn't see
while your eyes were busy bein blind__it splatters those sights against your mind-
walls__murals…posters…slide shows…feature length movies…of those multitudes of
honky tonk angels dancin like the dickens on the heads of pins…those sharp little
notes an words of your music an songs__
it's like you squeezed the IT…no…it squeezed itself
down to impervious-ness…untouchable-ness

an in doin so
drove everything away from itself and outta you…expanded you from limb to limb
to your little limits…an before your explosion could cease expansion…it opened
UP the intake valves an what couldn't find a place in you before NOW rushes
IN an finds all kinds of spaces to settle into between your exploded parts…
an it is all taken into your be-ing when you collapse back IN…
together…so to speak
ah…i could go on…an i will…but that's none of your bizness or anybody else's just yet…
just i'll add…YOU'LL GO ON TOO
an you'll look under every rock and leaf…
you'll lift every dress an every eyebrow…
you'll look into layers an beyond layers upon layers
of this-ness an that-ness an thus-ness
an be eternally satisfied an bothered
disappointed an fulfilled
each an every step of the way__
just remember: DON'T GET ANY SMARTER
THAN YOU'RE WILLING
TO BE DUMB
if space is curved So is form in any form…
we don't even see thru a glass darkly
we see thru minds distorted
even face to face the best we see of truth is that it too is a mask…
T R U T H I S A M A S K M A D E O F L I E S
just remember: EVERY SO OFTEN…you must somehow remove it
so you can put a new one on
because humans in all their many roles of helpless-ness…do have a charm-ing little
quality…a continu-ing small opportunity…in fact…an ABILITY to do this thing:
to remove the mask that quickly replaces the one they remove
T R U T H I S A M A S K M A D E O F L I E S
when you wear it out you will replace it This is your blessing and your curse.