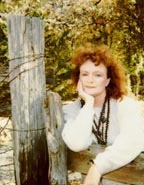 A charter member of the La Mesa Area Writer's Guild, Lamesa, Texas - Connie "Sage" Williams has captured the transcendent ability of the West Texas wind to inspire poetry. I love this poem and she has graciously shared it with us, below.

West Texas Sandstorm
by Connie "Sage" Williams
Lamesa, Texas
---

What is this little Concho dust shit!

What is this
fine film of silt
all over my mahogony piano,
all over my harlequin dolls,
all over the oil paintings on the wall,
the cobwebs in the hall?

What is this pilfering imitation of the aftermath of a
West Texas Sand Storm anyway!
I don't want to stand here dusting away this white
powder!
I want to stand on the rim of rock canyon,
Feel the wind tangling my hair to freedom!

I want to hear the coyote's howl floating down
the caprock breaks through the prairie grass!
I want to feel the brown sky -
Feel the sting of sand upon my cheeks making mud with
tears only the West Texas Wind can bring to my eyes.

I WANT!
a black cloud to roll in here and turn the
day to dark, a rolling wind that turns my head
around on rutted country roads until I am driving
back where I came from and I don't know my West
Texas ass from a prairiedog hole in the ground.

I want a wind that fills my ears with the sound of
old barns shattering and windows rattling,
A freight train thundering down the track:

CLICKITY CLACK!

CLICKITY CLACK!

NO LOOKING BACK!

NO LOOKING BACK!

I want a wild, wicked wind to blow all night, Mariah
en la mesa, bellowing against a sunrise that slips slyly
into morning sliding its silver tongue into the storms throat and sucks
its . . . breath . . .away!