Fire in the Water, Earth in the Air: Legends of West Texas Music
by Christopher Oglesby
Published by the University of Texas Press:
"As a whole, the interviews create a portrait not only of Lubbock's musicians and artists, but also of the musical community that has sustained them, including venues such as the legendary Cotton Club and the original Stubb's Barbecue. This kaleidoscopic portrait of the West Texas music scene gets to the heart of what it takes to create art in an isolated, often inhospitable environment. As Oglesby says, "Necessity is the mother of creation. Lubbock needed beauty, poetry, humor, and it needed to get up and shake its communal ass a bit or go mad from loneliness and boredom; so Lubbock created the amazing likes of Jimmie Dale Gilmore, Butch Hancock, Terry Allen, and Joe Ely."
"Indeed, Oglesby's introduction of more than two dozen musicians who called Lubbock home should be required reading not only for music fans, but for Lubbock residents and anyone thinking about moving here. On these pages, music becomes a part of Lubbock's living history."
- William Kerns, Lubbock Avalanche Journal
---
Hi Chris. This is the story of my musical career. - Dan Atcheson
---
When I was in early grade school, everyone thought I was stupid; especially the teachers, so when they pulled out all the percussion instruments for us to play, I ALWAYS got stuck with the damn sticks--the stupid instrument. I so longed for the more colorful things such as the triangle, bells, tambourine, etc., I promised myself I'd someday earn a more sophisticated instrument. God eventually gave me the ability to play six of them. But in the end, a drum set was my bag, so I once again ended up with nothing but some damn sticks. LOL
One of the first photos of the Velveteens. Probably 1959 or 1960.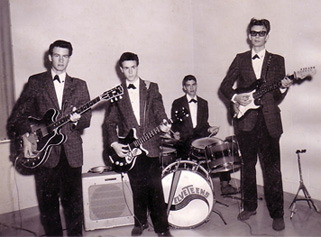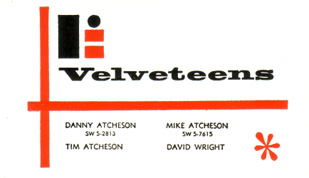 Here's a rare picture of brother Tim and me taken in the 1970's. I'd love it if you'd put it on your site.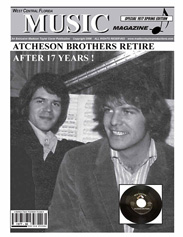 Chris, I noticed that Dan Atcheson has offered some photos out of his archives. Do you plan on putting any ot that material online? There is probably some priceless material in there. Just about everybody went through that band at one time or the other. I'm sure you know his mother was an agent as well for years. I'm particularly interested in photos he might have with Glen Bonds. If you get a chance I would appreciate very much if you could ask him. Thanks and keep up the GREAT work,
Curtis Cates
As per Curtis' request. Glen's the one with his arm extended. He was one helluva drummer.
Dan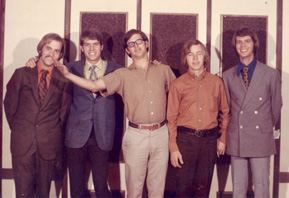 Here's one of our biggest competitors in the early 1960's--The Sharps Combo. Their lead guitar (Don Baggett) was one of the best guitarist to EVER come out of Lubbock. We often took turns playing for teen dances at the Lubbock Country Club. We got pain $50 per 3-hour gig = $12.50 per man. Very good money when the average pay for young men in the main work force was $1.40 per hour. Richard Ferrier (singer) and the my family are still very close friends.
Dan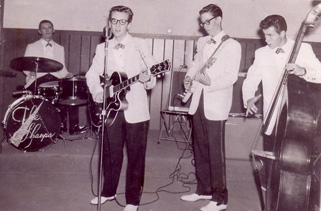 Here's one of my brothers and me.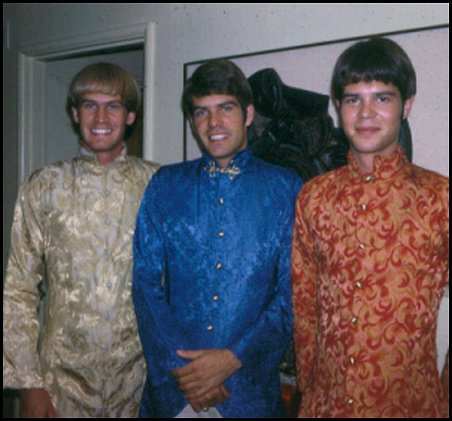 This one of the last ones ever taken of me playing drums. It was a church gig and it was a lot of fun. There were some awesome musicians in the group, including Kenny Fitzgerald, the best bass player I've ever worked with.
Dan