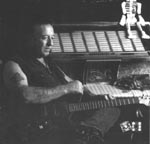 JESSE TAYLOR
April 10, 1950 - March 7, 2006

Our great, beloved guitar hero Jesse Taylor has passed away.

Please send us your memories and pictures of Jesse. He was a true West Texas original.
Read an original essay by Chris Oglesby

---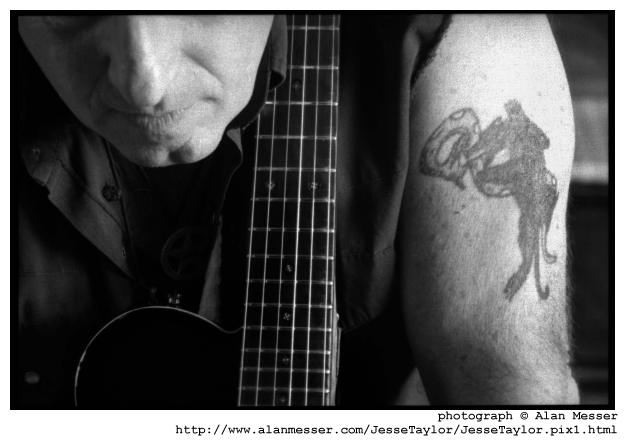 Thank you to Alan Messer for sharing his beautiful photo with us. - c.o.

---
From: Henry Wallace Stopher


Sent: Sun, 17 May 2009 5:30pm
Can't talk with Jesse or our other loved ones who've gone from here, but we've still got our memories until we meet at the Endless Table; and with Jesse we've got some paintings, CDs, and videos, too.
When I met Jesse he was known as Jesse Hercules, I think it was 1966 or 67. We both played that day in Wooldridge Park, at Austin's first love-in.
I was in the Conqueroo and Jesse was in, I think its name was Sunnyland Express? with Angela Strehli, Lewis Cowdrey, and Jimmie Dale Gilmore. T. J. McFarland may have been the drummer. He was a great one, now gone, too.
Henry Wallace Stopher
---
From: Rick Hulett


Sent: Tue, 17 Feb 2009 12:41 pm
Subject: Jesse
I'm kind of late posting this, but still had to write something. I remember the time Jesse got some boxing gloves from somewhere. He and Dave Billingsley built a boxing ring in the vacant lot next to my house in Lubbock. They used to show up every Saturday afternoon with a case of beer and proceed to beat the crap out of each other for an hour or so. Then we'd all drink the beer into the wee hours. When that movie "Fight Club" came out I always wondered if they got the idea from Jesse. Then there was the time that Jesse and I were both playing with Joe at the Cotton Club for 4th of July. There were some drunk bikers there and they kept throwing firecrackers on the stage. After a couple of times, Jesse grabbed a mic and very politely asked them to stop. On the the next song one of them came up and threw another one on the stage. At the end of this song, Jesse again took the mic and explained that if they did it again he would kick their ass. As the next song started, sure enough, here came another firecracker. Jesse didn't say a word. We finished the song and as soon as it was over, Jesse calmly put his guitar down and walked off the stage to the corner of the Cotton Club where the bikers had now started a small fire. He walked right up to the guy that had been throwing firecrackers and proceed to beat the living crap out of him leaving him in a broken pile on the floor. That's the way I remember him: the kindlest, gentlest, toughest, most hardcore guy I ever knew.
Rick Hulett
Django's Cadillac
www.djangoscadillac.com
---
From: Jim Burnham


Sent: Thu, 12 Feb 2009 11:44 am
Subject: Jesse Taylor
I was looking at the Stubbs BBQ web site, saw Jesse's name and was suddenly
transposed to the Main Street Saloon, 1974-5, where Joe Ely often played. I
lived down the alley from that place and recalled Jesse's playing well. I
remember the first time I saw them and he played some song about a gambling
man (wish I could recall the name) with a lightnin' lead that hooked me
right then. I was sad to see that he passed on nearly three years ago. I
didn't realize he had such a colorful history. I'll have to find some of
his recordings.
Jim Burnham
---
From: alan jay campbell
Sent: Mon, 3 Mar 2008 4:45 am
Subject: jessie guitar taylor
hi,
in the early 90s jessie came over to england and my band at the time time hot in the saddle that was a new country band supported him and on a few gigs he played with us.i have some photos of jessie with myself and the band and a LP that he gave me with a few notes that he wrote for me on the inside sleeve.he was one warmest people that you ever wanted to be around,but heres a great story thats true.when jessie came over to england i was living in a place called whitehawk and it was one of the toughest places in brighton sussex england where i lived, every night cars went up in flames and people got shot with shotguns yeah, a real manic place to live.well after playing with jessie on a few gigs in brighton, well lewes which was about 15 miles out of town and then i think jessie was off to london.well anyway, i thought that was it and although i enjoyed jessies company and music that was the last time i would have seen him.but one eveing this big car came into my road and stopped outside my house and out comes jessie so i answered the door and jessie said... hi Al, can i use your PA as ours has not arrived.that was magic.also we used to talk about haunted homes and castles as he had a interest in all that.i must admit i did not know that jessie had died untill i looked on youtube but a man never to be forgot in all those he touched with his personality and music.
R I P buddy,
alan jay campbell.
sompting village england.
---
From: Terry Winchell
Date: Nov 16, 2007 1:57 PM
Hi, my name is Terry Winchell. I'm a singer songwriter. When I was living in Nashville in the 90's I met Jesse Taylor through an old friend of his and mine. We had the most wonderful conversation that lasted a few hours. After I saw him on stage with J. Ely, I had a very strong feeling I knew him or something was familiar about him, and I told him that after he played that night. I half jokingly said, you look like a relative of mine; hey, you're not Czech are you? He laughed and said yes, I'm half Czech. Well so am I. We laughed and talked about family, music, lots of stuff and I sang a few Czech songs to him.
I was so looking forward to seeing him again, and he had told me to look him up if I ever came to Texas.
Well, my husband and I are probably moving near Austin in a year or so, and I'm so sad I'll never see Jesse in person again, but I'll feel his spirit there in Texas. I'm just so glad I met him.
I thought you'd enjoy my story.
All the best to you,
TW
---
From: Vincent Barbonne
Date: Tue, 29 May 2007 10:09 AM
I had the great pleasure to play Harp with Jesse in Switzerland in Mühle Hunziken Bar - Bern. It was in 1999. The best Rock-Blues Concert in my musician life. I never forget.

Vincent Barbone
---

From: Pepi from Italy
Subject: JESSE
Date: Mon, 19 Mar 2007 2:30 PM

I HAD KNOWN JESSE APPROXIMATELY 10 YEARS AGO, HE WAS IN EUROPEAN TOUR WITH JOE ELY.
IN A BAR OF GALLARATE ITALY IT SAID TO ME IF WE COULD DRINK TOGETHER ONE BEER,WE SPOKE ABOUT TEXAS AND ITS ITALIAN TOUR.
I STILL CONSERVE ITS AUTOGRAPH, FOR ME IT WAS ONE SIMPLE AND EXTRAORDINARY PERSON.

PEPI FROM ITALY
---
From: Tony Moule
Date: Thu, 4 Jan 2007 5:48 PM
Really sad to hear of the death of the Great Jesse Guitar Taylor. I have been trying to get hold of an album of his on CD called last night but without success. Can anyone help? Here's hoping.
Tony Moule, Harrogate, England
---

Subject: Jesse Taylor
Date: Sun, 26 Nov 2006 8:19 PM

We was sitting that night in Max Cheshire's car (he was the only one of us had one then) at the Hi-D-Ho, Gilmore and Max and Jesse, and me for some reason. And Jesse woulda been 18 or 20 then and going on in the dark and the neon lights and the hamburger smells about Dostoievsky.
---


Subject: 1985 Jesse Taylor photo
Date: Tue, 31 Oct 2006 12:26 AM
From: Niles J. Fuller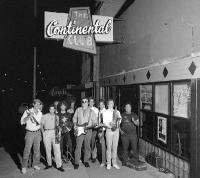 Jesse Taylor, "Lubbock or Leave It" at the Continental Club on South Congress Ave., Austin, Texas around 1985 with friends and band members. Photo by Niles J. Fuller
RIP Jesse.
Niles

If you ever need more photos of Lubbock musicians who migrated to Austin I have a ton of them. Here's a few.


---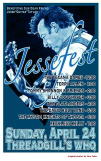 Date: Sat, 28 Oct 2006 11:38 AM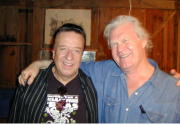 From: ultrabuddhaboy

Here are a few of my Jesse pics. All but the poster are (c) Buddha Boy Productions.
I have video I made of Jesse w/ the Texas Belairs.
Michael Patton
Buddha Boy Productions
Lubbock, Texas
---

Subject: Sweet Jesse Taylor
Sent: Monday, October 16, 2006 11:43 AM
From: Joe Specht

We all know Taylor's seminal work with Joe Ely in the late 70s, but he's slung his guitar for lots of other folks including Tommy Hancock's Supernatural Family Band, Terry Clarke, and BJS. I have two Taylor solo CDs, Last Night and Texas Tattoo, plus a joint effort with John X. Reed, SouthSideGuitar.

Certainly one of my fondest memories of Jesse dates back to the evening in the early 90s when he provided axe support for Marcia Ball when she played Abilene's Paramount Theater. Those who were there experienced some smoldering musical exchanges between Mr. Taylor and Ms Ball. You might remember, too, this was the concert some of us were able to move down to the front row after the regular ticket holders abandoned their seats during intermission. And your humble reporter got to request "Find Another Fool." Memorable.

For some reason the Oak Ridge Boys "The Baptism of Jesse Taylor" is running through my head.
Don't ask why. Oh, sweet Jesse Taylor I wonder if you ever went under for the lord?

Joe Specht

---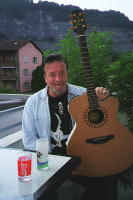 Date: Sun, 27 Aug 2006 6:54 AM
From: Lucas Schürmann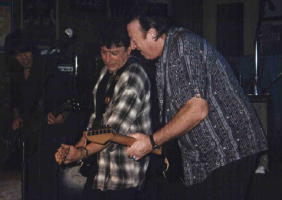 Hallo
Liebe grüsse aus switzerland. Jesse in switzerland with the guitar from Calvin Russel 1.8.99
Lucas schürmann
---

Date: 8/3/2006 10:50:15 AM Eastern Daylight Time
From: Douglas A. Brown
I was checking out the Joe Ely site, hoping to find a show in the New England area in the coming months when I came across the alarming words, "Tribute to Jesse Taylor". I was saddened to hear of his passing, but drew some relief from the beautiful personal memories people have shared on this site. My wife and I had become great fans of Joe in the early 90s and finally made plans to see him live in July of '98. Remember, Joe rarely got up this far north...only a few dates north of N.Y.C. every couple of years. We called the Bank Street Roadhouse in New London, Ct. to inquire about tickets and got the bar's owner on the phone who was all fired up about the show. I wish I could remember his name, (and I thank him again for his hospitality that night), but he seemed very excited to hear we were coming "all the way from Boston" to hear Joe and his band. For you Texans laughing out there, yes, Boston to New London is only a two-hour trip, or down the road a piece, but he was thrilled that we had heard about his bar hosting Joe Ely because he was obviously a huge fan himself. He wouldn't take a credit card over the phone, he just took my name and asked if we'd like to come down a little early, have a beer and catch the sound check. Well...alright...if you insist. He then asked if we needed a place to stay or anything else, we told him we had a motel room already booked.
Showing up around 4 PM, we entered the bar just as the bus was pulling up. We asked for the owner, (damn, what was his name?), who greeted us like old friends and offered drinks....alright...if you insist. After set-up and sound check, Joe and Jesse strolled over to the pool table, picked up the cues and started playing. During this time, my wife and I were just smiling and laughing at our good fortune. We introduced ourselves and talked with Joe and Jesse while the other took his turn at the table. Sometimes, when you admire someone for their music, writing, athletic achievements, politics or whatever, you come to find later that they're not quite the person you thought you knew. These two gentlemen could not have been more gracious and friendly to us. So much so that I forgot to tell them how much their music had meant to me and carried me through some rocky times.
That night was truly remarkable. The Bank Street sits on a hill that runs down to the Thames River that flows into Long Island Sound. It has big windows and a small roofdeck overlooking the water, but on this night, no one was outside. The place probably has a legal capacity of 90-100 and there were about 125 people packed in to hear Joe and the man he introduced as Jesse "Guitar Hercules" Taylor. I'd provide the set list if I could remember, but I can't even remember the owner's name for chrissakes,(no, wait, I think it's Tom!). Anyway, killer versions of Road, Drivin to the Poorhouse, Gallo del Cielo and Ranches and Rivers stand out still in my memory to this day. Saw them several more times and they were always outstanding, but I always go back to that sweaty night in July in New London for Texas roadhouse rock. Thank you Jesse...I see by these tributes that your guitar playing was magnificent, but that was only a small part of your story. Peace.

Douglas A. Brown
Boston, Ma.
---

Date: 7/31/2006 12:16 PM CDT
From: Danny Darling

Well , it's been 4 month's since My Beloved Friend Jessie passed away. It is now 7.31.06. Sadly I just found out about Jessie passing and I am so heart felt and deeply sadden. I hadn't seen Jessie in a good while. I only heard through the Music Grapevine that his Health was not good. I made several attempts to contact him, but never, never got through. I am So Sad, So Sad this Monday Morning, but I am happy for his Life and Friendship. The last time I saw and spoke with him was at 328 Performance Hall in Nashville, TN. His was playing with Joe Ely. I gave Jessie a Big Hug that Night and drank a Beer with him. Man, he played he's Heart out that night. There was never a night he didn't. That was the last time I saw and heard Jessie.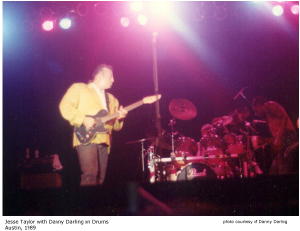 Sometimes you really get out of touch with your Music and General Friends in this life. Keep in touch with them anyway you can.It is worth the effort...God Bless You Jessie "Guitar" Taylor.
I knew Jessie very well, played drums for him and hung out with him hear in the USA and Switzerland. What everybody says about Jessie is true and beyond that. Jessie was a Giant and a Big Teddy Bear. He was truly a Friend to me and my son in music and life. My son and myself would stay with his mother when I was gigging with Jessie in the Austin Area. Jessie made sure we had a place to stay. Jessie was so much like his Mother. If you knew his mother then you knew where Jessie received all of his blessings. I have so many great memories of playing drums for Jessie and just being a friend to him. These memories and experiences I will honor and cherish forever. I have some great pic's of Jessie. I will send them ASAP.
I truly miss you and I know God has a place for you...
May God Rest Your Soul...And Your Soul & Spirit Will Live On Forever.
Love You Bro
Danny Darling
http://www.dannydarling.com
http://www.myspace.com/dannydarling
---
Date: 6/17/2006 7:24 AM EDT
From: Henry and Kate
It was a few years back, being huge Joe Ely fans, my wife and I drove from the Jersey shore to The Tin Angel in Philadelphia to see the band. We were entering the restaurant downstairs when we met Jesse. We introduced ourselves and told him how much we loved Joe, the band and Jesse's great work. We told him that we had followed the band for sometime and that we had their albums on vinyl. Jesse couldn't have been nicer. He was warm, friendly and treated us like he knew us forever. He invited us to the sound check before the show but they were having dinner first and we didn't want to impose. We wish we had gone to the sound check...we wish we could have talked with Jesse some more...we wish we could see him on the stage with Joe...no one fits better in a true picture of the Joe Ely Band than Jesse...our hearts go out to his family and friends....
Henry and Kate

---
Date: 5/10/2006 8:20 AM CDT
From: Cathy Wells
I am Cassie Hataway's mother and she and Jay asked that I pass this along to you. Yesterday, Jesse Taylor's family along with Cassie and Jay [Hataway] were present at the State Capitol's legislative session while a resolution was read on the floor honoring Jesse.
Nicole Taylor is extremely special to our family and we appreciate you bringing together all the memories and tributes about Jesse.

Cathy Wells

79S30775 JTR-D
By: Naishtat H.R. No. 206
R E S O L U T I O N

WHEREAS, With the passing of Jesse "Guitar" Taylor on March 7, 2006, at the age of 55, Texas has lost a larger-than-life musician whose colossal talent was rivaled only by his great generosity of spirit; and

WHEREAS, A native of Lubbock, Mr. Taylor was an apt heir to that city's rich musical heritage; he met C. B. "Stubb" Stubblefield when he was offered a ride by him while hitchhiking, an event that would signal the start of a long friendship and lead to storied jam sessions on Sunday afternoons at Stubb's; and

WHEREAS, Mr. Taylor first gained widespread fame as the lead guitarist for the Joe Ely Band, and his fiery, inspired playing earned him the heartfelt admiration of such accomplished musicians as Keith Richards, Bonnie Raitt, and Stevie Ray Vaughan; and

WHEREAS, Mr. Taylor's imposing physical presence and past as a Golden Gloves boxer were offset by his sweetness of disposition, and although he could bring a quick halt to physical altercations when necessary, friends affectionately recall him as the gentlest of giants; and

WHEREAS, A free spirit throughout his life, Mr. Taylor was an inveterate rail rider well into his 30s, once hopping a freight on the spur of the moment during a break between his band's sets and riding from Austin all the way to San Antonio before disembarking; and

WHEREAS, Toward the end of his life, he took up the visual arts with the same verve and intensity that characterized his musicianship, and his vivid, multicolored pencil drawings were yet another expression of his enormous appetite for all that life had to offer him; and

WHEREAS, Jesse "Guitar" Taylor was a vital figure in the Texas music scene, and he will long be remembered for the colorful, remarkable artist that he was; now, therefore, be it

RESOLVED, That the House of Representatives of the 79th Texas Legislature, 3rd Called Session, hereby pay tribute to the life of Jesse "Guitar" Taylor and extend sincere sympathy to the members of his family: to his sister, Kathy Taylor; to his brother, Timothy Fain; to his daughters, Nicole Taylor, Chelsea Taylor, and Carrie Young; to his niece, Cara Fain; to his grandsons, Taylor Peterkin and Lucas Butler; to his loving partner, Kim Elaine Stewart; and to his other relatives and many friends; and, be it further RESOLVED, That an official copy of this resolution be prepared for his family and that when the Texas House of Representatives adjourns this day, it do so in memory of Jesse "Guitar" Taylor.
---
Date: 5/9/2006 5:50 PM CDT
From: Bridgit Smith
hi people, im just emailing to say that y'all's thing on Jesse is awesome. he was such a great man, we miss him so much, he used to be in my mom's band and we were all really close, when he passed away, i cried day and night for three days strait. the hardest part about it, was, well, i never got to say goodbye...
i went to this thing, i forgot what it was called, but it had his body there, it was so intense............
any way, thats it, l8er.

PEACE OUT I'M GROOVY -Bridgit
---

Subject: Last time I saw Jesse Taylor
Date: 5/3/2006 12:17 PM CDT
From: Steven Truitt
I remember the last time I saw Jesse Taylor was at Strait Music in Austin, (the old location on Lamar close to the first Whole Foods). He and Butch were going to play a gig that night. I remember Butch
was buying some guitar cords. This particular brand of guitar cords had different colors to them.
I remember Butch talking to Jesse that the color of the chords they got were important.
Miss Ya Jesse, you are a great inspiration to all of us guitarists!
Remember how he used to dwarf a Les Paul when he was playing it ?
---
Date: 4/26/2006 9:42 AM CDT
From: Amy Headley

I've sent out several e-mails to folks here in Lubbock including the Lubbock Art Alliance and have not received any reply. Does anyone have plans for honoring Jesse here in Lubbock? We have the Stubbs Memorial on Broadway, and I think it would be so great to honor Jesse there (to keep Mr. Stubblefield company).. I am unsure who to contact to even see if this is a possibility. I have grown up in Lubbock and have always loved the music here. I graduated from Lubbock High in '79 and got in on the tail end of Ely..... My best memory is when Ely (and Jesse) played with the Clash at the Rox. When Jesse came back out, the Clash had cut his hair. Wow! The Rox was an amazing venue for a few years there.....and Fat Dawg's too..... There was an unbelievable amount of talent that showed up in those few blocks!

Anyway.....I really want to see about the possibility of raising some money and commissioning a statue of Jesse to stand with Stubbs there on Broadway. I know there are so many, many things that would have to happen to get that accomplished but I think it would be really cool. I think Jesse and Stubbs would approve. Somebody else may already be in the process, and if so, please put me in touch because I would very much like to provide any help I can. I was at the concert last Friday night with Terry and Lloyd..... Simply legendary!

Thanks in advance........

Amy B. Headley
---
Date: 4/23/2006 1:07 PM CDT
From: Mick Shelton

My name is Mick Shelton, I am 58 years young and I live in Derby in the United Kingdom. I have followed my musical heritage and dream's since I first heard Rock n Roll way back in 1960 and it has been one of my great privileges to have seen, heard and met Jesse 'Guitar' Taylor.
I realise that this memorioum is late but I was late in getting the sad news.
I hope that my Jesse Taylor story may be of some interest to you and your readers. He will forever be a part of my life story.
Thank you and keep up the good work.
Mick 'Shelly' Shelton
"Stereo Chicken"
---
Subject: Birthday Memories - Jesse Taylor Memoriam Page
Date: 4/10/2006 4:55 AM CDT
From: Annette Wootton

Happy Birthday Brother - Love as ever, Fancy and Annette
---
Subject: young again
Date: 4/8/2006 11:08 AM CDT
From: John Collins
Memories like these are the only way we are going to be young again.
John Collins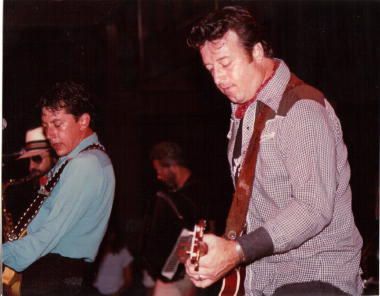 ---
Date: Tue, 4 Apr 2006 10:23 PM CST
From: AaronStar Vogel
...I was just browsing around, reading up on the old gang; wondering what the West Texas Music Legends were up to these days, and while on the Butch Hancock Yahoo group I came across a nasty suprise. I read that Jesse had passed, and my heart broke. Jesse was my Godfather. He was one of my mother's best friends. Martha [Fain, Jesse's mom] babysat me every day for most of my childhood.
Ever since my mother, Karen Vogel (still Karen Frederickson to some) passed on, I have been pretty much out of the loop. I moved away from Lubbock and have not stayed in touch with anyone there so I had no idea. The ironic part is I was passing through Lubbock within days of the funeral.
As I mentioned, Martha babysat me forever ago, those memories are vague now but still some of the best I have of my childhood. When I was still very small my mother took me everywhere- Fat Dawg's, Tornado Jams, the Spoon, Stubb's, any and every party- so I spent so many nights dancing to the first set. I remember I would always dance right in front of the stage and try to show him how much I loved the music by how enthusiastic I was. He taught me how to play pool in Fat Dawg's; that was eons ago. I remember parties at my mother's house, she would have EVERYONE over and whoever would play in the back yard. Evenings sitting around with the grownups listening to Jesse and all anyone else that was willing.
I don't really have any great story like the ones I was reading on the site - and those stories had tears streaming down my face- but Jesse is my family, he was very much a father figure to me. I know I am late, but I just wanted to send my little piece out there, and thank whoever put the site up. I remember my mother telling me most of those stories, reading them brought not only Jesse a little closer, but my mother as well.
I love you Jesse.
AaronStar Vogel
---

Date: Tue, 28 Mar 2006 2:35 AM CST
From: Hymie Smith
I knew Jesse from the local scene beginning in about 1971. He was a monster player that always humbled me but at the same time managed to be supportive and inspirational. He played at a jam session at my 21st birthday party and pretty much made the occasion. I have great memories of him, David Stevens, and Kerry Lee at the Cotton Club jamming and working with incredible musicians who have made me the player and person that I am now. When he sat in with Ace Pancakes and the Lone Star Fogmen it was an incredible treat. Later, after I moved to Denver, he remained a gracious friend. "Immanently Palatable" was how Kerry described his playing. I will miss and love him always.
- Hymie Smith
---

Date: Mon, 27 Mar 2006 9:51 PM CST
From: Jesse Dysart
I am quite sad to hear that Jesse has passed on. It has been about 12 years since I last saw Jesse, but he was one of the nicest people I remember meeting as a kid. I remember being 5 years old in Berkeley & going to the Holiday Inn to meet up with everyone before a Joe Ely Band show (my folks were good friends with all the guys). I walked in to this room of grownups a bit uneasy. This very large man walked up to me & asked my name (knowing it from my dad). After telling him "Jesse", Jesse says "well, anyone named Jesse has got to be alright" & give me a big hug. I didn't even know the man, but he made me feel comfortable right away. It has been a long time since I hung out with his lovely daughters in Lubbock, but I always remember what a wonderful family Jesse had. While he was much older than me & I had not seen him in many years, I'll miss Jesse forever. He was really one of the warmest people I have ever met. In fact, the last time I saw Jesse was in Lubbock. He asked me if I remember the first time we met...I couldn't believe he did...but that was just the kind of man he was.
For his family, I send my prayers.
Jesse Dysart
---
Subject: LYNN"S MESSAGE TO YALL
Date: Sat, 25 Mar 2006 8:59 PM CST
From: LYNN MEITZEN
I MET JESSE A LONG TIME AGO. HE AND I AND JOEY HAD A TON OF FUN! I'LL NEVER FORGET HIM FOR HE WAS AND IS MY TRUE FRIEND AND INSPIRATION.
ON BEHALF OF ME AND JUBAL CLARK, I BID HIM THE FONDEST OF FAREWELLS!
I LOVED YOU JESSE AND I ALWAYS WILL, YOUR FRIEND AND BROTHER FOREVER, SEE YOU ON THE OTHER SIDE TOMMORROW, SAY HOWDY TO THE BOYS FOR ME.......
"TALKIN' " LYNN MEITZEN
---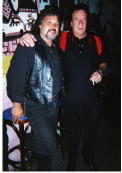 Date: Thu, 23 Mar 2006 5:56 AM CST
From: Bob Liberatore
So sorry to hear Jesse has passed away. I had the fortune of meeting him only once in '02 when he was playing for Billy Joe Shaver. What a great guy and great guitar player!
Attached is a picture of him & I.

Bob Liberatore
White Haven, Pa.


click image to enlarge

---
Date: Wed, 22 Mar 2006 3:21 PM CST
From: John Conquest
I'm dedicating the April issue of 3rd Coast Music to Jesse and inviting anyone who wants to say a few words to contribute. Email address is: john@3rdcoastmusic.com.
John Conquest
---
Subject: Photo of Jesse and His Girls
Date: Fri, 17 Mar 2006 8:03 PM CST
From: Nicole Taylor
Hi Chris- Here's a pic of Jesse and his daughters and girlfriend...I want to thank you for the website, my whole family loves it and we visit it alot. The photo I sent you was taken last Fall at one of his art shows in Austin...Thanks,Nicole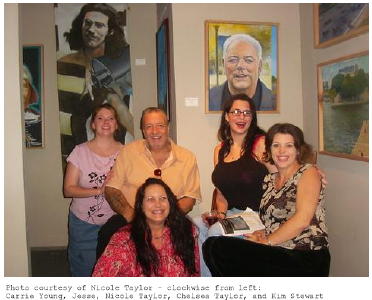 (clockwise from left: Carrie Young, Jesse, Nicole Taylor, Chelsea Taylor, and Kim Stewart)

---
Date: Thu, 16 Mar 2006 7:32 PM CST
From: KLC
Whew! Time and memory fade ... C.B., I hope you remember the particulars better than I ...

1965...C.B. took me to hear a garage band in her hood. The garage had been converted to a ... coffin shop. Oh my. The other players, I think, were Albert, Randy, and the future Parks and Recreation director, Sam. Now realize ... my teen combo, Kerry's Krowd, was packin' community centers and sock hops all over west Texas with our two-hour nonstop Rolling Stones cover show ... and I had never met a mirror I didn't like! As the band valiantly bashed out "San-ho-Say," a Freddy King surf (?) instrumental, I heard an ominous tone rising from behind a coffin in the corner of the dark garage. Then came ... the First Great Humbling! A banshee wail ... a wild bull elephant call ... the world fragmenting between my ears ... 14-year-old Jesse "Hercules" Taylor. Jake.
Fast forward one year to the Summer of Love. Colors, my soul band (replete with a Dunbar High School horn section) needed a lead guitar. Who ya gonna call? Well, that lasted a coupla gigs until Jake was beckoned west by that freight train whistle.
Fast forward again seven years and the stewardship of Lubbock's legendary Cotton Club is dumped in my lap. (Thanks a lot, D.K.!) Fortunately, the scene was attached to the Supernatural Band and an incredibly deep pool of talent anchored by Jesse, and out of which the Joe Ely Band would evolve. By
the way, Joe, I always regretted vacating the drum stool ... any idiot with ears knew where you and Jake were headed. But then it was time to seek life beyond Loop 289 ... You know, we all heard that freight train whistle blow...
Over the last two decades in Austin, Jesse kept in touch sporadically ... he would call me for a roofing job, a trash haul for Martha, and even a few pick-up gigs ... the last of which he fulfilled a lifelong dream of mine by allowing me to flail away on guitar behind him. In '96, Jesse played (gratis, of course) on a shoestring session that I produced for keyboard pal James (Gernandt) Austin. I hope to have the unreleased tapes digitized and available for download somewhere soon. Oh yeah, he could play funk, second-line, and reggae, too.
On my own erratic, invisible journey, I had the privilege of gigging with Ely, Martin Banks, W.C. Clark, Jubal Clark, and Jeff Haney, and jamming with Stevie Ray, Eric Johnson (the Second Great Humbling!) and Lowell George. Heroes, all. However, on my deathbed, I will best remember a 1979 living room jam ... James Austin, John Scott (my Gemini twin), and Hercules unbound ... playing out-of-our-skins, bending time and space ... lining up the planets with fire-breathing fusion. Simply the best music I ever got to play. Nothing will ever take that away from me.
Thanks and good-bye ol' podnah ... hit that long mean note and let it float...
just like that freight train whistle ...
K.L.C.
(lost in the pines)

---

Date: Wed, 15 Mar 2006 9:52 PM CST
From: Tommy Eaton
When I started the fourth grade we moved to Lubbock and got a small wood frame house in the Arnett Benson area. One of the first kids I met was Jesse Taylor and we became friends almost immediately. We were both from extremely poor families and didn't have any money to do anything with the other kids such as go to the movie or even ride bicycles because we couldn't afford it. We both were somewhat embarrassed and a little bit awkward. We didn't have many friends at first and hung out together a lot of the time.
Jesse was at the age when he began to ask about his father whom he had never met. Martha (Jesse's mother) told him that he was a guitar player in a country and western band in Cisco, Texas. After that Jesse decided he was going to learn to play the guitar and become so good that his father would be proud of him when they met. He would say that he wanted to be able to walk into the club and get up on
stage with his dad. Jesse begged for a guitar and his uncle Felix bought him a small one and he got a little amp about the size of a toaster oven. They only had a small clock radio and no record player.
Jesse would listen to the songs then turn off the radio and sit for hours trying to pick out the notes. He spent almost every waking hour in his bedroom and it became an obsession with him but he learned quickly. He often talked about his dream and even though we never would dare to say it, we both understood it was about a need for love and acceptance. The trip to Cisco, Texas seemed like a long and
exotic adventure. Even the name "Cisco" was exciting.
I begged for about a year and finally got a cheap guitar the next Christmas. I mowed lawns and saved to get lessons which cost $3 a week. I worked for hours trying to master such intricate classics as "Wipeout". Any song with more than three chords was beyond my grasp. After a few weeks I got Jesse to save up enough money to go with me (I think I paid half). After the first lesson the instructor told Jesse he would be wasting his time and money since there was very little he could teach Jesse. (He told me the same thing a few weeks later but for the opposite reason).
Almost every day I went to the Boy's Club, played baseball until dark, and went three times a week to the neighborhood pool early in the morning when the Boy's Club would pay for it. (The cost of 35 cents was more than my budget) I would go by to get Jesse, but he was always in his room by himself playing his guitar. He would say "I can't, I have to practice." I don't remember one time he ever went swimming or played baseball with us.
A block from his house was Roger's Park. I lived two blocks away on the opposite side. In the center of the park was a little recreation shelter with one outlet and one bare light bulb. Larry Chapman lived across the street from the park and had a small set of drums. A few of the other kids had guitars and when they heard Larry and Jesse playing they would come and try to play. A small crowd would sometimes gather and listen for a while. Almost all of the kids had to go home at dark and Jesse would stay there by himself playing until he got too tired to continue. I would go home, eat supper and bathe then go to bed by 10:00. Almost every night in the summer I had my window open and I could hear Jesse playing by himself until long after I went to sleep.
He finally got a record player and would play a song or a passage and then sit and try to reproduce what he had heard. After this he gained momentum at a tremendous rate. The few records he had were so worn you could barely hear them for the scratches. He was in every neighborhood band and no one could rival him. He was always very generous with his time and talent. If someone wanted to learn a song he would spend hours patiently helping them. Some of the kids were so bad it was unbelievable, but I never heard him once say that someone else was not any good or ever saw the slightest bit of jealousy.

Sometimes when I hear a group of kids in the neighborhood playing in their garage late at night I think of all the nights I went to sleep listening to Jesse in Roger's Park playing all by himself way into the night.
Jesse didn't learn the guitar for money or fame, he wanted love and acceptance. When I saw him play and be greeted by thousands of fans I also saw the little kid who finally realized his dream. Every one of the fans felt like he was a friend and in a very real sense he was. The fellow musicians weren't just partners, they were like family to Jesse.
I remember when he first told me about meeting Tommy Hancock, Charlene, and the Supernatural Family Band. He was so excited as he told me about how cool they were and how they accepted him as if he was one of their family. They played together and everyone got such a feeling of togetherness and warmth from them. He always felt he was a member of their extended family. When they were playing with John Reed at the funeral I know it was the best thing anyone could have ever done for him. It made the circle complete.
Thank you.
Tommy Eaton
Note from the editor:
please read this additional story
by Tommy Eaton, "Hitchhiking with Jesse"

---


Date: Sun, 12 Mar 2006 9:50 AM CST
From: Carol Howe
Jesse was one awesome guitarist that will be greatly missed. The last
time I saw Jesse play was on New Years Eve at Gruene 2000 with the Joe
Ely Band. Enclosed are some of the photos of that night. -- Carol Howe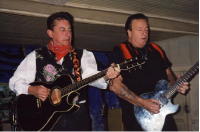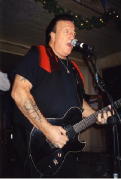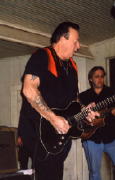 <click on images to enlarge>
---

Date: Sat, 11 Mar 2006 7:26 PM CST
From: C.K. Bucy
Just went to the funeral.
Many old memories of being around Jesse, years ago.
Always brought a smile to my face.
---

Subject: good trip jesse
Date: Sat, 11 Mar 2006 11:08 AM CST
From: Johnny Ray McCown
Look down Jesse, it's me Johnny Ray McCown. Thanks for always treating me like a friend and an equal over the years. You always had a kind word to say and a good story to tell. The last time I saw you was at the Lubbock Music Festival, you didn't play with Joe that night. I introduced you to my wife Claudia and we went to the South Beach Club to get out of the rain. It was a good night traiding "war stories with you". Peace to you. J.R.
---

Subject: A last farewell from Texas Radio in the Netherlands
Date: Sat, 11 Mar 2006 6:17 AM CST
From: Eddy Veldkamp
Although I didn't know Jesse 'Guitar' Taylor personally, I do know his music and his unique style of pickin'. And I heard of his humbleness and kindness. In the Netherlands my wife Ria and I host a radio show, called: "Texas Radio" and we know we have this Texas kinda feelin' when it comes to people and music. Jesse' death is a great loss for both Texans and music lovers all over the world. There'll never be a Jesse 'Guitar' Taylor agian, but his spirit will live on in the hearts and minds of all who are connected with him through his music. We'll meet again friend.
Eddy Veldkamp
"Texas Radio"
The Netherlands
---

Date: Sat, 11 Mar 2006 4:46 AM CST
From: Tony Walker
I met Jesse a few times through Michael Messer when he was touring the UK promoting the Rythm Oil CD and later when he toured Scotland with Butch Hancock. Later I met Jesse again through Michael's photographer brother Alan in Austin.
My lady, Magghi, and I were taking a month visiting friends there and saw that Billy Joe Shaver was playing in Austin so we headed along to see him. Jesse was playing in the band.
We talked to Jesse before he went on stage and although I had met him only a few times before, he remembered me, treated me as a long lost friend and invited Magghi and I along to the house for a party the next weekend.
The party was for Nicole moving into the house with Cody and was really for family and close friends but Jesse just said, "hell, you have just arrived from Scotland so you have to be there". At the party we saw the fantastic garage/music/pool room out back and heard some great music out there from Jesse and friends.
He and the family showed us great kindness and made us feel part of them.
Jesse told us about the old car he had renovated and that when he drove it back first time, all complete and shining brighter than the sun, he left it outside the house without putting the parking brake on. Next thing was he was chasing it down the hill to see it cross the intersection, missing all the passing traffic and coming to rest the other side without a mark on it.
I guess he has now crossed the big intersection to come to rest, still shining brighter than the sun. I will miss him and know there are many others in Scotland and the UK who feel the same.
Tony Walker, Banchory, Scotland
---
Date: Sat, 11 Mar 2006 3:01: AM CST
From: Andy Young
This is such sad news . Jesse was awesome, his playing was otherworldly, his blistering attacks on the fretboard were exciting and the notes just seemed to tumble over themselvesin an effort to be heard. I've never heard an acoustic guitar played with such precise force as Jesse. I was fortunate to meet him once on his Last Night tour and we discussed the recent return of his beloved Newman guitar [which had been stolen] and he also signed my lp and played a great set. Before that I had seen him at the Weavers arms in Stoke Newington and the half moon putney with Butch and Jimmy etc. The last time I saw him was with Kinky and he was ALWAYS AWESOME. Andy Young

---

Date: Fri, 10 Mar 2006 3:41 PM CST
From: Carlo Carlini

VICTORY (by charles bukowski )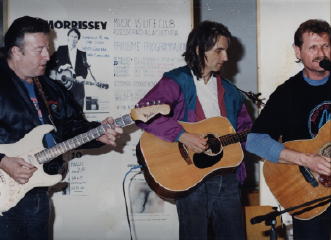 wath bargains we have made
we have
kept
and
as the dogs of the hours
close in
nothing
can be taken
from us
but
our lives

--ciao Jesse...see you soon
Sent by Carlo Carlini at only a hobo music promotion
www.onlyahobo.it
---

Date: Fri, 10 Mar 2006 11:08 AM EST
From: Walter Morgan
On April 1st at 3:00 PM KUT Radio's LiveSet: From the Archives program will feature Jesse playing with Butch Hancock & the Sunspots and Tornado Alley. I am honored to have known and worked with someone with so much talent and so much heart.
Enjoy your new wings Jesse!!
Walter Morgan
Producer
KUT Radio
NPR's Latino USA
512-471-6178

---

Date: Fri, 10 Mar 2006 8:47 AM CST
From: Terry Clarke <mrlucky@lineone.net>

In my opinion Jesse Taylor was a king among men. I loved him deeply and the heartbreak of his passing is almost too much to bear. My heart goes out to his lovely family; sister Kathy, brother Tim and his daughters, Nicole, Chelsea and Kerry. The only solace is that now he's free of pain and can be with his mother Martha again who I also had the honour of knowing.

Like most of us on the other side of the ocean, I first discovered Jesse when he arrived in London with Joe Ely's band back in the 1970's. I was a grown up then ... I was born the same year as Joe ...I had already been; writing, recording, performing for a number of years but - seeing that band and hearing those awesome songs shifted the axis of my world. To go on to become friends with all of them, to be accepted as a peer by Butch, Joe, Jimmie, Ponty Bone etc has enriched my world so much.

And Jesse - my friend Michael Messer has mentioned our 'Rhythm Oil' album here on this guestbook already. I personally went on to record two of my albums with Jesse; 'Lucky' in 1998 and 'Green Voodoo' in 2001. I also sang and played with him in and around Austin and over here in the U.K. so many times that I've lost count. I was always aware that I was in the presence of a very special person. I never saw him in a bad mood, never saw him lose his temper, never heard him make a single disparaging remark or be disrespectful about anybody.
When he stayed at our house in 1993 rehearsing for the Rhythm Oil tour my daughter Amy was 5 years old. She fell under his spell, was fascinated by his tattoos, would never leave him alone for a moment. Jesse sat down and wrote her a song called 'Amy Laura' , he sat and looked her in the eye and sang it to her. I'll remember it forever, a simple song which was almost like a lullaby that Buddy Holly could have written. His handwritten lyric sheet is a treasured possession.
My son Joseph is now 13 years old and plays an ice blue Fender 'Jazzmaster'. When he started playing 4 years ago there were 3 CDs he went to sleep to and woke up with; Jimi Hendrix, Stevie Ray Vaughan and Jesse Taylor -his own choice.
He had a honey bee's instinct for the perfect note or phrase, grace and charm at a 100 mph.
Another special moment was being asked to write the foreword for 'Deal Me In', the recently published book of our friend Alyce Guynn's poetry which Jesse illustrated.
I am so glad and so grateful that I have been able to be a part of his life and indeed his family's life.
Today - the day before he's laid to rest in Lubbock, it's almost impossible to believe that I'll never put my arms around him again and I'm so glad that we always did tell each other that we loved each other.
I've considered getting a tattoo for 30 years now but never did but now I have Jesse's face tattooed on my heart for as long as I shall live.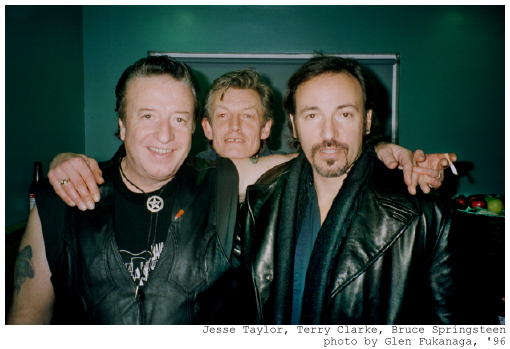 Jesse - a man who had a ring tattooed on his ring finger - THAT is a definition of COOL.
Go in peace always my dear friend.
Terry Clarke, Swansea, Wales.

The photo of Jesse, myself and Bruce Springsteen
was taken by Glen Fukanaga at Joe Ely's show in Dublin, Ireland 1996.
I've also attached a song I've written for Jesse - if you wish to display it too, please do - I'd be honoured. Please feel free to put my website url and email if you wish, I would welcome communication with the larger community.
---
Date: Fri, 10 Mar 2006 8:29 AM CST
From: Clive Pain
I first met Jesse at the Electric Ballroom in London in 1980, when he was playing with Joe Ely, supporting the Clash. I was blown away by the band and particularly with Jesse's playing and stage-charisma. It took a lot to win over a Clash audience in 1980, but they did it with style!
A year later they came back and played the Venue in Victoria. Various star guitar players jammed with the band – Rory Gallagher, Brian Setzer, etc (Pete Townsend was going to, but didn't make it to the stage). Jesse gave them their space, and then showed them how to do it.

Years later, when I first went to Austin, Jesse took me under his wing, and introduced me to loads of people, and let me sit in with his band, including a memorable trip down to Houston.

Jesse then came over to England with Butch and Jimmie, during which we set up his first solo date in the UK, at the Cricketers. We assembled a whole orchestra of top London players, keen to play with Jesse, for an amazing night.

Later we toured the UK and Europe as the Jesse Taylor band. My favourite tour though was one with just Jesse and Butch, right down the full length of Italy, then Zurich and Berlin. I couldn't have hoped for two better companions, and it was great fun.

On later visits to Austin I stayed at Jesse's place, out at the lake, and at his mum, Martha's, house, and they were always so hospitable, and looked after me.

Always a gentleman, always cool, and always a great friend to have.

There is a photo of Jesse, myself, and Butch when we met up with Ramblin' Jack Elliott in Sesto Calende in Italy at http://www.cyder.demon.co.uk/butch.jpg .

Thanks,
Slim
http://www.cyder.demon.co.uk
http://www.myspace.com/slimcyder
---

Date: Fri, 10 Mar 2006 7:28 AM CST
From: Ron Riley
Jesse was always ready. When Bruce and I were doing Boondoggle Festivals south of Alpine, it was so far away that it was hard to convince pickers to come play but Jesse was always ready. Always musically strong and smiling. Always a kind word. And his bands always stole the show. He always acted as if I were a long lost friend and that always made me feel as if I were. He will always be remembered. Always
Ron Riley
---
Date: Thu, 9 Mar 2006 4:03: PM CST
From: Mike
I met Jesse on one occasion. This was back in fall of '67 or '68, Jesse would have been about 17 or 18. A new friend I had met that day at the Selective Service Induction Center in Amarillo (we both flunked) provided the introduction. We sat in Jesse's room at his mom's house in east Lubbock, got loaded and listened to him pick. Even back then he was really damn good picker, especially for a kid. He played the blues and we smoked and drank.
I got an e-mail today notifying me of his demise from a fellow Jesse inspired to become a musician. Back then Lubbock had a very small community of "players". I remember The Third Story and DOA, basic garage hippie bands and Joey Ely doing a folk thing. I read the info on Jesse and his career on virtualubbock. When I first heard him play I knew he would be an influence. Shame he passed so young.
---

Subject: Brother Jesse
Date: Thu, 9 Mar 2006 11:08 AM CST
From: Steve Power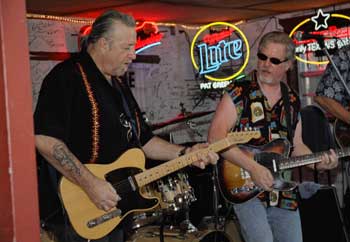 Jesse Taylor was my friend, but then Jesse was a friend to most everybody. I only knew him for the past couple of years. I was lucky enough to have him record two of my songs with me and later to play in my band, Texas Radio, until he got too sick. When he came back from his last European tour with Billy Joe Shaver he told me, "I'm going to stop playing with anyone else. I'd rather play with you." I think I had the last band he played with on any kind of regular basis. I knew the drink and the disease had made him unable to play like in his prime, but then he'd just crack off some of that Jesse "Guitar" Taylor!! and my jaw would just drop. He could pull out that undescribable something that only the immortals have. When he'd come down too sick to make a gig he'd get John X. Reed or Charlie Pritchard to sit in for him. He tried not to leave me hanging. Sometimes that just wasn't possible.....smile. Then there was that bottle of Tanqueray.....we both played lying on our backs (uh.. it was in front of an audience).

Folks sometimes overlook his acoustic playing. His feel for a song and adding just the right flavor were second to none. I wish I could play y'all "Somewhere in Texas". It's a traditional country waltz to which Jesse adds the most brilliant Tex-Mex. We made plans to do an acoustic blues album at my home studio. We figured he could come around when he was up to it and if he had to bail that was okay because we weren't paying anybody. You always think you will have enough time but you don't.

I had the privilage of seeing him play with The Flatlanders at the Jessefest last year at Threadgill's. It was magical seeing living Texas music history and Jesse rose to the occasion. He played a blinder. He sat in with everybody who came to play in support of him that day and was as happy as I've ever seen him.

I have the true honor of calling Jesse "Guitar" Taylor a friend. I don't make friends easily and Jesse was a very true friend. I do so love the guy. The planet is very much a lesser place without him.

Hey Jesse, I'm getting your drawing framed. They got this stuff for the frame looks sort of like diamond plate. Should be well cool with the hot rods and guitars.

Courage,
Steve Power
---
Date: Thu, 9 Mar 2006 11:04 AM CST
From: Michael Messer
I am very sad to hear the news about Jesse. He was a wonderful musician and a dear friend.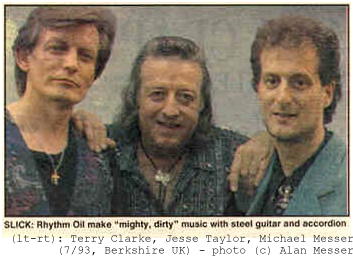 I first saw Jesse play in London in 1978 with the Joe Ely Band, then through the 80s with Butch & Jimmie at various London venues. In 1991 I met Jesse via my friend Terry Clarke and we decided to record an album together. The album 'Rhythm Oil' was finally released in 1993 and with the CD booklet notes written by the legendary Johnny Cash, we embarked on a tour of the UK. We drove to every corner of the country and played some fantastic shows. The whole tour was documented on VHS video tape by my brother, Alan Messer. Touring & playing music with Jesse Taylor was an experience I will never forget. We were also lucky enough in 1993 to win 'Import Album of the Year' for Rhythm Oil in 'Austin City Limits'. Jesse collected the award on our behalf. Through the 90s I only saw and played music with Jesse a few times, but via my brother Alan, Terry Clarke and other mutual friends, I kept in contact with him. It is hard to believe we will never see him again.
Our album, Rhythm Oil, is no longer available. Terry Clarke & I have been discussing the possibilities of getting it re-released, along with live & radio recordings from the tour in 93, it would make a wonderful tribute. Jesse played some of the best blues guitar I have heard him play on that album. There is a page in the 'Archive' section of my website about the Rhythm Oil project which includes the Johnny Cash booklet notes. http://www.michaelmesser.co.uk
RIP Jesse,
Michael Messer

---
Date: Thu, 9 Mar 2006 11:06 AM CST
From: Mona Russell
I read this morning in the Lubbock AJ that Jessie Taylor has died. I grew up with Jessie's little sister Kathy. They lived one block from my house. As Kathy had no dad, she called my dad "Daddy". I remember there was always a lot of traffic at their house. Martha, Jessie's Mom was one cool lady. When you walked in their house, you might see Jessie eating creamed spinach or playing the guitar. As his sister's friend, I met lots of people before they became welll known: Crazy Charlie, Mad Dog, Jimmy Gilmore, Joe Ely, Ponte and Sarah Bone and the list goes on.

I have no idea what happened to Jessie, but the world is losing one hell-uv-a player.
---

Subject: Memories
Date: Thu, 9 Mar 2006 10:29 AM CST
From: Elizabeth Marston
His acoustic version of Last Date
Hermann Hesse novels
His big hand squishing mine at the scary parts in Jaws
VFW
Piles of traffic tickets
Sweaty hugs
I shall miss him
--Elizabeth Marston
---
Date: Thu, 9 Mar 2006 8:25 AM CST
From: Andrew Hawkey
So very sad to hear of the passing of this fine man. He played a few gigs here in Wales, UK, back around 1991, and we duly made the pilgrimage to a cosy upstairs club in Swansea ... I was wearing a Townes Van Zandt teeshirt, and as soon as we walked in, the giant figure of Jesse rose from his seat and strode across the room, vigorously shook my hand, and declared 'Just wait till I tell Townes I met a fan of his here in Swansea!' He was ably supported on the night by Swansea's finest, The Blues Bunch, who clearly loved working with Jesse. The man was nothing short of incendiary - Jesse was on top form, he played like a man possessed all night, and regaled us with the tale of the theft and recovery of his beloved dice-strewn Newman guitar. It was a truly memorable gig, and a privilege to be there, not only for the sheer power and emotion of the man's playing, but also for his gentle gracious manner and kindness ... he was just delighted to talk music afterwards over a beer or two, he signed our copies of his 'Last Night' album, and generously inscribed my copy of Joe Ely's 'Down on the Drag' with the words: 'Hope you dig this Texas music!' Don't worry, Jesse. Always have, always will. Thank you. RIP. Andrew Hawkey
---

Subject: http://www.alanmesser.com/JesseTaylor/JesseTaylor.pix1.html
Date: Wed, 8 Mar 2006 10:34:19 PM EST
From: Alan Messer
Jesse was one of the kindest most loved men, one could ever have the pleasure to meet. He was a well read, wise gentle giant, packaged into one powerhouse West Texas, guitar-slinger, shit kicker. His guitar volume knob was a gamblers dice and was always turned up high. Jesse was one of a kind.

More photos by Alan Messer: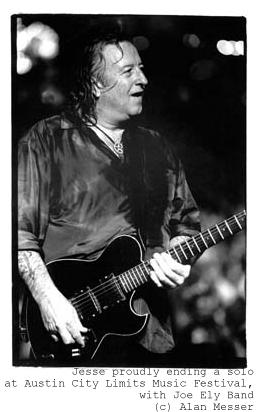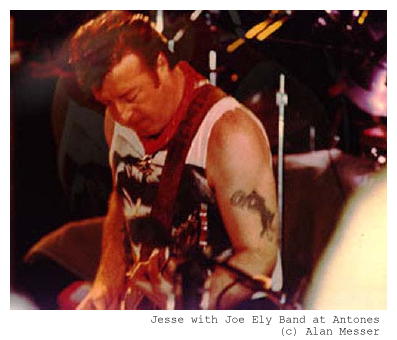 To view more photos of Jesse Taylor, go to: http://www.alanmesser.com/JesseTaylor/JesseTaylor.pix1.html

---
Subject: Jesse Memorials
Date: Wed, 8 Mar 2006 9:52 PM CST
There will be a viewing with no service here in Austin tomorrow, 9th, at Cook Walden - 6200 N Lamar - from 7 - 9:00 PM.

There will be a service and burial at Resthaven: 5740 -19th [on W. Loop 289]
(806) 791-6200 in Lubbock on Saturday, March 11th, at 1:00 PM.
Dear Friends -
Jesse has so many friends that there's no doubt that I've overlooked people. To those of you who have forwarded my notes thank you so much and do please forward this one as well. If you are one of those who feels you've been the last one to know please please accept my sincerest apologies. If you love Jesse and he loved you don't let anything get in the way of that. You know who you are.
Over and Out
Conni [Hancock]
---

Date: Wed, 8 Mar 2006 9:06 PM CST
From: Mike Pritchard
This is Mike Pritchard from Lubbock.I have never known a person just like Jesse . He was such a driving force but never seemed to care about being the " Big Deal" It was like he didn't have to say anything he just let that guitar do his talking. We , we being Jesse, Richard Barnett, and Chris Wilkerson, and I, were playing at Soap Creek Saloon in Austin on South Congress and it was Saturday night. We had an opening band so we didn't take the stage until around 11:30 or 12:00. Well about 12:15 the owner came up to me and asked me where was Jesse and when were we gonna start. Now mind you in every other band I've been in it would be the right question, but this was Jesse's band. I Said we would just have wait a while longer.The next thing you know here comes THE MAN. He had one guy under each arm helping him along and he was feeling no pain!!
After a few amenities we got him on stage and strapped up it his black Newman with the inlaid dice and I looked at him and said you OK. He said yeah man and walked up to the Mic and said " Today I have smoked 50 joints and drank 100 beers and were gonna tear the fuckin roof off of this joint" and I saw him play like a man possessed. He was pouring sweat and laughing and dazzling the room.
Now I wouldn't suggest you try this at home or anywhere else but then there was only one Jesse Taylor. He was my friend , my hero, and my Guru. I almost never have a problem that I don't think what would Jesse do here. I bet Jesse and Stubbs and yuckin it up right now. He will live forever in our hearts. I love you Jake.
---

Date: Wed, 8 Mar 2006 8:39 PM CST
From: Daniel Worsham
i didn't know Jesse, but did have the chance to visit with him a couple of times backstage at Ely gigs. first time i saw him was when he had, was it - The Texas Tornados? small club, sat right up front. i was astounded! Jesse will be missed.
---

Date: Wed, 8 Mar 2006 8:29 PM CST
From: Wayne Hatchel
Subject: Jake
I was the orginal touring sound engineer for the Ely band. I also took care of the cash for the members of the band after the gigs. Jesse always had me keep his money and only give him 20 to 40 per night. If this sound strange it was because Jesse just didn't care that much how much he had. When he had a large amount of money in his pocket he would spend all of it buying every one in the place where we had played drinks. Just as long as it would keep people happy he would give away his money. He was one of the most giving guys in the world and would damn near do anything for a friend. Keith Richards has said of him that Jesse "guitar" Taylor was one of the best rock & roll, blues men alive. The Clash loved it when he would jam with them while we toured with them here in the States and in Britian. The World has lost one of the greastest. Here's hoping 2 of the best Tx guitarist get together again and Jam away eternity. Jesse say hi to Stevie Ray for me. HATCH.
---
Date: Wed, 8 Mar 2006 5:42:09 PM CST
From: Jon Deichmann
Jesse played guitar like he was jumpin' off a cliff...now he's off on the next great adventure...I drink a beer and listen to Live Shots on 10...here's to ya Jesse, thanks for all those hot sweaty honky tonk nights...

---
Date: Wed, 8 Mar 2006 5:35 PM CST
From: Dee Purkeypile
I just heard that Jesse passed away this morning. ...God bless him! I had a dream last night that he came to me and gave me a big hug, a kiss on the cheek with tears in his eyes. I was left with a profound sense of loss but most importantly a deep love that he felt for all his family and friends.

I will surely miss his gentle soul on this plane. I am so happy for his transition into a world of light and love!

---
Date: Wed, 8 Mar 2006 12:28 PM CST
From: Joe Nick Patoski
Of all the Lubbock mob who've spread their music throughout the world, no one could hold a candle to Jesse as a gentle soul, never mind that he "looked" like he could swat away anyone he didn't like with a swat of his wrist. Underneath that tough guy exterior was a sweet nice guy who didn't have a mean bone in his body.

He was a man of few words sometimes, but what he said tended to reasonate, as was the case of the film documentary Lubbock Lights, in which Jesse stole the show.
He was a helluva guitar man too, as skilled in playing country as he was RnB and the anchor of the original Joe Ely Band who still strike me as the hottest wind to ever blow outta West Texas. Whether he knew it or not, he gave us all a lot of love. Godspeed to you, my brother. Joe Nick Patoski

---
Date: Wed, 8 Mar 2006 19:39 AM CST
From: G J
I had seen Jesse with Ely so many times, but never met him till later on. I was at the premier of "Lubbock Lights" @ at the Paramount Theatre in Austin. He was interviewed in the film and in the lobby afterwards I saw him and said to my friend, "Hey man, that's Jesse 'Guitar' Taylor." Jesse must have heard me, he walked straight up to me and shook my hand with the biggest paws I had ever shook. That made my day. This is sad news.

---
Date: Wed, 8 Mar 2006 6:31 AM CST
From: Jay Boy Adams
Jesse Taylor passed away last evening. I know no details but will pass them on when I get them. He was a sweet man. Chris, there is a story of my first meeting in our interview I believe.
Read Jay Boys Adams story about the first time he met Jesse.

---
Read an original essay by Chris Oglesby
about Jesse Taylor's funeral
---
Read a recent article about Jesse Taylor in the Austin American Statesman.
---
From the virtualubbock interview with Cary Swinney:

Cary: [Robin Griffin] told me one time, "Of all the people that are in this business, Jesse Taylor is one of my favorites." That's true…because every time I've been around Jesse he's just been a prince of a guy. You know how some guys, when they start to make it a little bit, they pull the "cool" bullshit on you? And they start playing this game in their own head...that they are somehow in a different place. Jesse's not like that. Jesse does not seem to be affected by his notoriety in the least! That's what makes him a beautiful person, I think. Now, I don't know him intimately. I'm not a "close personal friend" of Jesse Taylor's. But I do know this: He knows how to behave. He doesn't seem to be affected by any of this [show biz hype]. And I think that's great. I think that's what makes him special. Some people are kinda' aloof. They get in this business, and I guess it makes 'em that way.
---
From the virtualubbock interview with Kent Mings:
Mings: When I was a kid, I'd stand there by the stage and I'd watch that sombitch…Jesse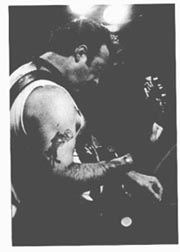 had the tattoos and he'd have a sleeveless shirt and the biceps, and he'd be sweatin'. Jesse just sweats like a pig. I mean the first song...He's drenched.
And he'd be up there just drippin' sweat right on the edge of the stage and just tearing the shit of that Les Paul. Them ol' biceps … I thought, "Man, I want a band like that! I want a band like that."
Jesse volunteered to play on our album, for nothing but air fare and meals. So there's all these people down there at the studio and they were watchin'. Jesse's in the booth playin'. And I mean he's just cuttin' some chops!…And this little lady - the money person -she was goin', "Where did you get this guy?" I think they were from New Mexico. They're older folks. They really had no idea who Jesse Taylor was. All they knew is they had to spend $250 to get him up from Austin, and "What the hell is this?"
Then they come down there after the studio session and they were like, "My God! Where did you find this guy?" I said, "See, I told ya'! Two hundred bucks ain't shit, man, to get Jesse on this thing!"
They were like, "Man, that guy is amazing! Amazing!"

---
|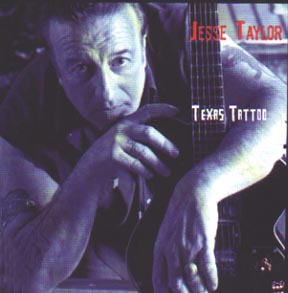 from the cover of Jesse's album Texas Tattoo ('98, Appaloosa Records IRD; cat.#135)
Photo, artwork & design by Alan Messer
[note: photo at top of page, with jukebox, also (c) Alan Messer]
---
"Deal Me In" - Jesse Taylor illustrated Alyce Guynn's poetry; purchase a copy
---
Here is a link to the obituary which was published in the Austin American-Statesman on 3/9/2006, as well as a guest book for the family. Also, funeral home info, flowers, etc.
http://www.legacy.com/statesman/Obituaries.asp?Page=Lifestory&PersonId=17006295