Fire in the Water, Earth in the Air: Legends of West Texas Music
by Christopher Oglesby
Published by the University of Texas Press:
"As a whole, the interviews create a portrait not only of Lubbock's musicians and artists, but also of the musical community that has sustained them, including venues such as the legendary Cotton Club and the original Stubb's Barbecue. This kaleidoscopic portrait of the West Texas music scene gets to the heart of what it takes to create art in an isolated, often inhospitable environment. As Oglesby says, "Necessity is the mother of creation. Lubbock needed beauty, poetry, humor, and it needed to get up and shake its communal ass a bit or go mad from loneliness and boredom; so Lubbock created the amazing likes of Jimmie Dale Gilmore, Butch Hancock, Terry Allen, and Joe Ely."
"Indeed, Oglesby's introduction of more than two dozen musicians who called Lubbock home should be required reading not only for music fans, but for Lubbock residents and anyone thinking about moving here. On these pages, music becomes a part of Lubbock's living history."
- William Kerns, Lubbock Avalanche Journal
---
Kathleen Nacozy is a law student at Texas Tech, by way of Austin.
Sometimes it takes the searching eye of one from outside to appreciate Lubbock for its unique and hidden treasures, which may go unnoticed by local passersby. Like all of us in virtualubbock, Kathy has learned that, while seemingly wrapped in plain brown paper, Lubbock TX has many buried jewels to be discovered. She wants to dig that treasure for us.
This summer, Kathleen approached me and asked if I would post articles written by her about her adventures in Lubbock art, music, and culture; she offered to be "Our Lady in Lubbock."
Since I have lived in Austin for the entire twenty-first century, I found her idea to be more than appropriate. Kathy has volunteered to be virtualubbock.com's eyes and ears on the ground, back in the motherland, and I thank her for her intrepidness.
Please join me in welcoming Kathleen Nacozy to her own little corner of virtualubbock. We applaud her enthusiasm for finding beauty in West Texas. Our kinda girl...
-- Chris Oglesby
Editor & Proprietor
virtualubbock.com
---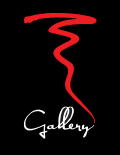 Tornado Gallery
1822 Buddy Holly Avenue
Lubbock, Texas 79401

by Kathleen Nacozy

Jennifer Greer, Tony Greer and Larry Simmons have long been guardians of the arts in Lubbock. These three friends (Jennifer and Tony were married for 30 years) are the masterminds behind Tornado Gallery, which opened in April 2007 and has quickly become the shining star on Lubbock's map of galleries.

Tornado Gallery occupies 1300 square feet in the A.B Greer Building on Buddy Holly Avenue and 19th Street. The building is modest in appearance but is a Lubbock monument. Tony's father and grandfather leased the property in 1933, and in 1946, Greer's Iron Works was erected along 19th Street. Practically anything that could be made out of metal-from trailer hitches to farm equipment-they made it in that iron works shop. But ornamental iron was the shop's specialty, and some of its creations can still be seen around Lubbock, decorating buildings and houses.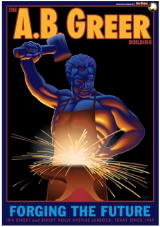 The A.B Greer Building was passed down from Tony's father to him, and Tony was not sure what to do with it. Several offers came in to lease the space and make it a bar, but Tony resisted. "I just couldn't see turning the place over to someone else, and having it turned into just another club or bar," Tony said. "There's enough places like that already in downtown Lubbock."
In October 2006, Jennifer, Tony and Larry started renovating the garage next to the old iron works shop. They were unsure what the space would be used for, but they worked away. They painted the walls and ceilings, refinished the floor and enclosed the garage doors to make large display windows. When they finished, they had the perfect blank canvas. They looked at the space, and thought, "Perfect-we'll make this into art gallery."
Though Jennifer, Tony and Larry decided to open the gallery rather serendipitously, their experiences in the arts and in Lubbock made them perfect for the job. All three were involved in the Lubbock Arts Festival and downtown redevelopment projects in the '90s. Larry was integral in transforming the area into the Depot Entertainment District. Jennifer is an artist who works mostly in the video medium. She was an art major at Texas Tech, worked at KTXT TV for three years and has worked at News Channel 11 for 22 years. She works from 5 a.m. to 1 p.m. at the television station, then often comes to the gallery in the afternoon.
Jennifer and Tony were members of the Lubbock Lights Artists' Co-op gallery from 1980-82. At the time, it was the only contemporary gallery in town and was made up of local artists. Larry and Tony have worked on projects together in Lubbock for over 25 years, including several well-known restaurants and bars that Larry designed, built and operated.
Even when they worked in other industries, the three perpetuated the art scene in Lubbock. "We've already got the vision," Larry said. "ART, not booze!" has been his new motto, ever since he went on his first First Friday Art Trail in downtown Lubbock.
Because Jennifer, Tony and Larry know a lot of the artists in town, their first show at Tornado Gallery in April 2007, was relatively easy to put together. All the artists featured were Lubbock artists, and many of them had never shown their work before.
One by one, more artists asked if they could show their work in the gallery. The art displayed evolves according to what Jennifer, Tony and Larry find interesting. And this is not art of an ordinary nature. The gallery's focus is on light sculpture, neon and plasma art, video and computer art, music and sound, kinetic sculpture and electric art of any kind, while most any other artistic medium may be found there. Interactive art is also a major focus at the gallery, allowing the viewer to become involved with the piece or participate in its creation.
Seven thousand square feet in the A.B Greer Building remain unused, and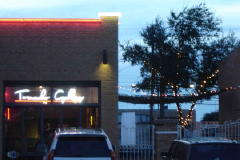 Jennifer, Tony and Larry are full of ideas to fill the space. The Main Room has vaulted ceilings with an unobstructed view, and would make an ideal performing arts theater. The Back Room opens into the courtyard and has a floor space of nearly 1900 square feet and could be used for a variety of purposes. On the north side of the building, between Tornado Gallery and Cactus Theatre, there is a vast outdoor courtyard known as Tornado Alley. The alley is the gallery's namesake, and Jennifer, Tony and Larry see it as the perfect place to hold concerts, outdoor movies, large sculpture exhibits and performances of all kinds-in the sun or under the stars.
Tornado Gallery has become a meeting place and hang out for Lubbock's artsy folks. The gallery stays open until midnight on Fridays and Saturdays, but some nights people stick around much later.
The gallery is a work in progress, and Jennifer, Tony and Larry intend for it to stay that way. In the words of the trio, "It is our sincere hope that this entire space will someday be developed into a center for the arts, and a landmark in downtown Lubbock and the Depot District."
Tornado Gallery may be the best thing to happen to Lubbock since Buddy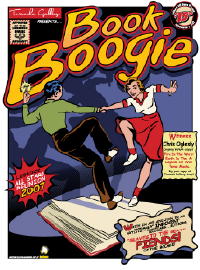 Holly was born here on September 7, 1936-or at least since the release of Chris Oglesby's book, Fire in the Water, Earth in the Air: Legends of West Texas Music, which coincidentally was on September 7, 2006.
It is more than fitting that the gallery host a party to celebrate Lubbock artists and to commemorate the one year anniversary of Fire in the Water, Earth in the Air. This event will take place on September 7, 2007. A number of Lubbock musicians will perform in Tornado Alley, and Chris, who is the founder of this website, will sign copies of his book in the gallery.
---
Kathleen Nacozy is a contributing reporter for virtualubbock.com.