C.B. Stubblefield:
"A Captain without a Ship"
By Michael Hall
(This article originally appeared in
The Austin Chronicle, January 25, 1985*)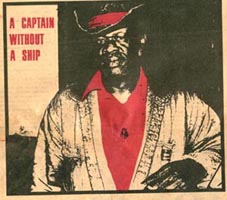 People get nutty about barbecue. More so than with burgers, more so than with Tex-Mex, more so, I suppose, than with French cuisine. They plan their days around barbecue. They dream about it. They travel to Kansas City and Chicago to eat it. Barbecue is All-American – beef, chicken, pork, meat. Yet it differs region by region, cook by cook.
People used to travel to Lubbock for barbecue. Through a land of desert sameness to a place alive with contrast, music, and some of the best barbecue in the country. Stubb's Barbecue – where a black man in the wilds of white West Texas dished up home-grown philosophy with the meat, and hosted late night dream jam sessions with the famous and the then-unknown, who played as long as the sauce and beer flowed. A huge man, a legend, with the nickname "Stubb."
Well, Lubbock has never been a very coherent place. The musicians, artists and weirdos born on the wind and sage there are well-known. Stubb, born C.B. Stubblefield, was just one more artist, pulling genius from desolation. He has become something of a folk hero – his travels, his ties with musicians, his troubles, and most of all his barbecue, make him loom larger than any man's natural life. Now he's in Austin, where his reputation has preceded him, but where he is, in his words, "a captain without a ship."
Stubb's story begins with his craft. As with all master cooks, cooking is no mere diversion to Stubb. It's his life, his art. "I love to cook," he says. "I love to feed people. That's my pride, above all else. I love music. I love people, but I'm gonna do my fair share by putting out what I consider the best possible barbecue you can put in your mouth."
Responsibility, doing one's fair share, is a recurring theme in Stubb's philosophy. It grew out of a large family, all cooks, and the times and places he grew up and lived in. "My family is 'Cooking Unlimited,' I call it. Nothing to brag about – it's just the way we feel about food. My brothers are all the same way – they love to cook. We just grew up in it."
Stubb was born in Navasota, Texas; his family moved to West Texas when he was young. "We were sharecropper's sons in the old hardcore American way of life," he recalls. "My dad was a Baptist preacher. He loved God, he loved people, he loved America. After that he loved horses. He could ride a horse like nobody's business. A lot of people tried to get him killed on a horse. They'd bring the most dangerous horse in the world around – the white folks would – say 'we'll see this horse kill this nigger.' My daddy fooled em, you know. He fooled them more than one way. He didn't rebel against society – he accepted – but he knew who he was. And he was strong. My dad was a strong man. He was a good cook."
Cooking, as a birthright, bred self-sufficiency, and then identity, strengthened, or hardened, in the face of hard times and racism. Through it all though, Stubb, like his father, became more determined than bitter, a rugged individual in the mold of those who preceded him on the plains of West Texas. His pride is bottomless; his faith in the promise of an American way is firm.
"I don't think, with the price I've had to pay in this society…" he begins, then trails off. "See, I've been to war – I got battle scars. I know what the true values of Americanism is all about. I know now when I was a child you couldn't go to the same facilities as a white person could, simply because you were black. Not because you was a person. Black means your identity, you know. Now, I don't think I could stand that. When you go out and you see your friends die on the battlefield, for democracy…I don't believe in forced integration, I don't believe in forced nothing. I believe in the right, the will, as American people. I don't believe in black power or Black Moslems or voodooism or Ku Klux Klan – I believe in the will as an individual. You do your thing, I do mine. But let's meet in the..., kinda like the Olympics – participate as a people. If you win the gold, you win the gold. I'm not gonna make a run and try to take it away from you."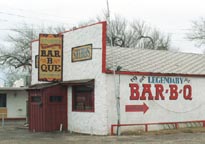 Stubb opened Stubb's BBQ in Lubbock in 1968, after a career as a soldier and cook that took him to Korea, Japan, Seattle, Ft. Knox, Washington D.C., New Jersey and most points in between. If cooking was his life, he could at least make a living at it no matter how difficult it would be. "It was kind of like Columbus setting sail for a new country, being a black man, being in East Lubbock. But I made a lot of friends there, fed a lot of people."
Indeed. Not just locals who stumbled onto Stubb's barbecue. Joe Ely and Jesse Taylor began hanging out at Stubb's, and passing the word on to other musicians. The inevitable happened, and Stubb's became a haven for local and touring musicians. The list of folks who ate and played at Stubb's is long and wide. "Name it – you want a rock 'n roller, a boogie woogie, or blues, or whatever – it's been there." Linda Ronstadt and Emmylou Harris; a couple of Rolling Stones, a Beatle or two. Tom T. Hall wrote a song about Stubb's and the legendary pool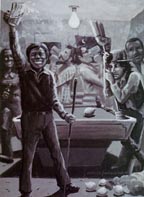 game between Hall and Ely – "The Great East Broadway Onion Championship of 1978." Ely put his band together there, says Stubb. "George Thorogood said he'd rather play Stubb's in Lubbock than any place he'd ever been in the world. Tommy Hancock's daughter Connie said it's just like playing in her own living room. John Lee Hooker said he had more fun there than he ever had in 35 years of his life. Muddy Waters said the same thing. They'd come in and jam and eat barbecue and have fun – that's what it was about. Just a whole bunch of people."
Stubb's barbecue became so popular with certain musicians, some pleaded with him to move, to anywhere but Lubbock. A few offered Denver. Ely, after he moved to Austin, hinted at a location closer to his new home. Hall, Bobby Bare and Johnny Rodriguez tried their best to get Stubb to move to Nashville. But Lubbock was Stubb's hometown. He was too much a part of the city's peculiar, grand-in-its-own-way scenery. And there was something almost spiritual about all these people traveling so far for their meat, their barbecue salvation.
Maybe it was a combo of good barbecue, cold beer, and the late night blues and country music that made Stubb's special. Maybe it was the paternal joy with which Stubb presided over it all. But Stubb now knows the value of Stubb's BBQ in Lubbock. "I've had some people call me since I've been in Austin – wanting to know when I'm gonna open that place in Lubbock. I'm talking about Johnny Cash, Tom T. Hall, all these people, Joe Ely and the whole ball of wax; they knew the real value. I didn't know we were havin' such a value 'til they came out of that place."
Mastering one's art usually leads to unfamiliarity with some others, and Stubb's devotion to barbecue left him vulnerable to the hard realities of running a business. "At Stubb's BBQ we got to be multimillionaires in love and affection, but we didn't make any profits – monetary stuff." He laughs when he says this, but the bitterness of having to leave his hometown still lingers. He owed taxes, and the IRS threatened to close him down if he didn't pay. So he closed it down himself.
Stubb left Lubbock in March last year, tried his luck in Santa Fe, and came to Austin in June; he began working at Antone's in October. Blues and barbecue are a natural, but for Stubb it isn't the same as it was in Lubbock. He is a welcome addition at Antone's, and he likes cooking there, seeing some similarities between Stubb's in Lubbock and Antone's in Austin. But it's not Stubb's in Austin.
"I'm working as a captain without a ship," he laments. It will have to be that way – cooking, but not running his own place – until he gets things straightened out with the IRS.
Displaced, almost hidden, (you can't miss Stubb's when you walk in, but you can driving by), Stubb has not found the due he expected he would in Austin. The lunch and dinner crowds are mere trickles, though he does some late-nite business, staying open long into the bands' sets. He is disappointed that his fame has not yet kept step with his move. "I'm just not satisfied with what I've done in Austin so far," he says. "I'm just a bit confused. And Lubbock has been on my mind. It's a transition – I've got to get it motivated into my system and do the same things I did in Lubbock. And let the good things come out that I know are in me."
He likes Austin, and gets many customers who frequented Stubb's in Lubbock, like the three UT students from Lubbock who one dinner hour regaled me with myths about the old times before they devoured their beef plates.
"I had a strong relationship with Austin before I got here – I enjoyed it. Austin is a good town. You got an attitude in Austin and I think that's great. People don't mind telling you – 'say man, that's good barbecue.' And that's the basic thing right there."
Word is spreading about Stubb and his barbecue – he already has new groups of regulars. He is also putting on some good publicity moves, like his Saturday's "Major Rib Eating Contest" at Antone's. It's all you can eat for $25 (you can eat a lot of ribs for $25). And he/she who eats the most ribs wins a barbecue party for 10 plus $100; second prize is a barbecued turkey; third is a barbecued ham. Deadline for entry is Friday noon; the contest starts Saturday the 26th at 7 p.m.; and the number of entrants is limited, so sign up soon. And start fasting.
What is Stubb's secret; how is his different from all the other barbecue in and around Austin? "I wonder about that sometimes. I wonder if it's the love and care that I do to it. I've eaten a lot of barbecue in Austin, Texas and I can say, not to take anything away from the other barbecue places, it just don't taste like I want it to taste."
About his recipe, Stubb says "I guess it was born into me. I come from a family of cooks. There ain't a cookbook in this building that I look at. You don't get it from a cookbook. You get it from … the feeling."
That "feeling" has made Stubb a bona fide legend in his own time. "Me? I feel like a legend, whether I like it or not. I don't hardly accept it. But when I go around to towns and meet people and they say 'there goes Stubb.' …some never saw me before. I was in the airport in Albuquerque, New Mexico, this lady came up to me and said 'Ain't you Stubb?' In Chicago, same thing – 'I heard about you.' This I credit to people I know. People talk about Stubb's all over the world.
"Me and (artist) Paul Milosevich, we were up visiting Tom T. Hall and he came up and looked at me and Paul and said 'you know what? You two guys are the brokest damn legends I ever saw in my life!' "
Broke or not, Stubb vows to keep on. He knows the value that can't be figured in ledgers, the strength that comes from pride, and he knows nothing but faith. "I just figure that the old man upstairs will open up some doors and avenues, that can do this thing the right way. It'll work itself out, I'm sure. Everybody who comes in really loves the food – that's the only thing I've got and that's what I want most."
If it's a tribute to this country that a sharecropper's son can become a world-renowned cook, and wind up doing what he loves to do, it's a damn, mean shame that when his chips are down, the powers that be can't find it in their hearts and pockets to stack them back up again. There is an ugly truth latent in the promise of the American Dream – you make it on your own, but when you fall, you fall alone. It's a dream Stubb followed and found, and it has now, in its natural course, turned on him.
Like other self-made men, Stubb is embarrassed by assistance. Benefits, like the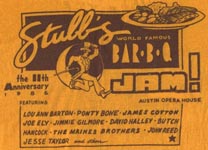 one last year given by his friends Joe Ely, Terry Allen and the Maines Brothers, make him uneasy. He's made it all on his own up to now, and he recoils at what he considers charity.
But I like to think that Ely and his pals were just doing their fair share, to keep Stubb among us. Stubb has done and will continue to do his part; his life is a reminder to the rest of us to do the same.
* (With the exception of the cover image from The Austin Chronicle, all illustrations were aded later as decoration by virtualubbock. - c.o.)