Fire in the Water, Earth in the Air: Legends of West Texas Music
by Christopher Oglesby
Published by the University of Texas Press:
"As a whole, the interviews create a portrait not only of Lubbock's musicians and artists, but also of the musical community that has sustained them, including venues such as the legendary Cotton Club and the original Stubb's Barbecue. This kaleidoscopic portrait of the West Texas music scene gets to the heart of what it takes to create art in an isolated, often inhospitable environment. As Oglesby says, "Necessity is the mother of creation. Lubbock needed beauty, poetry, humor, and it needed to get up and shake its communal ass a bit or go mad from loneliness and boredom; so Lubbock created the amazing likes of Jimmie Dale Gilmore, Butch Hancock, Terry Allen, and Joe Ely."
"Indeed, Oglesby's introduction of more than two dozen musicians who called Lubbock home should be required reading not only for music fans, but for Lubbock residents and anyone thinking about moving here. On these pages, music becomes a part of Lubbock's living history."
- William Kerns, Lubbock Avalanche Journal
---
Michelle Riddle Thomas graduated from Lubbock High in 1985.
She submitted the following poems to virtualubbock
as examples of her poetry inspired by the landscape of our youth.
The poet writes:
"These poems are about the West Texas landscape. As a kid growing up in Lubbock, I actually believed that roads HAD to be straight. When I reached the age of 11 or 12 and realized that roads aren't always straight, I was deeply shocked. I think the geography of Lubbock makes an imprint on the residents of Lubbock, makes them believe that things must be a certain way because.... well, in Lubbock, that's they way they ARE!
You may have heard the story about the guy who was driving through West Texas in his RV, who decided that because the road was so straight that he could safely leave the driver's seat and go to the back for a drink.
He wrecked, of course."
The neural networks of my mind
Could not conceive a road could wind and curve or twist
Roads must run north and south and east and west
A road has no contour, no curvy shape
Runs like ribbon very straight, no loop or turn about
Unlike the reel that spins it out
Likewise for a passerthrough--his fluid reasoning
Failed him too, lulled by lines that do not veer
He left his seat for a swig of beer
The airstream is a wingless ship that
Becomes airborne as it crosses a strip of median
That forms the only rise for miles around
Touching down comes as shock 'cuz roads
Can bend and wind and bump and dip and sway
A long and winding road blew my mind one day
© Michelle Thomas, 2003


---

TERRA PLANA
there are places where old notions dig in and hold firm
TERRA FIRMA
places where the eye deceives the mind and reason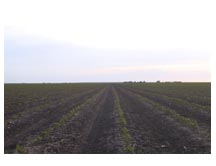 TERRA VACIA
places where infinity is a cotton row
TERRA RECTA
places Columbus never knew
TERRA INCOGNITA
that the world could be so flat
TERRA PLANA
© Michelle Thomas, 1999