Fire in the Water, Earth in the Air: Legends of West Texas Music
by Christopher Oglesby
Published by the University of Texas Press:
"As a whole, the interviews create a portrait not only of Lubbock's musicians and artists, but also of the musical community that has sustained them, including venues such as the legendary Cotton Club and the original Stubb's Barbecue. This kaleidoscopic portrait of the West Texas music scene gets to the heart of what it takes to create art in an isolated, often inhospitable environment. As Oglesby says, "Necessity is the mother of creation. Lubbock needed beauty, poetry, humor, and it needed to get up and shake its communal ass a bit or go mad from loneliness and boredom; so Lubbock created the amazing likes of Jimmie Dale Gilmore, Butch Hancock, Terry Allen, and Joe Ely."
"Indeed, Oglesby's introduction of more than two dozen musicians who called Lubbock home should be required reading not only for music fans, but for Lubbock residents and anyone thinking about moving here. On these pages, music becomes a part of Lubbock's living history."
- William Kerns, Lubbock Avalanche Journal
---
Subject: Stubbs
Date: Mon, 4 Jun 2001 14:00

---
Loved the website, just discovered it today. Usual story, I am an Austin musician originally from Lubbock.

Quick intro. I grew up around Lubbock, did all the usual stuff. Cotton Club in the 70s, Fat Dawg's, went to Tech, moved to Austin around the time Stubbs and Ely did. I am old buddies with Jack and Mike Burk. If an Austin musician heads to Lubbock and if they are cool (ONLY if they are cool), I will recommend they get in touch with Mike and Jack. You wanna know what is going on in Lubbock, check with Jack and Mike.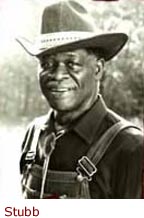 I have for several years compiled stories on Stubbs. Most people forget that he was around the area before the BBQ place opened. He pulled cotton on my dad's farm in the 50s. I have a photo of Stubbs holding a cotton sack - I made a copy and gave it to him. The fascinating part is that in the background of the cotton pickers you can see the mechanical cotton stripper running. They are harvesting cotton by hand, and by machine at the same time - an interesting historical photo.
Stubb was married in our home town - Anton - 25 miles NW of Lubbock.
My dad was a crop duster, and gave Stubbs a ride one time, Stubbs had him fly low over a picnic or something that some friends were having so he could hang out and wave. Daddy said he damn near fell out of the plane. This was a WW2 Biplane you know with open cockpit. I am sure no one at the time had ever seen a black man in one of those planes. and the spray rig was in the front seat, unless you took it out, so dad was in the rear seat, and Stubbs was in the front - which gave some the impression that he was flying it himself.
That story about Stubbs in his car, turning off the lights telling his Korean story. One thing people don't remember about Stubbs, is that he liked to drive with the lights out. If it was moonlit, and out in the country, he would turn them out. He had his reasons. I saw that Cadillac with no heater here in Austin. He got one of the 'canned heat' sterno cans to heat the glass if it froze, after the candles got too much trouble. The wildest thing you ever saw.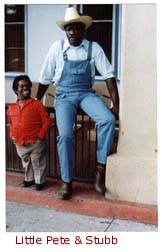 I was surprised that none of the interviews - though I haven't read them all - mentioned Little Pete, Stubbs' dwarf friend. There is a picture of Little Pete singing on stage with the Maines Brothers, hanging on the wall at the Austin Stubbs BBQ. (Terry Allen took it). No one knows who the little guy is. He died years ago, but he was some character. You might ask around about him.
I stayed pretty close to Stubbs here in Austin, he was something else, no doubt about it. I was traveling on a job when he died, wasn't able to make the funeral. Stubbs was a big part of my life. Daddy used to slip over there for BBQ while we were at the Fair.
I was at the City Council meeting when Steve Moss confronted the council. Yes, as implied in the Tornado Jam stories - he rubbed them the wrong way, and it failed.
I worked security at the second Jam. I still have the T-Shirt, which is probably the only one that survived. Has Bread and Jam on the front, "Security" on the back.
Thanks, If you ever talk to Jack and/or Mike, tell them a crazy Austin piano player named Monty said hello.
Monty Newton
---
Subject: Re: Stubbs
Date: Mon, 4 Jun 2001 15:31 EST
Well thanks for gettting back. Didn't know you were here in Austin.
I used to play in Cornell Hurd's band before Guy Juke (Blackie White) was in it. I have played a bit with Ted Roddy, in a Blues project he calls Shakerag, but that project is on hold now. He is a new father now, and I am tied up with work and family.
I have a tape of the Stubbs Letterman airing. Coincidentally I was at a party when it aired with Ponty Bone (while my tape machine was faithfully recording it at home). Your websites recollection on it was right on. I don't know if Stubbs was coached or what, but he was on top - I was almost certain that Letterman would make him look bad, but Stubbs was way ahead of him. I think Ely or someone told a story about how Stubbs at first didn't want to do the show, saying Letterman "wasn't nice to people", but then watched it every night for months and said "I got him figured out," and then he was ready to go with the show.
I have a long "Little Pete" essay that I am cleaning up that I might post at some point.
There was a guy that went by the name of Hank Sinatra that filmed hundreds of hours of video at the Sunday night jams at Stubb's place on IH-35 in the late 1980s. Wonder what happened to them? Dee Purkeypile was the musical coordinator through all that.
I treasure the Willis Cooper tape. I think it is absolutely brilliant - Leonard Cohen couldn't have done better.

I learned a lot from your website. Wish Mike Burk would get going again on music promotions. I think on some level Mike is a bit of a genius.
Really don't know what my life would have been like if Stubbs hadn't brought Muddy Waters, and then later James Cotton to the Cotton Club. The biggest music events of my life -right up there with Big Joe Turner at Antone's in 84.
By profession, I am a geologist. I have worked variously as an archeologist and pipeline pilot. People are amazed that I am from Lubbock too, but actually I remind people that I am not FROM Lubbock, I was born there, but I grew up in Anton, 25 miles NW, and to be specific I didn't grow up in town, but on my granddad's farm about 2 miles east. Stucco farmhouse, facing the east on a dirt county road, right in the middle of cotton country. Of course it isn't the City itself that is important about Lubbock, but the area around it - the whole picture.
My great grandad and Jack and Mikes grandfather, were neighbors in Lynn County back in the 20s.
Monty Newton
---
Subject: RE: re: Stubbs
Thu, 26 Jul 2001 10:31 EST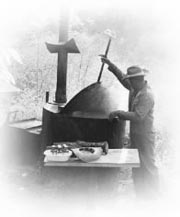 People forget so quickly- or they are ignorant.
I was eating at Stubbs in Austin a year or so back and I heard this guy telling everyone at the table that Stubbs was this Chicago blues singer and never really got famous, and went on about how Stubbs played guitar with Howling Muddy Hooker Wolfwater, or something really loopy like that.
I nearly choked on my sausage.
Wish Stubbs could have walked up in that greasy apron and cowboy hat, and said "Ladies and gentlemen, I'm a cook".
Monty
---
Subject: I see you have updated your site, and it is great.
Date: Mon, 18 Mar 2002 16:52 EST
Hey, we 'chatted' a bit last fall. I see you have updated your site, and it is great.
I don't know if you know it or not, speaking of your 'did ya know", but Anthropology Prof. Dr. William Curry Holden (died around 1996 at age around 100), figures into the Roswell Saucer Crash story. Sometimes if you read accounts, there are 'the archeologists' that were reported working in the area. Some accounts have these archeologists actually walking up on the actual crash and seeing the alien bodies and all. (???!!!). I won't go into that X-files stuff, but he is 'supposed' to be the archeologist that they refer to. There is another archeologist named Barney Frank that is sometimes mentioned, however Kevin Randle (UFO researcher and Roswell Crash advocate) interviewed Holden around 1990, and seem to come away with his own assumptions about what Holden admitted to. Holden never said he saw a flying saucer or aliens, he just said he 'saw everything'. Whatever that was. Holden did archeological field surveys in that area that summer of 1947. Needless to say, his daughter Jane and his widow (about 40 years his junior) are quite protective of their father's image and reputation, and 'won't go there'.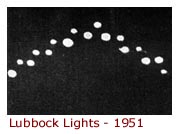 You are obviously familiar with the "Lubbock Lights" , but are you aware of the one in Levelland in 1958?
I have a masters in archeology, and I am very familiar with the Lake Site. As you mentioned on your tour, it has been continually occupied since the last ice age - roughly 12,000 years making it one of the oldest continually occupied areas in the world. There is a period during the Archaic Period around 3000 BC that is called the "altithermal period", meaning like it's name "high heat". Everywhere you go in North America, when you work through the stratigraphy of cultural remains, you always find the altithermal period devoid of cultural artifacts. But not Lubbock Lake, it was hell everywhere during that time, and areas were depopulated. But not Lubbock Lake. For some reason they stuck around.
That Bob Livingston interview straightened out my vague memories of the "Sparkles". I was in too young to get out to parties, but in Anton where I lived, the local band (the Vandals) there modeled themselves specifically on the "Sparkles". They were a huge influence on garage bands at the time. Mike Buck, drummer for Leroi Brothers and many others and works at Antone's Records, once did a guest shot on KUT - he still does fill in for Paul and Larry. and he did a show on Texas garage Rock. I still have the tape and the Sparkles are the best on the tape, right up there with 13th Floor Elevators.
Monty

---
Subject: Re: Cotton Club
Date: Mon, 18 Mar 2002 17:57 EST
People would pee off the outside chain link beer garden at the Cotton Club. It had a sort of alley behind it. I had a date to hear Ely and she was a nice young sorority girl and really didn't want to go out there, but she knew Joe Ely from frat parties so I promised her that everything would be ok. We had to take her car for some reason. I drove down the alley behind the club looking for a place to park and there was about 25 guys with their dicks poking through the fence, peeing on the side of the car as we drove down.
She took it pretty well, but that was her first Cotton Club Experience.
Monty