Fire in the Water, Earth in the Air: Legends of West Texas Music
by Christopher Oglesby
Published by the University of Texas Press:
"As a whole, the interviews create a portrait not only of Lubbock's musicians and artists, but also of the musical community that has sustained them, including venues such as the legendary Cotton Club and the original Stubb's Barbecue. This kaleidoscopic portrait of the West Texas music scene gets to the heart of what it takes to create art in an isolated, often inhospitable environment. As Oglesby says, "Necessity is the mother of creation. Lubbock needed beauty, poetry, humor, and it needed to get up and shake its communal ass a bit or go mad from loneliness and boredom; so Lubbock created the amazing likes of Jimmie Dale Gilmore, Butch Hancock, Terry Allen, and Joe Ely."
"Indeed, Oglesby's introduction of more than two dozen musicians who called Lubbock home should be required reading not only for music fans, but for Lubbock residents and anyone thinking about moving here. On these pages, music becomes a part of Lubbock's living history."
- William Kerns, Lubbock Avalanche Journal
---
Country Style was an entertainment column written by Russ Parsons for the Lubbock Avalanche Journal in the 1980s, a fertile time in Lubbock music history. He has graciously shared many of his articles with us at www.virtualubbock.com for our readers' enjoyment.
Russ Parsons currently is the food editor for the Los Angeles Times.
---









LUBBOCK AVALANCHE JOURNAL
(posted on www.virtualubbock.com by permission of author)
Sunday Morning May 25, 198? P. 6-E

It's always a surprise to me when I find out somebody really reads my columns. I mean, I know my wife does. I sit there and watch her to make sure she finishes the whole thing. Other than that, though, it's a kind of pleasant shock when someone actually pays attention to what I say.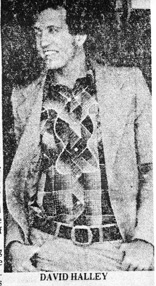 Usually, writing this thing is more like shouting at the desert. You can yell as loud as you want, but all that answers is a great silence. As you can imagine, 'that'., tithe anticlimactic for the kind of egomaniac that finds himself drawn to scribbling things in the public columns
So you can picture my state when I was awakened one Sunday morning a couple of weeks ago by someone interested in something I'd written in one of these columns. First of all, it was about 9 a.m., not the best time to try and get information from a writer working for a morning paper. Secondly, the bit that had caught my caller's eye was just a little note I'd dropped in to, well OK, I confess, to fill space.
The bit, not more than four or five paragraphs rewritten from a press release, gave information about the songwriters' competition being held in conjunction with the Kerrville Folk Festival and the caller was David Halley, a local guitar player of some note. He was interested in sending some tapes in to the festival, and needed some more information in a hurry. The deadline was only a couple of days off. (OK, so my desk is cluttered),
Well, to make a long story short (or shorter) if you think I'm surprised when somebody reads the stories, imagine my shock when it actually pays off.
Today, Halley and another Lubbock musician, Brad Seymour, will be performing their works on the folk festival stage along with 40 other fledgling songwriters. Should the panel of judges (including Guy Clark and Bob Gibson, the guy who wrote "Abilene" and "Michael, Row Your Boat Ashore") like their tunes, they'll be among the six finalists invited back to play Monday.
Those six will each receive $50, but that's little more than gas money really. The real reward is the recognition. That's something that comes dear to guys who normally play to living room furniture.
Halley, who played lead for Butch Hancock's latest album and can usually be seen atop the small stage at Jug Little's Barbeque on Tuesday afternoons, says he really doesn't consider his songs folk music, not in the purest sense of the form. But then again he's not going to let that stop him.
"Really, there's hardly anything that happens that's not folk music in a sense," he said. "I don't think mine is really. I guess it's kind of yes and no. As pure songs, they're not written in the pure folk music style. But the way I figure it, at Kerrville, I'm sure you're going to hear people doing material that isn't strictly folk.
"I think I'm writing more country and western tunes but, on the other hand, some of them come closer to folk than to a lot of stuff."
Asked to compare his work to an existing writer, Halley was stumped. "It would be hard to name an artist I sound like," he said.
"'Hard Living' could be a Hank Williams's tune. 'Rain Just Falls.' I always heard Willie Nelson doing that one.
"One of the songwriters I admire, the most is Rodney Crowell. As far as somebody who is doing something interesting and yet doing a lot of stuff that is still available to the public, he pretty well gets it. But at the same time, I wouldn't say I was pretty much along the same lines.
"When I was first developing, the songwriter who influenced me were, I'd have say Butch (Hancock) to a large extent, Jackson Browne, Willis Alan Ramsey. Robby Robertson of the Band. But I didn't ever consciously emulate anybody's writing style It was more like I'd stumble across something that I'd recognize as being part of a certain genre. Then, in developing the rest of the song, I'd play it up into that genre."
Halley, like so many good new songwriters, has forsaken the familiar "moon June" rhyming patterns and the "she loves me/she doesn't love me" storylines,
"The thing that really gets me about a song is when somebody says something that strikes a fairly deep chord in me, but also says it well," he said. "Sometimes, as a songwriter, I've just come across things. I mean, the good stuff in my songs is almost always a kind of an accident. There'll be one line or a twist of a phrase or something like that that I don't know where it came from. I'm surprised by it and I'm impressed( by it as if somebody else had written it.
'The songs of mine that I like, I wind up liking as songs pretty "The songs of min. that I like. I wind up liking as songs pretty impartially. THEN the ego trip comes in You say. 'Yeah. I wrote it, It's mine.' But at the moment I wrote it, it's a huriblin, experience in the purest sense because you know the stuff doesn't come from you. I Just kind of fillers down through you. That's the good stuff."
Halley comes from a musical family. His brother Mike is the lead guitar player lot jazz band Chameleon, which will be the featured band at Rox every Sunday starting next month. Still, he says both guitar playing and songwriting are hard work, a drudgery for him.
"I guess in a way, songwriting and guitar playing have both been something of chores to me because, to advance, I've got to work really hard at both of them. In guitar playing, you practice and practice and practice as much as the stuff you've tried to learn. But still, all that practicing makes a big difference. You're more solid. You can play what you hear better,
"With songwriting, it's somewhat the same way. You work and you work at it. I've got songs that are still unfinished after three years. There's the temptation to cheat a little, maybe get a rhyming dictionary. But every time I think about doing that, some thing in the back of my mind tells me that there are a lot of hacks out there. I try to studiously avoid doing that. Maybe I don't finish the song, but that's preferable to me than having a big piece of schlock."
Asked what his hopes were for his break at the folk festival, Halley said "I've fantasized a lot about it, but I guess my most realistic hope is that from the overall experience I'll get the kind of encouragement to keep on writing and to work harder on it. Like, if it should work out that I was one of the six chosen to play Monday, that would be like somebody saving to me "Yeah, you've got something worth working on.'
"Of course, if I don t get selected, even if it's real obvious to me that they don't like me or something like that, that's not going to affect me because I believe in the tunes that I've written.
'You know, I guess I'm always surprised when somebody likes my songs. I play the songs in kind of a hopeful mood, but I'm always surprised when somebody else knows where I'm at, when somebody else knows what's good about it. Even if they like it for whatever reason, it's a rush."
---

More articles by Russ Parsons
Butch Hancock - Joe Ely, Buddy Holly & Joey Allen - Jimmie Gilmore - Larry Welborn
or
Return to Home