Fire in the Water, Earth in the Air: Legends of West Texas Music
by Christopher Oglesby
Published by the University of Texas Press:
"As a whole, the interviews create a portrait not only of Lubbock's musicians and artists, but also of the musical community that has sustained them, including venues such as the legendary Cotton Club and the original Stubb's Barbecue. This kaleidoscopic portrait of the West Texas music scene gets to the heart of what it takes to create art in an isolated, often inhospitable environment. As Oglesby says, "Necessity is the mother of creation. Lubbock needed beauty, poetry, humor, and it needed to get up and shake its communal ass a bit or go mad from loneliness and boredom; so Lubbock created the amazing likes of Jimmie Dale Gilmore, Butch Hancock, Terry Allen, and Joe Ely."
"Indeed, Oglesby's introduction of more than two dozen musicians who called Lubbock home should be required reading not only for music fans, but for Lubbock residents and anyone thinking about moving here. On these pages, music becomes a part of Lubbock's living history."
- William Kerns, Lubbock Avalanche Journal
---
A few thoughts about CB Stubblefield:
by Mark Gunderson, 2007
In the fall of 1975 I was living in a dorm on the Tech campus. I had lived off-campus for several years but tired of cooking and thought a dorm cafeteria was a nice idea. I had played guitar since I was 10 years old in various groups in Austin and Lubbock; during college mostly playing acoustic sets with a friend Brian Mullen. We played the usual circuit for such things in Lubbock - Main Street Saloon, O'Malley's and such. Sharon Ely cut my hair at Main Street Salon ( next to the Saloon ) under a painting by Paul Milosevich of her dangling wet, plucked, headless chickens outside her kitchen window as a kind of 'chicken-puppet theater' before a dinner party she once gave.
Along the way that year I met Trey Yancy who also lived in the dorm and played guitar. He had a company which he was trying to create to make one of a kind instruments called "Dillo Guitar" and we won a competition to paint a mural in the Tech Student Center hallway made of flying armadillos. A $50. prize I think, and we spent about a week painting it. Our conversation led to other bars, bands and so on and he asked me if I would design new graphics for "The Blue Boar" - a bar on the south side of 34th street. I did some studies for a menu and such but then Trey asked if I'd help with setting up a new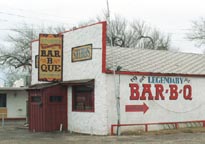 Sunday Jam at a BBQ place on E. Broadway. He and Dee Purkeypile were working to help CB make the Jam idea viable and so I helped a little. ( I didn't paint it, but the word 'Legendary' on the outside of the restaurant came from my graphic studies and conversations with Trey ).
In those days the pool table was still in the front eating area before being moved back behind the kitchen and on Sundays we would put the sound mixing board ( Dee's ? ) on top of the pool table ( actually a red and white checkered table cloth first, then the mixer ) but it was awkward at best and almost cut off access to the restrooms in the corner. And ultimately, the idea of a mixing board in such a small space was fairly strange. Terry Allen's 'heart'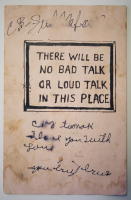 graphic for Stubb was on the wall near the register along with the now-famous 'there will be no….' sign. I sat in a few times during jams but generally just sat with Cuz or Ponty Bone or another and listened.
Cuz lived in the first or second room of the motel which was directly behind ( south of ) Stubbs BBQ and his room contained almost nothing. A hibachi sat at the side of the bed, and after successful fishing trips to area lakes he would cook perch in the room. He always wore suspenders and in about 1978 Joe Ely gave him a silver tractor cap which he wore proudly. Despite his lack of an arm he greatly enjoyed dancing and sometime late in 1978 I took a girlfriend and Cuz dancing. Joe was playing and they danced the night away. At the end of the evening she was wearing the silver cap and I don't believe she ever returned it to Cuz. Once, I had both CB and Cuz sign a sauce-covered menu for my 'archive' ( I guess that it might be the only original menu around ). My younger brother continued to take Cuz fishing after I had graduated.
Over the next four years Stubb and I became close and he would, as all know, give you anything you even asked about. When he printed new yellow and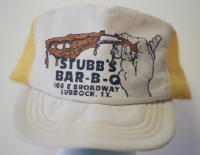 white tractor caps with a drawing of a hand holding a beef rib dripping with BBQ sauce I asked him to please save me one and next time I was in I would pay him for it. When I returned a few days later they had been so popular that he had sold out except for the one he was wearing himself and insisted that I take it, free. He refused to let me pay as was usual. He catered my 24th birthday party in the backyard of my garage apartment at 21st and Indiana. All there were amazed that there was no limit to CB's generosity.
On occasion I would take my family to Stubbs when they visited, especially if Stevie [Ray Vaughan] was playing because both CB and Stevie liked my mom. On one such occasion, CB asked mom after dinner if she'd like something for dessert. She asked him what he had and he turned it around to ask her again what she'd like. She thought for a moment and said a fried pie might be nice if he had one. He disappeared back behind the kitchen and came back to the table about 20 minutes later with a fried pie; for which he had left the restaurant and driven to a nearby convenience store, bought it, and then returned. My mom nearly cried when we realized what he had done. She will never forget it.
That, and Lou Ann Barton singing "You can have my husband, but please don't mess with my man" which became an inside punch line in our family for years.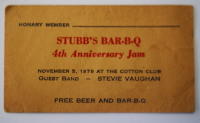 Stubb would rent the second incarnation of the Cotton Club south of town each year for an Anniversary Jam and give cards at the door making you an "honary ( sic ) member." They were incredible evenings with Stevie, Joe or even one year Muddy Waters who didn't get in from Chicago until about 2am. By the time he arrived we were all so drunk that I kept getting up on stage and recognizing Stubb for his kindness in putting on the event. One year, while I was sitting in for some unknown reason on the congos, the power blew out and for about 5 minutes it was Joe on acoustic guitar playing 'Rave On' with my congo backup. Very peculiar.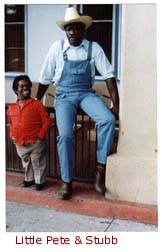 In 1979, after working in Denver for a few months, my wife and I returned to Lubbock for the Thanksgiving weekend with two friends. When we dropped by to say hello to Stubb he invited us in for Thanksgiving lunch with the Ely band and friends at the other end of the table. Stubb cooked, interestingly, chicken and dumplings for all.
In the early '80's when I visited him in his new I-35 location in Austin and asked about Little Pete he left the room and came back with a photo of he and Pete which he gave me although it was his only copy. We took photos and he put his arms around my wife obscuring the entire top half of her body with his two crossed hands. I only saw him two more times.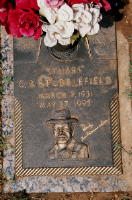 I didn't find out about Stubb's passing in time to attend his funeral but last year when I returned to Lubbock for the first time since 1980 I spent considerable time finding his grave and have now been to see it twice - leaving a piece of the restaurant floor on his headstone the second visit. He never spoke a word to me of his wife who is now buried along side him or of a daughter who lives in Lubbock but I know many, many people consider him family and I would respectfully add my name to the list.
-Mark Gunderson
March 2007