Fire in the Water, Earth in the Air: Legends of West Texas Music
by Christopher Oglesby
Published by the University of Texas Press:
"As a whole, the interviews create a portrait not only of Lubbock's musicians and artists, but also of the musical community that has sustained them, including venues such as the legendary Cotton Club and the original Stubb's Barbecue. This kaleidoscopic portrait of the West Texas music scene gets to the heart of what it takes to create art in an isolated, often inhospitable environment. As Oglesby says, "Necessity is the mother of creation. Lubbock needed beauty, poetry, humor, and it needed to get up and shake its communal ass a bit or go mad from loneliness and boredom; so Lubbock created the amazing likes of Jimmie Dale Gilmore, Butch Hancock, Terry Allen, and Joe Ely."
"Indeed, Oglesby's introduction of more than two dozen musicians who called Lubbock home should be required reading not only for music fans, but for Lubbock residents and anyone thinking about moving here. On these pages, music becomes a part of Lubbock's living history."
- William Kerns, Lubbock Avalanche Journal
---
Chris Oglesby Interviews
Don Caldwell
Lubbock; 2/3/98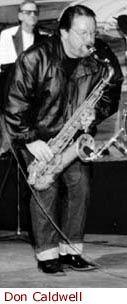 Don Caldwell has lived in the Lubbock area his entire life. Also an accomplished saxophone performer, Don owned and operated what was for many years the only recording studio in Lubbock. There, he engineered and produced much of the music that would define the "Lubbock Sound," including Joe Ely's early music and the incomparable Lubbock: on everything album. Caldwell's recording protégé Lloyd Maines has gone on to become the Top music producer in Texas.
Without Don Caldwell and Caldwell Studios, there very well could have been NO music make it out of Lubbock after Buddy Holly. There would have been no "Lubbock Sound" without Caldwell.
Today, Caldwell operates a promotion company with the goal of publicizing Lubbock musicians and performers and bringing attention to music events and venues in Lubbock.
Don begins the interview by telling me about some of the more important - although lesser known - Lubbock musicians.
---

DC: Steve Meador was originally this "All-State" drummer from Wilson, Texas. There was like 20 people in his graduating class. He went to the University of Texas, and then got known in the Austin area in the '70s and the very early '80s as the "Number One" call drummer.
He played in one of Ely's bands, and he played with Carol King for about three years.
But he was the "first-call" player in Austin. And what happened was: In about '84 or so, his Dad had a stroke and then his mother, who appeared to be in perfect health, had a little automobile accident, a little bump-up. And they checked her and she had a melanoma, and she was dead in a month. So Steve decided to move his family back here. He came back to Lubbock, and has been playin' music out of Lubbock since.
But he works with Leonard Cohen a lot; He's done Leonard Cohen's European tours two or three times.

Steve Meador is a killer drummer. He's as good a drummer as I have ever worked with, and I've been on stage with some pretty dad-gummed famous drummers. I believe Meador is "The Cat. "

Chris: I remember 10 or 12 years ago getting the opportunity to see Bobby Keys play with the Ace Liquidators all the time. I've always wondered; He could play anywhere and be anywhere. Do you know anything about why Bobby Keys was back performing in Lubbock bars at that point?

[NOTE: Bobby Keys is the long-time saxophone player for The Rolling Stones. He has played with John Lennon, George Harrison, Leon Russell, and just about all the blues Greats.]

DC: You know about Keys' history doncha'? He grew up in Slaton [in southeast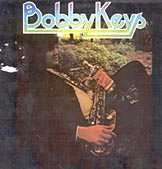 Lubbock County].
Keys and I were buddies growing up. We played little league baseball together. And we both played saxophone.
It's a weird deal. I mean, here's two people - Keys and myself - from Slaton, Texas, that grew up in that little farm town and both wanted to be saxophone players. Now, Bobby Keys being a saxophone player had absolutely nothin' to do with me wantin' to be a saxophone player.
Matter of fact, I started because I heard a record by a guy named Sam Butera who was this honkin', rockin' tenor sax player that played with Louie Prima.
I had been injured playin' football and I could no longer do sports, because I had a back injury that was gonna' inhibit me. So I heard this record of Sam Butera playin' saxophone. And I had never paid one bit of attention to music instruments before...
Chris: You were in high school?

DC: Yea, I was like a freshman in high school. I heard this saxophone and I went, "Gahlee! Man, I love the way that sounds!"
It was a song called "Come Back to Sereno" which was a featured saxophone solo on an album: "Louie Prima, Sam Butera and the Witnesses—Live from Lake Tahoe." I heard that; and man! I just got cold chills listening to that sound of that tenor saxophone.
So I decided to join the high school band and start playin' saxophone. I got in the band, and it just so happened that my high school band teacher was a saxophone player, and he liked all that stuff.
But it's kind of amazing to me: I grew up on a farm, and it was just understood that I would be a farmer. But, Man! I heard that saxophone and it was like "my life!"
go to page 2
-continued-

---
For more of this interview you have been reading on virtualubbock, Buy the book by author Christopher Oglesby
Fire in the Water, Earth in the Air:
Legends of West Texas Music