Fire in the Water, Earth in the Air: Legends of West Texas Music
by Christopher Oglesby
Published by the University of Texas Press:
"As a whole, the interviews create a portrait not only of Lubbock's musicians and artists, but also of the musical community that has sustained them, including venues such as the legendary Cotton Club and the original Stubb's Barbecue. This kaleidoscopic portrait of the West Texas music scene gets to the heart of what it takes to create art in an isolated, often inhospitable environment. As Oglesby says, "Necessity is the mother of creation. Lubbock needed beauty, poetry, humor, and it needed to get up and shake its communal ass a bit or go mad from loneliness and boredom; so Lubbock created the amazing likes of Jimmie Dale Gilmore, Butch Hancock, Terry Allen, and Joe Ely."
"Indeed, Oglesby's introduction of more than two dozen musicians who called Lubbock home should be required reading not only for music fans, but for Lubbock residents and anyone thinking about moving here. On these pages, music becomes a part of Lubbock's living history."
- William Kerns, Lubbock Avalanche Journal
---
A Brief Conversation: Chris Oglesby &
Jesse "Guitar" Taylor
on South Congress Avenue
Austin; 2/12/98

Known as The Gangster of Love, Lubbock native Jesse Taylor became internationally famous as Joe Ely's blistering lead guitar player. Perhaps lessser know, Jesse Taylor was the first white man to ever play at the legendary original Stubb's Bar BQ in East Lubbock.
If you've never seen Jesse Taylor play roadhouse guitar, you have missed one of the truly visceral experiences of Texas music. The man is Rock-n-Roll.

In the early days of my quest to write this story of Lubbock music, one of the first artists who agreed to work with me on by Lubbock project was Jesse "Guitar" Taylor.
When I first came up with the idea for a book about Lubbock and it's creative offspring, I spoke to my friend John Scott - President & co-owner of Stubb's Bar-BQ and Lived Music - about my original ideas for seeking out the sources of Lubbock's artistic font. John was excited about the idea and said he'd help out any way he could. Not thirty minutes after we spoke, an excited John Scott was calling me back. "I just talked with Jesse Taylor and told him about your book idea. He wants you to call him at his home right now."
Jesse definately was interested in talking I promptly called the guitar legend at the number John relayed to me. Jesse answered with, "It's about damn time somebody writes this book!"
I told him about being young and going with my dad to Stubb's on East Broadway.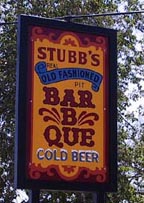 My dad was the basketball recruiter at Texas Tech and friends with Stubb, so we'd go over and have lunch with Stubb often when I was kid. At that time, very few other white people ever made the journey to the east side of Lubbock to visit Stubb's. That was until Jesse Taylor started rocking the joint with his Sunday night jams.
Being over there with my dad and this big, black man known only as "Stubb" - on the dark-side of one of the waspiest white towns in America - I remember thinking, even as a youth, "Hey there's something cool here, and why does no one else I know in Lubbock seem to acknowledge it?"
Jesse agreed. "Shit, sometimes I think that Lubbock will never change." Jesse responded. "They don't know what genius they have from right there in Lubbock. They could have built recording studios and turned Lubbock into the Nashville of Texas Music but they just turn their backs."
However I was interested that he added:
"But Austin is almost the same. I mean it's not at all like Lubbock in that Austin is very open-minded and liberal and all that.But even in Austin, the people here don't have any idea how much all us guys from Lubbock have done.
I'll go out and tour with Bob Dylan or Bruce Springsteen, and I'll get back to Austin and walk down the street, and people come up to me and say 'Hey, Jesse, why haven't you been playing down at the Saxon lately?' People just don't know what they have here."
I was living in California at the time but was preparing to move back to Austin, so we agreed to talk in person when I returned to Texas.
Shortly after I got back to Austin, Jesse contacted me and said he was playing a "pick-up" gig with some songwriter at a little joint on South Congress called Shaggy's. He didn't have much time for a full-length interview because of his studio commitments - Jesse was curently cutting a record for an Italian recording label as well as playing lead guitar on Ely's Twisting in the Wind album being recorded then, also - However, he'd be happy to get together during soundcheck to discuss the book idea a little more and figure out how he could help me in my efforts. Jesse really is one of the kindest, most generous guys I've ever met.
It was a rainy night. Jesse was at the bar and, Man, did he look tired. Jesse told me he had been up for about three days in the studio. It showed; but he was smiling and laughing and ready for more action.
Thanks to Jesse Taylor for sharing this story about the first time he met C.B. "Stubbs" Stubblefield, the birth of the Stubb's Bar-BQ Sunday Night Jams, and much of Lubbock's musical heritage from the 70s.

---

Chris: Tell me about the first time that you met Stubb; When Stubb picked you up hitchhiking.

Jesse: Basically, I was just livin' in Lubbock. I had been in California awhile. Like all the other musicians fo my era there in Lubbock, we used to go back and forth between California and Austin and Lubbock all the time - with some diversions to Colorado...
I was just back in Lubbock on one of those trips through there and happened to be stayin' there at that time I was livin' on East Broadway in Lubbock.
Stubb's was at the top of one side of the hill, the one closest to Avenue "A"; You went down this big draw by Mackenzie Park, and I was the top of the other side…He was on the side closer to downtown. I was further the other way.

I used to go to my friends' house to go jam or somethin'; Go over to Ely's house or Jimmie's house. Of course, I was a poor broke musician hippie like we all were, I guess. So I didn't have a car or nothin'; I would just go hitchhike.

This one day I was standin' there hitchhiking, and this big, BIG Cadillac pulls up. I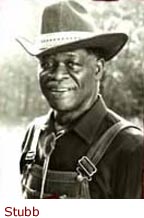 look in and…And it's Stubb!
Chris: Did you know who he was when he stopped?
Jesse: Oh, no! Not at all.
But I had walked by his place quite often because I lived on that street, and I had to walk by there all time. Every once and a while, when I'd walk by there and people would open the door, I'd see this smoky little bar, and I'd hear this Blues comin' out of there...
I would think, "I wanta' go in that place so bad!"
But it was like, really…It was just pretty much all Black. I never saw any, any White people in there, so I was a little intimidated.
Although, as it turns out, I never should've been because they woulda' loved it if I had just walked in the door, but…
But it was amazing. He got me up to the top of the hill there, and he said, "Well, this is where I'm goin'." And he started to let me off. We were there ast Stubb's.
I said, "I've walked by the place so many times. You go in there very much?" because I wanted to know what it was all about; And he says, "I own this place!"
I said, "Really? I've always wanted to go in there."
Stubbs said to me - his exact words - He said, "Well, I'll tell you what, I got a barbecue sandwich and a cold beer's got your name on it in there."
So that was the first meeting, right there.
After that, I'd go in there. We'd be sitting around listening to the jukebox and there wasn't very much goin' on. Stubbs said, "Y'know? What we need is some Live music here."
I knew all the musicians in town, so I said, "Let me get on the phone. I'll bring you some Live music!"...And that's pretty much how that deal all got started.
-end-
Return to Interviews or Home
---
Do you like the interviews you have been reading on virtualubbock.com?
Buy the book by author Christopher Oglesby
Fire in the Water, Earth in the Air:
Legends of West Texas Music

"As a whole, the interviews create a portrait not only of Lubbock's musicians and artists, but also of the musical community that has sustained them, including venues such as the legendary Cotton Club and the original Stubb's Barbecue. This kaleidoscopic portrait of the West Texas music scene gets to the heart of what it takes to create art in an isolated, often inhospitable environment. As Oglesby says, "Necessity is the mother of creation. Lubbock needed beauty, poetry, humor, and it needed to get up and shake its communal ass a bit or go mad from loneliness and boredom; so Lubbock created the amazing likes of Jimmie Dale Gilmore, Butch Hancock, Terry Allen, and Joe Ely." - University of Texas Press