Fire in the Water, Earth in the Air: Legends of West Texas Music
by Christopher Oglesby
Published by the University of Texas Press:
"As a whole, the interviews create a portrait not only of Lubbock's musicians and artists, but also of the musical community that has sustained them, including venues such as the legendary Cotton Club and the original Stubb's Barbecue. This kaleidoscopic portrait of the West Texas music scene gets to the heart of what it takes to create art in an isolated, often inhospitable environment. As Oglesby says, "Necessity is the mother of creation. Lubbock needed beauty, poetry, humor, and it needed to get up and shake its communal ass a bit or go mad from loneliness and boredom; so Lubbock created the amazing likes of Jimmie Dale Gilmore, Butch Hancock, Terry Allen, and Joe Ely."
"Indeed, Oglesby's introduction of more than two dozen musicians who called Lubbock home should be required reading not only for music fans, but for Lubbock residents and anyone thinking about moving here. On these pages, music becomes a part of Lubbock's living history."
- William Kerns, Lubbock Avalanche Journal
---
Buddy Holly:
Master Dreamcrafter, Rock-n-Roll Messiah
By Chris Oglesby; 11/2000
"Then Jesus told them, 'A prophet is honored everywhere except in his own hometown and among his relatives and his own family.' " - Mark 6: 4

"Both general probability and specific evidence require us to recognize the possibility that 'the Christ of faith' originated in the lifetime, if not in the mind, of the 'Jesus of history,' that one of the first to believe in 'Jesus the Christ' was Jesus himself."
--Dr. Morton Smith, from Jesus the Magician.
If one takes the time to go to Lubbock, Texas, and speak with people who lived there at the time Buddy Holly was growing up, one will discover that many of Buddy Holly's former peers & neighbors think very little of the man who became a worldwide icon of the Rock-n-Roll era. They do not think poorly of him - most everyone who knew him agrees that he was a good-hearted boy; Rather, most people who grew up in Lubbock at the same time as Buddy think very little about him at all. It doesn't take long in Lubbock to realize that most really did consider Buddy Holly sort of a oddball, if they considered him at all.
I realized that Buddy Holly had somewhat of a dubious reputation in my hometown of Lubbock long before I ever began writing a book about West Texas art & music. I did not even know that Buddy Holly was from Lubbock until I was in junior high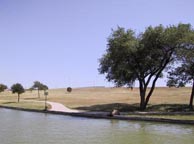 school. After much rancor among protesting citizens who still felt rock-n-roll was at least low culture if not downright evil, the City of Lubbock named the Yellow House Canyon fork of the Brazos River, which runs through North Lubbock along the Clovis Highway, "Buddy Holly Park." The Buddy Holly Story, starring Gary Busey, had recently been released; doubtless the attention the movie brought to Lubbock was the primary impetus to the decision. I remember thinking, "Why did they name that park after some old rock-n-roller?"
I was pleased to later discover that I was in good company in my ignorance of Buddy's very existence in my hometown. Joe Ely has earned a worldwide acclaim and a Grammy Award with his own innovative style of Texas-style Honky Tonk Rock-n-Roll. While Ely is best known for his Lubbock roots, he actually moved to Lubbock from Amarillo -- just 120 miles up Highway 87 -- when he was in junior high school, shortly after Buddy Holly died. Despite the fact that Buddy Holly had nearly a dozen top-ten hit songs recently on the charts at that time, teenaged music lover Joey Ely had no idea that Buddy Holly was even a native of Lubbock. Ely has informed me that it was only years later that he learned that he actually had taken guitar lessons in the same house where Buddy had lived in junior high school..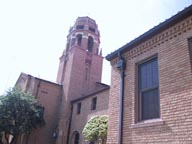 Once I discovered this world-wide icon was from my own seemingly uninteresting, dust-laden town out in the literal middle of nowhere, I became enchanted. Buddy had attended the very same schools I did: Roscoe Wilson Elementary, J.T. Hutchinson Jr. High, and Lubbock High School. I felt this was something remarkable! I walked in a world famous artist's footsteps! What magic! Even then, I discerned there must be something magical somewhere buried in my hometown.
"Why does Lubbock seem to ignore its marvelous heritage & legacy?" I wondered. I occasionally asked my friends' parents if they had known Buddy when they were at Lubbock High School. To my surprise, the response was never a proud, "Yes! I knew The Star when!" The response invariably was something like, "Yea. He was a weird guy." And that's about it.
This outright apathy if not complete disrespect for a fellow Lubbock native has always been truly astonishing to me. I wonder if people who knew Elvis as a teenager respond like that? "Yea. That boy with the funny name was sure spastic." But the disinterest in Buddy Holly and his music seemed almost universal in Lubbock as I was growing up in the '70s & '80s.
"A prophet is honored everywhere except in his own hometown," saith the Christ.
Today, there is hardly a musician hailing from Lubbock who doesn't perform a Buddy Holly cover. But even a few short decades ago, one of Lubbock's recognized premiere musical geniuses had paid little attention to Buddy and was somewhat oblivious to the contributions Buddy had made to music. Lloyd Maines hit the worldwide music scene as the pedal steel guitar player for the original Joe Ely Band. Lloyd has been the pedal steel player of choice for most of the bands who've made Texas-style music famous: Ely, Jerry Jeff Walker, Robert Earl Keen, The Lost Gonzo Band, and many more. Adding to his credentials, Lloyd Maines has been named the Austin "Music Producer of the Year" for the first two years that he lived in Austin, finally having moving down from a lifetime in Lubbock. Lloyd's keen production advice is what convinced the Dixie Chicks to try out Lloyd's somewhat inexperienced daughter Natalie when they asked him about finding a new singer. Choosing Natalie Maines as their new lead singer certainly turned out to be a profitable gamble for the Chicks.
Even though Lloyd was born & raised among a family of musicians in Lubbock, he didn't really get a grasp on how much Buddy Holly had influenced music worldwide until he started playing with the Joe Ely Band in the late 'Seventies.
"Until I heard Joe doing his versions of Buddy Holly music, to tell you the truth, I had never even paid that much attention to Holly's music." Maines told me. "I always knew it was there but I had never paid that much attention to it.
"Until I went to England with Joe Ely and toured with the Clash, I didn't realize what an impact Buddy Holly and the whole Lubbock scene had on England. We landed over there and they treated us like we were kings! And it was because we were from Lubbock!"
For, at that time unhonored in his home of Lubbock, Europe knew that Buddy was certainly a prophet of this age which has become so underscored by recorded and broadcasted music. The woof of the Twenty-first Century psychological fabric has been laid with the vibrations of recorded music of the Rock-and-Roll Age. All our minds, regardless of geography and language, are amok with the sounds of The Beatles, The Rolling Stones, Bob Dylan (senseless to continue the almost infinite list; reader comprehends the idea); all who attribute their musical careers to the inspiration of Buddy Holly.
The legacy of Buddy Holly is now firmly entrenched in the pantheon of the American psyche. Merely hum one of the most played singles of all times: "The Day the Music Died;" Buddy Holly lives, certainly.
However, according to his contemporary Lubbockites, Buddy always had that strange misfit demeanor which seems so poignantly illustrated by those startling horn-rimmed glasses which were his trademark. Today one can hear the evidence in the words of that misfit kid. Listen to the lyrics of Buddy Holly's songs, all sweet, naïve love songs by a gangly teenage boy who just wants to be loved and popular with the girls:
"Everyday, its'a gettin' closer, Love like this will surely come my way."
"Maybe, Baby, you'll be true."
"If you knew Peggie Sue then you'd know why I feel blue."
"Our love's for real, not fade away."
Buddy's older brothers Larry & Travis, who played C&W music around Lubbock just for fun (they had "real jobs"), tell stories about having to tolerate their little brother who wanted to get on stage and play fiddle with them. His older brothers greased Buddy's bow to cut down the screeching. The little kid sure was cute, they admitted, but he was the little brother. Frequently it is the little brother, with the intense desire to match the achievements of the elders, who exceeds his older brothers by sheer over-compensation.
Most people in Lubbock, other than a few rock-n-roller teenagers like Sonny Curtis, Bobby Keys and Waylon Jennings, really never paid much attention to young Buddy Holly. After all, he was just a boy the entire time he lived in Lubbock. He had only been out of Lubbock High School for less than four years at the time of his fateful death in the winter of '59. And most of the time he spent in Lubbock was dedicated to perfecting that art form, rock-n-roll, which he would bring to the misfit youth of America and the world.
Buddy was already recording by the age of fourteen. People in Lubbock simply remember him, if at all, as "that crazy boy who always carried around a guitar;" a miscreant kid piddling away his time with bizarre, African-influenced electronic noise.
In the religious, agricultural town of Lubbock, one is respected if he works hard and has something to show for it. Music is appreciated but only as something you do in your free time, not as an occupation. Buddy was, in effect, in self-imposed isolation from much of the community, especially once he started playing what always conservative Lubbock considered "Demon Rock-n-Roll; that damn nigger-music."
Buddy Holly did not live long enough for many people there to really get to know him. Buddy went right from shy teenage misfit to Rock-n-Roll messiah in just four short years. However, even after "the Day the Music Died" and the Legend of Buddy Holly began to take form, for many years the community in Lubbock paid little regard to the earth-shaking influence their most famous child had on the world.
Despite his hometown's apathy and disdain, much of the rest of the real world recognizes the enormous and incalculable influence Buddy Holly's music has had on all our lives. Buddy did release forces on the world that would forever alter the lives of entire generations around the world.
Terry Allen, the acclaimed graphic artist, painter, sculptor, musician, and songwriter from Lubbock described Buddy's force thusly: "Buddy Holly was armed to the teeth 'cause he's got that Stratocaster, you know; And that was a viscous weapon when he was there in Lubbock."
Buddy's guitar was the weapon that fired the first shots in the worldwide political, cultural, and even spiritual revolutions which freed the numbed and damaged post-war minds in the mid-Twentieth Century, leading to the quantum leaps in creative output which we have witnessed in the past 50 years. Buddy Holly's intense and palpable boyhood dream manifested as the very Age of Rock-n-Roll. The dreams of young Buddy Holly have forever altered the consciousness of the World.
The Power of Dreams
The Legend of Buddy Holly was fashioned primarily by Buddy Holly himself. This is a story about creating reality, making dreams come true. Buddy's dream changed the world.
How does creation of a personal dream occur? Allen Ginsberg, the Beat poet who wrote the infamous & revolutionary poem "Howl" gives some insight regarding another prophet of the Twentieth Century, his long-time friend and colleague Jack Kerouac, a virtual mythological hero himself. Of Kerouc, Ginsberg said, "Jack made a mythology of his whole life and put people into the mythology. And it was a mythology that was so tender, dear, and mortal that people willingly fell into it with pleasure, because it was an interpretation that made sense…And it has charmed everybody since."
To a generation seizing the consciousness of rock-n-roll, Kerouac was to literature what James Dean was to film and Elvis was to music. Kerouac's On the Road set a generation looking for freedom, excitement, and spiritual fulfillment in a material world. Kerouac's personal mythology altered the consciousness of a large portion of his entire nation.
Buddy Holly knew the secret that Kerouac knew: We must act on our own dreams and desires. This is how God causes the world to evolve. We humans collectively are indeed the individual cells in the mind of the creative force of our world. To function properly in God's equation, we must learn how to be ourselves. As the Great Angelic Bard Shakespeare instructed: "This above all: to thine ownself be true." And like Kerouac, Buddy Holly's sweet, simple interpretation of the truth, honest & electrifying, has charmed the World. Ginsberg's comments about the mythological life of Kerouac gives us some insight into how we must approach the world we live in if we intend to change it for both ourselves and others. Perhaps this is one of the great lessons of the Great American experiment: As Kerouac learned in the American Century, we must all attempt to create our own mythologies, to mythologize & make magical our environment and ourselves.
Buddy Holly wanted to become something that very few people had even imagined being at that time: a Rock-n-Roll star. There really was no such thing at the time. It can be argued that Buddy Holly was, in fact, the very first Elvis impersonator. Until a relatively obscure Elvis Presley, opening for country star Ferlin Huskey, came to Lubbock in February of Buddy's senior year, Buddy was primarily playing traditional Country & Western music for the public. After opening for Elvis and Johnny Cash the next year at Lubbock's Fair Park Coliseum, Buddy decided his destiny and declared to himself, "That's what I want to do with my life!"
Through vision of the future and sheer force of will, coupled with an amazing talent for comprehending the technology of recording, our young, gangly Be-spectacled One set out to create one of the most enduring & influential manifestations of the human capability for dreams. His dream would change the world for us all.
While Elvis will always be the King of Rock-n-Roll, Buddy Holly is most certainly its George Washington. There will never be another beautiful Elvis; Elvis was truly a Force of History. However, Buddy Holly gave hope to all the outcasts, misfits, artists, dreamers, shakers, wailers & moaners of the world that if goofy ol' Buddy Holly could make it as a Star, they could do it too.
Buddy brought Rock-n-Roll to the people who truly needed it - those very same people described on the Statue of Liberty's invitation to the wretched refuse of the world. As Paul McCartney of working-class Liverpool observed, "Buddy Holly gave you confidence. He was like the boy next door."
Buddy Holly & the Crickets created the structure of the rock-n-roll band as we know it: a four piece ensemble -- 2 guitars, bass, & drums with a charismatic singer out front -- writing & recording their own songs. Moreover, Buddy Holly is credited with being THE major influence on what is certainly one of the most influential phenomenon of the Twentieth Century: Buddy Holly gave birth to The Beatles.
Take a moment to comprehend the magnitude of Buddy Holly's ability to create a dream! Imagine there was no Buddy Holly seeking to create an image and place for himself; this means there were no Beatles. "No Beatles" means the revolution of freedom and expanded consciousness which occurred in the mid-part of the Twentieth Century may not ever have been realized. There are millions of people throughout the world affected by the music of The Beatles who will wholeheartedly concur with such an assertion. Buddy Holly most certainly altered the future of the entire world!
And in return for giving rock-n-roll to the Beatles, the Beatles gave back to us our own Buddy Holly. Until the arrival of the Beatles - and Rolling Stones, who also credit Buddy Holly with much of their music and style - the rock-n-roll that was forged by Elvis and Buddy Holly was almost forgotten in the xenophobic mass-media culture of the early 'Sixties. Elvis had been drafted, Jerry Lee Lewis had been disgraced, Little Richard had gotten religion, Chuck Berry had gone to prison for violation of the Mann Act, and poor young Buddy Holly was dead. MoTown R&B, California surf music, and the "bubblegum" music of Lesley Gore and Pat Boone were dominating the pop charts immediately before the British invasion of February 7, 1964.
As the classically cool character, hot-rodder John Milner from George Lucas' American Graffiti proclaimed, "Turn it off! I don't like that surfin' shit! Rock and roll's been going downhill ever since Buddy Holly died."
But the Beatles and the Stones returned Buddy's vision of rock-n-roll to its cradle in America. Both bands' first recordings were Buddy Holly songs. Paul McCartney still talks about how he and John would try to imitate Buddy's guitar and vocals. They most certainly incorporated many of Buddy's innovative recording techniques - multiple tracking & layering of sound. Examine the Beatles early music, (pre-Bob Dylan reefer encounter & Rubber Soul); it's all Buddy Holly imitation!:
"She Loves You, Yea! Yea! Yea!"
"Love, Love me do"
"I wanta hold your hand."
John Lennon admitted that he would never have had the self-confidence to wear his glasses in public if not for Buddy: "He made it easy to wear glasses. I WAS Buddy Holly." Paul McCartney has been so enamored with Buddy's music that Sir Paul now owns the publishing rights to most of Buddy Holly's songs, and McCartney also promotes a Buddy Holly Week in England, every September during the anniversary of Holly's birth. The most apparent evidence of Buddy Holly's influence on the Beatles is of course the band's name itself: a manifestly transparent reference & homage to the Crickets.
Buddy Holly achieved his dream. With the sheer force of his desire and will, Buddy Holly - the misfit, dorky little brother - created an everlasting icon of the quintessence of rock-n-roll coolness. In death, Buddy Holly will always be remembered as he was during his life only in his own mind: a Rock-n-Roll Hero. Buddy discovered that the willpower of a dedicated dreamer can be enough to create a new reality, and he only began to see that his dream was powerful enough to change reality for us all.
I wonder if most prophets even know that they are prophets? Anyone who knows Twentieth Century music must agree that Buddy Holly was certainly one of the prophetic visionaries of the fledgling recording industry. Buddy Holly harnessed and brought to reality a sound which would shake the foundations of America and the world at the cusp of Ages.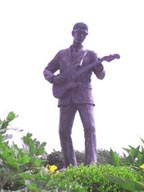 We all can learn from that goofy, skinny, four-eyed prophet kid from the middle of the American outback. I believe that Buddy Holly discovered that the force of the human capacity to dream is the secret to how Magic works. It is obvious that Buddy's magical dream has truly engulfed the world.
Long Live Rock-n-Roll! Long Live Buddy Holly!
© Chris Oglesby
Copyright 2000
(abridged 2006)
All rights reserved
---
Do you like what you just read?
Buy the book by author Christopher Oglesby
Fire in the Water, Earth in the Air:
Legends of West Texas Music

"As a whole, the interviews create a portrait not only of Lubbock's musicians and artists, but also of the musical community that has sustained them, including venues such as the legendary Cotton Club and the original Stubb's Barbecue. This kaleidoscopic portrait of the West Texas music scene gets to the heart of what it takes to create art in an isolated, often inhospitable environment. As Oglesby says, "Necessity is the mother of creation. Lubbock needed beauty, poetry, humor, and it needed to get up and shake its communal ass a bit or go mad from loneliness and boredom; so Lubbock created the amazing likes of Jimmie Dale Gilmore, Butch Hancock, Terry Allen, and Joe Ely." - University of Texas Press
---
or Return to
Stories