Fire in the Water, Earth in the Air: Legends of West Texas Music
by Christopher Oglesby
Published by the University of Texas Press:
"As a whole, the interviews create a portrait not only of Lubbock's musicians and artists, but also of the musical community that has sustained them, including venues such as the legendary Cotton Club and the original Stubb's Barbecue. This kaleidoscopic portrait of the West Texas music scene gets to the heart of what it takes to create art in an isolated, often inhospitable environment. As Oglesby says, "Necessity is the mother of creation. Lubbock needed beauty, poetry, humor, and it needed to get up and shake its communal ass a bit or go mad from loneliness and boredom; so Lubbock created the amazing likes of Jimmie Dale Gilmore, Butch Hancock, Terry Allen, and Joe Ely."
"Indeed, Oglesby's introduction of more than two dozen musicians who called Lubbock home should be required reading not only for music fans, but for Lubbock residents and anyone thinking about moving here. On these pages, music becomes a part of Lubbock's living history."
- William Kerns, Lubbock Avalanche Journal
---
Chris Oglesby Interviews
Amanda Shires
March 23, 2009 - on Slaid Cleave's front porch, East Austin TX
I first met Amanda Shires less than a week before we did this interview, at the Lubbock New West Texas Music Showcase during the South by Southwest Music Festival in Austin. I have been a fan of Thrift Store Cowboys records for several years but had never seen them perform live. Therefore when my Sandstorm Picnic partner Jeff Kehoe and I were planning the lineup for the show, I lobbied successfully for TSC's inclusion on the evening bill. Visit Lubbock was hosting the afternoon party connected to the evening showcase, and we had already booked Kenny Maines, Andy Eppler, and Cary Swinney for that event; we seriously wanted some feminine energy for balance. We were thrilled when Amanda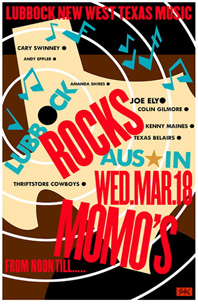 Shires, the fiddle player for TSC, asked if she could perform a set of her own music from her new solo album "West Cross Timbers."
Amanda captivated the audience that afternoon with her angelic voice, lovely lyrics, and fascinating ukulele and fiddle. After her set, Amanda agreed to do an interview sometime before she left Austin, as she had at least four other gigs scheduled during SxSW. That Sunday morning, after the festival-goers had dispersed, I met Amanda in east Austin on the porch of her collaborator Rod Picott's friend and songwriting partner Slaid Cleaves. Amanda wrote to me later and said, "It was really fun doing this...I feel like I understand myself a little better, since you did this! Is that weird?"
Not weird at all Amanda, says the author, that is part of why I do what I do.
---
Chris: Let's start with you telling me about your family's connection to Lubbock and how you got there.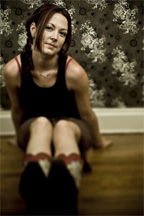 Amanda: I was born in Mineral Wells, where my dad still lives. But I moved around a lot with my mom after she and my dad split up, when I was around five years old. When I was nine years old we wound up in Lubbock because my grandmother was living there. My mother did not grow up in Texas but my grandmother moved to Lubbock with one of my step-grandfathers before I was born. So I have to claim both Mineral Wells and Lubbock as my hometowns ...but I love Lubbock.
I went to Bayless Elementary - Go Bayless Bears! And I started orchestra there when I was nine years old.
I had found a fiddle in Mineral Wells one time when I was visiting my dad and decided I really wanted it. I just saw it and knew I wanted to play it; I got this weird fixation, kind of like I have with owls. I don't know why. The brand was called Lark; it was green and crappy, almost plastic-looking, like a toy instrument. My dad got it for me, and I remember trying to tune it and busting all the strings within the first fifteen minutes. But I just KNEW I wanted to play it. So the only way my mom knew for me to learn, other than me just trying to teach myself, was for me to join orchestra at school.
My mom didn't know anything about a violin or fiddle. She listens to the Pretenders, Steely Dan, stuff like that. I started playing the violin in orchestra, and my orchestra teacher at Bayless recommended Lanny Fiel to my mom to give me private lessons. Because my mom was a single parent, we applied for a scholarship. There was this program where the Lubbock Symphony would pay for me to have lessons. I had to write a paper explaining why I wanted to do it. They still don't know this but Lanny was also teaching me fiddle music, because I would get bored practicing just the orchestra music. That opened my eyes. I started collecting and hoarding Bob Wills records and George Jones CDs, as if they weren't going to be around any more. I really was more interested in fiddle music than orchestra, and luckily Lanny happened to be taking an interest in fiddle music at the same time. There's a guy named Frankie McWhorter up in the panhandle around Lipscomb, Texas, near Turkey, where Bob Wills was from; he played with Bob Wills. Lanny was working with Frankie, writing down and chronicling old traditional Texas songs. Working with Frankie made Lanny interested in learning the fiddle himself. That just happened to be the time when I was taking lessons from him. The first song I ever learned was called "Spanish Two Step," which Lanny had learned from Frankie. I don't know where Frankie learned it but he learned a lot of his songs in the Bob Wills band and from Eck Robertson who was one of the first fiddle players ever recorded.
Chris: How old were you then?
Amanda: Ten or eleven.
Chris: So you were still little then, and Lanny was taking an interest in your music. Where did it go from there?
Amanda: Lanny was working on a project called the Ranch Dance Fiddle Band, where he was teaching kids western swing music and pioneer-frontier music, trying to preserve the legacy of traditional music from our area.
Chris: Why was he doing this? Did he have a connection with the schools?
Amanda: I honestly believe he was doing it because he has a passion for the music. I know he did some of it in relation with the Ranching Heritage Center but I know that you don't just start teaching kids for fun…or I mean, it was fun but it was more than just a job to him. He applied for grants through the State of Texas to support his educational programs, which I know that process is an ordeal. Lanny is one of the coolest role models I know. He taught us how to act and present ourselves in public.
I did the Ranch Dance Fiddle Band all the way through high school. I also joined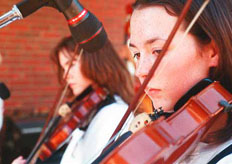 regional symphonies outside of the school orchestra. I went to Cavazos Junior High, which is a magnet school, and graduated from Lubbock High. Lubbock High had the best orchestra in town when I was there. Robert Meineke was the conductor. I learned a lot from him about tone and playing nicely with others.
But the Ranch Dance Fiddle Band was my first real exposure with playing shows on stage in front of an audience. It started out there were just three of us and it kept growing to about ten of us; we were all teenagers or younger. A girl named Amanda Hudgens, who is a direct descendent of Bob Wills, played with us then. She lives in Austin now and doesn't perform anymore. Another girl named Amber Smithson went on to be a concert violist. I don't know where the rest of them are...but I would like to.
Chris: I saw in your bio that you had an opportunity to play with Tommy Allsup and the Texas Playboys. How did that happen?
Amanda: Tommy Allsup was in the Texas Playboys and fronts that band now, since Bob Wills passed away. I met Tommy through Lanny and Frankie and have kept in touch with him since. The Ranch Dance Fiddle Band would open shows for the Texas Playboys in venues around West Texas and New Mexico. And the Texas Playboys were all old guys who were all about teaching us all they knew. I got backstage lessons from Bobby Boatright, who just passed away a few months ago; he was a fiddler for the Texas Playboys. They would teach me all the old songs I could retain. It was awesome. Those are some of my very favorite memories, because I know that a lot of them are passing away and I feel I was really lucky even to get to learn from people who have been playing for so long and who are so well thought of. Tommy used to live in Snyder and I would go down there and learn from him about western swing. I still work with Tommy, and in the summers I teach at his fiddle camp; this summer it will be out in Crowell, Texas, where Tommy lives now. We teach kids and adults who want to learn fiddle. There will be between thirty to sixty people there every summer.
Chris: Okay, we've talked about what you were doing through high school, and you were busy for such a young girl. Did you immediately go to South Plains College after graduating Lubbock High?
Amanda: Yes, and they have an amazing music school there. But I wasn't interested in getting any type of music degree. I started out as an architecture student and took twenty-six hours in the semesters I went to South Plains, mostly getting my regular schooling done but I did take some music classes there, too. A lot of people go to South Plains to pursue a music degree but I just tacked the music classes on to my regular schedule. After two years I went to Tech to get my bachelor degree.
Chris: Did you have any idea that you wanted to be a professional musician at that time?
Amanda: Yes, I did. But I also wanted to get a degree I could fall back on. I ended up getting my degree from Texas Tech in geography and city planning. I didn't take any music classes at Tech but I was playing with Thrift Store Cowboys by then. Let me back up a bit…
I had graduated a year early from high school and went straight to South Plains. So at age seventeen, I started playing at the Blue Light, which was my first experience in playing in bars. That was different than playing with the Playboys where we played venues like concerts halls. When I was at South Plains, my mom was taking me to the bar to play the fiddle with whatever band was playing. She was real supportive to take me down there for an hour gig, sitting around and then taking me home, because I was pretty young…too young to get into the bar. She wouldn't let me go unless she could supervise.
I met Daniel Fluitt at the Blue Light. This was before the Thrift Store Cowboys.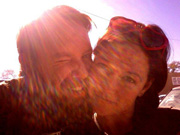 He was playing and singing with someone else then. We would see each other around South Plains and one day he asked me to come rehearse with an early incarnation of the band…I don't know if they were called Thrift Store Cowboys yet; there was a while where they had all kinds of funny names like Paper Towel Rooster. It was Daniel, Colt [Miller], and Jeff Dennis, at the time. I told them I would not do it unless Daniel would come and watch me play first with the western swing ensemble. I figured if he would sit through me playing western swing, then it would be cool because I wanted him to be interested in the same things I was interested in. I knew they wanted me to play fiddle but I wanted Daniel to know really what I was into, and to see if he liked my style before I went out and played with them. He had already seen me at the Blue Light but I wanted him to see that western swing was in my bones and for him to decide if it was even worth his time.
He sat through the show and liked it, so I went to practice with them and it was awesome. I started playing with them all the time, hanging out with them all the time. We became friends immediately.
Jeff Dennis, an acoustic guitar player who is not with us anymore – I mean, he's with us in life; he lives in Colorado now – booked a lot of our early gigs. Daniel would make posters and we would hang them up trying to get people to come out and hear the band. We were playing locally, mostly around Lubbock. We played at Kluso's a lot but the main place we played was Einstein's down in the Depot District; that's where most of my memories of trying out new stuff and really getting started.
Our fist record was made with Wally Moyers at this studio.
Chris: Who was writing the songs?
Amanda: In that period, it was Jeff Dennis and Daniel. Then Colt, and Clint [Miller] and I would work on the music. After Jeff left it was Daniel and Colt but we all kind of wrote our own parts. I ocassionally made lyrical suggestions to Daniel-nothing too huge or significant. And then I started writing more. At that point, I was writing songs but really not for anybody but myself. A lot of people say that you have to write a thousand songs before you write one that you can play in public. So, for me, I just contributed musically for awhile. I had a few songs that I presented to the band but they really didn't fit, now that I think about it. My songs were traditional country, and Thrift Store Cowboys' sound is more ambient landscape painting songs.

During 2001 or 2002, along with playing with Thrift Store Cowboys, I began playing as a side person for Andy Wilkinson I would sing harmony and play fiddle with Andy. We traveled all over and spent a lot of time talking in the car. Andy doesn't really listen to music in the car...which was different than Thrift Store Cowboys; we blasted everything from Neil Diamond to Bush to Hank Snow as loud as it would go when we were on tour. During these long rides Andy and I discussed everything from books, to weather, and most importantly music. We exchanged ideas about it ---agreed and disagreed--and he really forced me to verbalize my opinions and views about music. Those were some great times.
Andy helped get my first CD "Being Brave"
done. Andy Wilkinson is the fire and encouragement behind my early writing. He wouldn't tell me how or what to write; he would just encourage me to do it and get better at it. He was all about honing the craft and the process and art you could create through music and lyrics especially. He's always been a big supporter of mine and a person that I feel I can trust and turn to when I need a friend or a cheerleader. Andy Wilkinson says exactly what he thinks, whether I want to hear it or not. I like that a lot. More folks should be like Andy. I owe a lot to Andy believing in me and questioning me.
The first song I wrote by myself for Thrift Store Cowboys was "Sidewalk Song" that is on the newest album Lay Low While Crawling Or Creeping
. And the first time I ever sang that song was with Andy and Kenny Maines at Pritchards. I was scared but I muscled through it. Most of my contribution to Thrift Store Cowboys has been violin, finding good chord changes, and arranging the songs. I have two songs that I have written on the CD as well as various arranging and composition contributions. Since I moved to Nashville, I have continued to work with Thrift Store Cowboys and I continue to write with Daniel. Look out for a new record in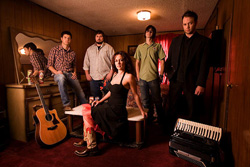 the not too distant future!
Chris: I like how you described the music of the Thrift Store Cowboys: ambient landscape paintings. The music sounds like it would be good for a movie soundtrack. I love that sound but how do you describe what y'all were going for?
Amanda: There was never any decided direction. We just take what Daniel, Colt, Clint or I start with and then make it into something. It could be anything from an idea to chords to a melody. With all of us being from that area, living in that landscape, I think it is just a musical representation of the land where we all come from; dusty, dirty cracked, dark music, and happy sunshine music, too; whatever the land wants to do. Dust bowl songs…things that evoke the images of tumbleweeds, plains, the desert, and the occasional rain. That was not a conscious goal but once the music started coming out, we recognized it for what it was and thought, "Okay, I get it." Those images became the palette for the songs.
Chris: Let's talk some about your solo career apart from Thrift Store Cowboys. On your first album "Being Brave" I saw that you recorded that with the help of Kenny Maines, Andy Wilkinson, and Alan Munde. Tell me about that record.
Amanda: Andy really helped me get this rolling. I met Alan Munde because he was a teacher at South Plains; he's retired now and I think he lives in Wimberley. He can play the banjo like you wouldn't believe; he's awesome. Joe Carr also played on it; he also was one of my teachers at South Plains. Lanny plays piano and fiddle on it. Daniel and Colt play on it. I wanted my first record to be about who I learned from and my influences. Most of the record is about ninety percent fiddle music; only about three or four singing songs. I wanted that record to represent where I come from: I came from Lanny Fiel, Joe Carr, Alan Munde, and I came from working with Daniel and Colt. I also wanted to pay tribute to fiddle music. I was doing that one for myself, to record my history, show where I came from. With this next recent record, I feel like I can be what I am now.
Chris: I have been listening to your recent CD "West Cross Timbers
." On this new record, I hear two or three songs which sound like hit Nashville-country-type songs, and I hear some songs from that real traditional western swing sound, and I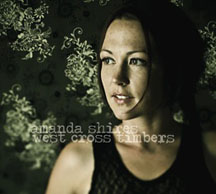 also hear some of that ambient Thrift Store Cowboy kind of sound. I know you are living in Nashville now, trying to move this record. My point is this: it seems that so many of the artists from Lubbock are true to their own unique sound which comes from West Texas, and that sound is not what you hear playing on popular radio out there in a lot of the country. How do you balance writing very personal sounding music and also trying to fit into a commercial scene like Nashville? Do you have commercial goals? Short question: why are you in Nashville?
Amanda: I still play with Thrift Store Cowboys and am still really close to Daniel and Colt. Daniel and I talk every day; I call him and wake him up. And I chat with Colt on the interwebs… I dated Colt for three years, after we had been in the band together for about a year and a half. We are still close, obviously. Man, that was a really awesome time in my life but I moved from Lubbock to pursue a solo career, honestly.
I graduated from Tech in 2004 and stayed in Lubbock for another year and half or two, playing with Thrift Store Cowboys and touring all over. We got popular on the college radio charts. The year that I left Lubbock, I did two hundred and twenty dates on the road, playing with Thrift Store Cowboys, or Andy Wilkinson, or anybody else who wanted me. I was wearing myself out. At that point…I remember it was November and I had come home from a Thrift Store Cowboys tour. I sat down and thought this just was not working logistically. I had to drive six hours to get to any major city or fly on two planes just to get out of Texas. I decided I had to make a choice – for selfish reasons, of course – about what I really wanted and what is the easiest way to do it. What do I really want? That's a tough one and it was a little bit rough for me to figure out. I had been in Thrift Store Cowboys, with my best friends, forever. Who could want anything more than to work with their best friends? Honestly though, I wanted to give myself a shot while I am still brave enough to go for it. I wanted to be my own boss, make the band wear matching shirts, make mistakes; you know, like Bob Wills would have done. I play the fiddle and I wanted to incorporate and apply more of my country roots to my music. I wanted to write, sing, and play my own songs. A lot of what I write doesn't exactly fit the ambiance and sound that Thrift Store Cowboys is trying to capture. Don't get me wrong I love both styles and they aren't completely different; maybe they are branches of the same thing? Anyway, I thought: there is Austin or Nashville, and I have family in California so I could move to L.A. I decided to go to Nashville because I already have lived in Texas and maybe I should get out of Texas for a little while before I die.
Chris: So you just packed up the car and went to Nashville? Did you know anybody there?

Amanda: Yes, I had met a guy through Lanny Fiel named Buzz Cason and I had been writing some with him. Lanny played with Jimmy Buffett for a time and through that he had Nashville contacts; Buzz helped sign Jimmy Buffett. On my first record, there is a song that Lanny really likes called "Hearts Are Breaking" and he sent it to Buzz Cason and Buzz really liked it. Buzz wrote "Ever Lasting Love" and tons of hits, songs the Beatles recorded. I actually recorded an album with Buzz but it is sitting on a shelf somewhere in Nashville and will probably never come out. We worked on it for about a year and a half but it is just not gonna happen.
I also knew some kids from South Plains who had moved there; it seems like everybody from South Plains College was moving to Nashville. And I knew Rod Picott from playing some gigs with him in Texas.
Chris: Tell me about how you got started playing with Rod Picott?
Amanda: I met him at SXSW a few years ago. I ran into him again at Folk Alliance when I was playing with Andy Wilkinson. I really admired his language and sense of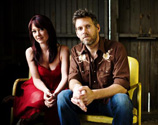 writing. He is from Maine; Yankees aren't so bad. Anyway, I played a couple of shows with Rod. Then we started to play together more often, and for the past two years we have played together a lot. It has really worked out well because I really like his songwriting and he likes my fiddle playing and my songs, so we did a duo record project. And we have toured all over the place. Rod has an extensive fan base overseas, and here as well. Rod goes to Europe about twice a year and has been doing that for six or seven years, so I have been over there twice and we are going back to Europe in May to promote our duo record that we released together.
Rod and a guy named David Henry and I produced my new solo album together. I waited many a table to pay for it; I don't have a label. But I do have European distribution, and it is going to be released May 18th in the UK. I will release it to radio, hopefully, in a couple of months or so.
Chris: What are your current hopes and goals, in regard to this record and the direction of your career? Do you just hope to make a living as a musician? Or do you want to be rich and famous? Do you want to sign with a major label? What do you want to do with your life?
Amanda: I have no idea what I want to do, because it seems like the industry is so mixed up right now; it makes it hard to know what to do. I know I want to keep on doing what I'm doing. Do I even want to sign with a label? Why would you? What do they do? I don't know. Do I want one? Well, maybe if they make me an offer I can't refuse, which they could right now because I am so broke.
What I want right now is to see if people like "West Cross Timbers" on the radio. If they don't like it, that's alright, I don't care. I'll survive. But I would like just to grow my fan base, mostly; to play music that people like and touch or inspire people the way that I have been touched and inspired by music. Think about when you put on an old record and can remember that time of your life, what you were doing when you listened to that song, what the sun was like then, what your friends were doing. I just want to do that with music, what people have done for me. It sounds dorky, doesn't it?
Chris: No, that's why I asked. People do music for many different reasons and that is probably the best reason I have heard.
Amanda: And I do it because I can't do anything else. I really can't. I've tried to do other things and am not good at them. Music is the only thing I can do. So I am stuck. I'm a musician, whether it's popular or commercial or not.
Chris: I believe you are doing well and headed in the right direction. I heard a few people say at our South by Southwest Lubbock Music Showcase that you might be "the next big thing."
Amanda: I don't know about that. That would be nice if it could be for an extended career and not just one of those two-minutes-of-fame things. And I have no idea how all that happens, other than being where luck and opportunity and hard work meet up; if you have all that timed out right, I guess.
Chris: I want to ask you about a couple of songs from your new record "West Cross Timbers." First, from the song "Mineral Wells": one line mentions "…the only tree with leaves in Lubbock…" What does that mean?
Amanda: You know, there are no trees in Lubbock. That song is about divorce,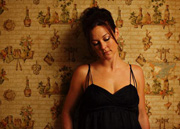 like when your parents get divorced then you get divorced from where you live and separated from the land where you are from. That line just came to me like static on a radio, that is just what I thought of. My idea was that there was only one tree and all the leaves had been blown off in a dust storm, an image of something really weathered. You know how it is when you are from somewhere and growing and then all that changes?
Chris: Another line in that song: "…There is something in the well in Mineral Wells…" What was in the well?
Amanda: This is real. Mineral Wells got its name because there were springs there that were thought to be the Fountain of Youth. Famous movie stars back in the Twenties would go there to bathe in this water and drink this water they thought was magical. And I do think there is something in the well there, because there a lot of cool people who come from Mineral Wells. You know, the Goodnight-Loving cattle drives started there.
Chris: Now, I have to ask: Owls; what is up with your fascination with owls?
Amanda: What IS up with that? I don't know, it is just like the fiddle thing, it jus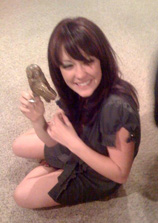 t came to me. I saw one in Nashville and I had never seen one before. There are no trees in Lubbock, I don't care what anybody says. You can say "Look, there's a tree in Lubbock." But I am sorry that is not a natural grown tree. All the trees in Lubbock are imported, not like Nashville that is so green. There is park in Nashville that is like an elfin forest; it freaks me out because you can't see the land for the trees. In fact, when I go back to Lubbock I feel relief because I can tell which way is north. But I was on a walk in the park in Nashville and saw an owl, and it was sort of a hippie moment for me. I was blown away to see an owl in a park; I mean, in Lubbock all I see is grackles and sparrows. It was a magic moment for me, kind of like when I first saw that green fiddle. Those don't happen very often.
Chris: Tell me some of your favorite memories of Lubbock.
Amanda: We would search for buzzard dust, magical stuff that buzzards make. The boys from Thrift Store Cowboys and I would search everywhere for buzzard dust. And we would wrangle tumbleweeds and try to sell them. One time Daniel fell asleep and I poured beer on his crotch; he woke up and I told him he had peed himself, and we all kept that a secret from him for like three years, when we finally told him. Not a lot to do out there except play jokes on each other. And reading. And a lot of driving around, especially that drive from South Plains to Lubbock; I drove that so many times. It is magical the way the sky is more than two-thirds of what you see out there. The beautiful sunsets are incredible. You can only get those sunsets there, not in Nashville.

Before I got to Nashville, I thought it would be a lot different than it is. For some reason I went there planning for the worst. I'd only heard horror stories about the town. I thought it would be horrible and that I would be really unhappy. I went there in this state of mind probably to protect myself, in the event that it was a terrible decision. What I discovered is that it is kind of cool if you know what you are looking for. There's tons of western swing music on lower Broadway and you can sit in and play with anybody you want, any time. I guess it depends on why you are there. I am not there to be in Top 40 Country, so it's easy for me. I know where to go to have a good time. I know what my definition of success is and I don't rely on the town of Nashville to define what that is for me.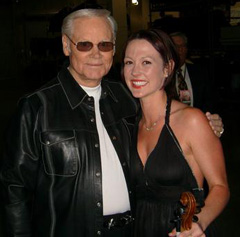 Chris: Anything else you want to mention?
Amanda: My greatest accomplishment is meeting and opening for George Jones in Arizona because he is one of my heroes. That was the best time of my life, and I hope I get to play with him again someday.
And one more thing: There really is nothing as good as flying into Lubbock, just seeing the land from above; I think it's beautiful and enchanting and more folks should go check it out.
return to Interviews