Fire in the Water, Earth in the Air: Legends of West Texas Music
by Christopher Oglesby
Published by the University of Texas Press:
"As a whole, the interviews create a portrait not only of Lubbock's musicians and artists, but also of the musical community that has sustained them, including venues such as the legendary Cotton Club and the original Stubb's Barbecue. This kaleidoscopic portrait of the West Texas music scene gets to the heart of what it takes to create art in an isolated, often inhospitable environment. As Oglesby says, "Necessity is the mother of creation. Lubbock needed beauty, poetry, humor, and it needed to get up and shake its communal ass a bit or go mad from loneliness and boredom; so Lubbock created the amazing likes of Jimmie Dale Gilmore, Butch Hancock, Terry Allen, and Joe Ely."
"Indeed, Oglesby's introduction of more than two dozen musicians who called Lubbock home should be required reading not only for music fans, but for Lubbock residents and anyone thinking about moving here. On these pages, music becomes a part of Lubbock's living history."
- William Kerns, Lubbock Avalanche Journal
---
What I learned at the Sandstorm Picnic
By Christopher Oglesby (c); May 2008
Three weeks before the Sandstorm Picnic, Tommy Hancock said with a smile, "If you can fill a place where no one in Austin knows with people to hear a bunch of musicians they've never heard of before, then Chris you probably can do anything." Even at the time, I recognized it as a conditional statement and not a prophecy. But Tommy said it with such confidence in our venture that I took heart in the expression of faith. Some of the best ideas had come to me via something Tom X had said. I sensed we might be headed in that familiar good direction.
The Sandstorm Picnic was stirred up less than six weeks before, in a severe brainstorm between yours truly and Jeff Kehoe, whom I only recently had met. Jeff is a deejay by trade and a natural promoter. Originally from Brownfield, Jeff worked at clubs in Lubbock in the late Seventies, the glory days of the Joe Ely Band, Jay Boy Adams, Fat Dawg's, Coldwater Country and the original Stubb's Bar-BQ. Lubbock's music scene was booming when Jeff left Texas Tech to follow a career supporting original live music.
Kehoe eventually found himself in the Live Music Capital of the World working in production for Austin City Limits, the hit television show which did much toward garnering Austin that title. Over a dozen years later, Jeff has developed a club deejay concept which he calls 30+ Years of Austin & Texas Music. Jeff "broadcasts" at clubs, restaurants, and private venues, playing recorded Texas music old and new, between songs sharing his vast knowledge, and occasionally interviewing guests related to the topic.
I met Jeff after he read my book Fire in the Water, Earth in the Air: Legends of West Texas Music which recounts lore from Lubbock's storied musical history, particularly from that golden supernatural era when Jeff was deep in the Lubbock music scene. Through the magic of MySpace, Jeff tracked me down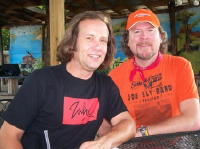 and essentially said I had told the story of his life and asked if I would join him for an interview. He was planning a Lubbock Music Night, also inviting legendary squeezebox player Ponty Bone, who is featured in my book, and a younger Lubbock artist named Doctor Skoob, recently expatriated to Austin, whom I was yet to meet. Jeff makes a great first impression and I was honored to accept his offer.
It was Doctor Skoob who first noted the irony that Lubbock Music Night was being held in Austin at a seafood restaurant; one normally does not associate quality seafood with High Plains Lubbock. However, the crowd was appreciative so Jeff, who works that gig mainly for tips and free meals, promised a reprise of Lubbock Music Night. The next time around, Skoob brought some guests artists from Lubbock including my old friend Kent Mings, the protégé of Ponty Bone and Jesse "Guitar" Taylor and now mentor to Skoob and the next generation of Lubbock music mafia; Shad "Kid Shadow" Daugherty, one of Lubbock's new guitar gods making the transition to Austin; and to play mandolin for his supper there was Fletcher Murchison now with Austin's La Tampiquena. I also met Joel Smith, bass player for Cellus & the Loose Grip, who was there to hang out with his West Texas homeboys and drink Lone Star.
Skoob, Shad, Fletch, and Kent were to perform together in a loose jam in honor of Lubbock Music Night. When Jeff inquired what they were calling the impromptu band this evening, the men all were interested more in meals and beers than such abstraction. "You make something up," someone suggested. Jeff immediately pronounced: Sandstorm Picnic. Everyone agreed the name to be appropriate for Lubbock Music Night at Quality Seafood in Austin.
Jeff was impressed that night by the quality of new music streaming down to Austin from Lubbock once again. Anyone who has been paying attention to the last thirty years of Texas music knows that the Lubbock Music Mafia has made a deep and indelible impact on Austin music heritage: Joe Ely, The Lost Gonzo Band, Lloyd Maines and daughter Natalie, Jesse "Guitar" Taylor, Jimmie Gilmore, The Hub City Movers, Angela Strehli, Stubb, and too many more to mention; the Lubbock legend has been firmly established in Austin. It was obvious to Jeff Kehoe that Lubbock is still producing genius and there are fans in Austin who will eat up this new serving of Lubbock music, if and when they hear it.
Jeff decided that he needed a road trip home to the High Plains to experience first hand the new wave in Lubbock music. Kehoe had rarely returned to the Hub City after his move to Austin, and Jeff is about ten years my senior in the Lubbock music family, so I naturally knew more of the younger artists still abiding in Lubbock. Jeff asked if I would take him to Lubbock sometime to experience the scene, which remains largely underground. I wrote an entire book on the subject of how Lubbock has a seemingly endless well of musical talent but due to its remote geography, smack dab in the middle of the American Outback, Lubbock musicians receive little recognition from the centers of music commerce: New York, L.A., Nashville, and Austin. Lubbock is far enough from all other civilized population centers that few people make it to Lubbock to see what all the excitement is about.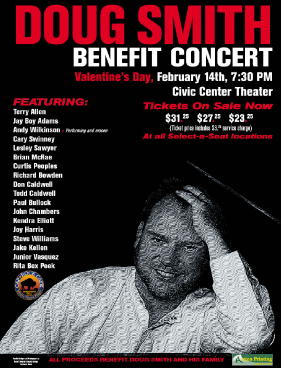 The Doug Smith Benefit Concert held February 14, 2008, was the perfect occasion for our Lubbock music safari. Doug Smith is the west Texas piano genius who had suffered paralysis the previous summer in a single car accident. His producer Alan Crossland had organized the benefit concert to assist with mounting costs of physical therapy related to Doug's recovery. The show highlighted performances by some of the best talent now residing in Lubbock: international Americana artist Cary Swinney; all purpose session musician Brian McRae; Todd Caldwell who plays organ and keys with Crosby, Stills, & Nash; Neo-soul singer Kendra Elliott; folk bluesman D.G. Flewellyn; as well as an all-star slate of returning Lubbock natives including Jay Boy Adams and Terry Allen. Doug made his first stage appearance since the accident and pecked out the melody of "Amazing Grace" on his piano while the band rocked the gospel song, bringing the crowd to tears and their feet in applause. Afterwards, Jeff and I co-hosted the musicians' post-party, which featured more live music by Doctor Skoob, Andy Eppler, and local band Los Sonsabitches. It was a magic night of music appreciation. I had known for years of the amazing music talent ensconced in Lubbock. Kehoe was sold on the new generation of Lubbock music all-stars and eager to showcase the talent back in Austin to some commercial appreciation.

"Let's show off this new Lubbock Music to Austin," we agreed and less than six weeks later we were staging the Sandstorm Picnic in east Austin. This would be the first attempt by either of us to promote a music show ourselves. I literally wrote the book on Lubbock musicians, and I had managed to throw a couple of legendary signing parties, at which several renowned Lubbock musicians volunteered performances in honor of the book. I did have a reputation of putting together an interesting group of artists but I did not have any experience promoting a live event.
Jeff is a member of Moose Lodge #1735, which is currently trying to revive membership by hosting benefit concerts and other social gatherings open to the public. The Moose offered the space and their full service bar in exchange for the chance we bring in a crowd of paying customers and potential new Moose members.
Tom X had been correct in his first proposition. Filling the event hall would not be easy. Located in mideast Austin, the Moose Lodge is a private sports club which normally does not advertise. E.M. Franklin is a street most Austinites do not recognize by name, although many recall it as the intersection at Manor Road where they would turn into the now razed Robert Mueller airport. But we figured that in the Age of Google and GPS, anyone who really wanted to find the show could get there.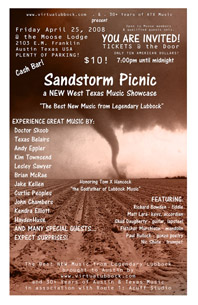 We did not figure on the weather. Perhaps it was naïve magic when I chose to feature a looming tornado on the poster art for our New West Texas Music Showcase. On the night of the show, Austin experienced tornadic electric storms with threats of hail and torrential rain. We avoided west Texas dust but seemingly stirred up an atmospheric tempest of our own.
Up until about 5:00 that afternoon when the storms began threatening, it looked like I might prove my omnipotence to Tommy Hancock, the acknowledged forefather of Lubbock music, who inspired Buddy Holly, Waylon, Sonny Curtis, Joe Ely and the Flatlanders and much of Lubbock's music greats, and moreover the honoree of our New Lubbock Music Showcase.
Between Jeff and me, it looked like we might actually fill the Moose Lodge. We had sent invitations to and received confirmations from scores of MySpace friends; babysitters were secured, travel plans were made, and most folks certainly would not want to miss this amazing music showcase, featuring the newest offspring of Austin's most talented musical community, the Lubbock Music Mafia. I had convinced the Lubbock tourism office to cover expenses of musicians traveling from Lubbock and to purchase a large advertisement in the music section of the Austin Chronicle, promoting "the best NEW music from Legendary Lubbock." Jeff had used his extensive deejay and promotion contacts to secure for headliners Kent Mings, Doctor Skoob, and Andy Eppler live performance spots on two popular morning music shows in Austin that day: Brian Beck's KGSR morning drive and John Aielli's Eklektikos at the University of Texas station KUT.
However, on Friday April 25, by show time at 7:00 pm, it was obvious that the throngs of people we expected were not arriving. A small but steady stream of hardcore music fans did start flowing into the room. The extensive Hancock Supernatural Family clan arrived to honor Tom X, and in numbers that rivals inviting Osmonds to a party. Close friends and family of performers were there. While the quantity of audience might not reach the number we anticipated, we did manage to bring in some quality listeners. Legendary Lubbock club owner John Kenyon had flown down from Dallas for the party. Jessie and Frank Castro, owners of Jessie Jane's west Texas music venue, drove down from Justiceberg. Writer Chelsea Roe from Lubbock came to cover the story for the Texas Tech Daily Toreador. Austin's Music and Entertainment Network sent a crew to film the show for TV.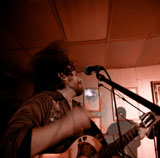 The audience who made it to the show proceeded to be amazed by the quality of talent performing music: country singers Jake Kellen, Kim Townsend, and newcomer Hayden Huse, soulful lady singers Kendra Elliott and Lesley Sawyer, bluesy rock by Brian McRae, Curtis Peoples, and John Chambers, brilliant Americana music by young Andy Eppler, and killer rockin' sets by Doctor Skoob and the Texas Belairs, featuring guest rhythm section from Cellus and the Loose Grip - Mike B on drums and Joel Smith on bass.
We lost power momentarily due to a nearby lightning blast, and the thunderstorm raged on as the show kicked into high gear. But it became obvious there would not be many more paying fans that night. We had anticipated over three hundred attendees but in the end we realized less than a hundred paying guests and around thirty more who managed to get in free as guests or members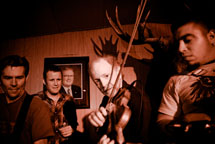 of the bands. There were a large numnber of people who had assured us they would attend who were obviously not there, surely due to the severe weather.
As the promoter, my biggest worry was that, because we had so many artists playing, the split of the door proceeds for each artist would be only nominal. The artists all knew this was mine and Jeff's first attempt at promoting a show like this, and most understood that there were no guarantees we would clear a dollar on the show. But they all worked so hard and deserved a decent paycheck for their efforts, and I did not want a reputation as the promoter who screws the talent. I spent most of the Texas Belairs set trying to split the cash in an equitable manner, and realized then that the responsibility of promoting a show takes a certain amount of the ecstatic joy out of the raw music experience. There were production issues and some personal politics, as well.
While the show was amazing and many smiling faces thanked us for the great experience, I could not help but feel I had somehow let everyone down. I did not fill the room, as Tommy had suggested I might. In the end, the Moose lodge bartender made by far the most money that night. It seemed that I had proven not the miracle maker I had hoped to be. I was disappointed only with myself...and the outrageous weather.
The next morning, I returned to the Lodge to help Crossland and Kellen and the other men break down the sound system and load out. Brian McRae, still bleary eyed from celebrating the Austin show into the wee hours, made it clear his only wish for the show had been fulfilled: to perform with legendary fiddle player Richard Bowden. Bowden is a member in good standing of Terry Allen's Panhandle Mystery Band, a veteran of the Maines Brothers Band, an ex-Austin Lounge Lizard, a renowned fiddle magician. Richard had volunteered his services all night . "Building those relationships is what it is all about for me; planting those seeds is what makes it happen." Crossland was equally pleased. "Great job, Chris. Any time you want to do it again, just ask. We all know this is your first try at a showcase, and it will only get bigger and better as people hear how cool it was. It was a success as far as we are concerned." John Chambers pointed out, "That crowd would have been overflowing in the the downstairs room at Stubb's. It only seemed small because the Moose Lodge is so roomy."
The ladies drove into the lodge parking lot as the load out was complete, ready to hit the trail back to Lubbock. I told Kendra Elliott I was pleased with her show. She is a twenty-something year old blonde from Midland but she sings with soul approaching Etta James. Kendra smiled genuinely and said, "Thanks to you and Jeff for hosting the great show! We all had a really great time and look forward to doing it again." I apologized for the crowd not meeting my expectations. "We thought the crowd was great!"
In my heart, I only was disappointed that I apparently had failed to live up to Tommy Hancock's expectations but I was caught up in numbers; I did not fill the room to capacity as I had hoped, but the room was huge. And everyone at the load-out agreed the show was a success. The audience was active and intimate, most got up and danced, all were smiling and enjoyed the music. Everyone involved - artists and fans -wanted more. We had garnered valuable radio exposure for Andy Eppler, Doctor Skoob, and Kent Mings, and the Moose fans were blown away by Brian McRae's virtuosity. Moreover, thanks to the generous sponsorship of VisitLubbock.org,

no one lost any money on this deal. And by earning the confidence of one noteworthy sponsor, Jeff and I already had inquiries from corporations interested in the buzz storm we were creating around our Sandstorm Picnic.
Our hopes of staging the next West Texas Music Showcase remain alive. That Sunday morning while jogging on the trails at Lake Lady Bird with my wife, it occurred to me that we had succeeded. After all, we did fill the Moose Lodge with smiles, dances, friends, laughs, and awe. And Tommy Hancock was duly impressed with the talented young musicians who honor his place in their heritage. Tommy even wrote a letter to the Lubbock Avalanche Journal assuring the people of Lubbock they can be proud of this next generation of fine musicians and mentioned that the house was indeed packed. Tommy Hancock is an experienced showman and he knows a success when he sees one. The Sandstorm Picnic was packed with love and music. Certainly, that is what this music is all about. There is much more great music from Lubbock which we need to showcase.
Chris Oglesby -2008
Return to Stories or What's New