We all want to change the world.
But when you talk about destruction,
Don't you know that you can count me out?...
We're all doing what we can,
But if you want money for people with minds that hate,
All I can tell you is,"Brother, you have to wait."
- john lennon
---
---
---
God Save America
and God Bless Natalie Maines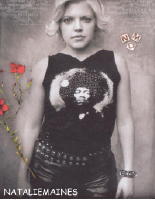 While most Lubbock residents have rejected Natalie, as they did rocker Buddy Holly, virtualubbock is proud to support Natalie Maines, her art, her family, and her bravely expressing her own opinions in a time when many people seem afraid to do so.
We believe that in the long run, Natalie will be remembered as a cultural icon who had the courage to declare "the Emperor Has No Clothes," when few others had the eyes to see or the courage to say.
If you've had the opportunity to look about virtualubbock, you'll see that we're all about freedom, creativity, courage, dedication to convictions, love, and happiness. I believe those are the best things we learned growing up in West Texas. I believe they are what America and Texas is all about. Because she lives those values in a true manner, Natalie is one of our great heroes. - c.o.
---

5 Grammy Awards in '07!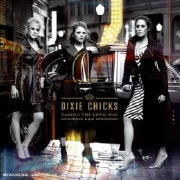 Congratulations to Natalie Maines &
the Dixie Chicks
This is the first time either an all-female group or a country album has won the top awards.
Album of the Year -
Taking the Long Way
Song of the Year -
"Not Ready to Make Nice"
Record of the Year -
"Not Ready to Make Nice"
Best Country Album -
Taking the Long Way
Best Country Performance by a Duo or Group with Vocal - "Not Ready to Make Nice"
It pays off to stick to your guns when speaking the truth. As we indicated years ago here at virtualubbock.com, Natalie Maines is being rewarded for her bravery, integrity, as well as her pure talent by her peers in the music industry. Make no mistake, while "Taking the Long Way" is a very good pop album, the Chicks' sweep was the music industry ratifying what the American people indicated in November. The people of America want peace, honesty, and true compassion. "I think people are using their freedom of speech with all these awards. We get the message," Natalie said, acknowledging the other talented nominees with her assumption that they were being honored as much for their stand against the war as for their music. "I'm very humbled."
-c.o.
---


New e-mail, from a New Fan in New England
Subject: new Natalie Maines & DCX fan
Date: Tue, 27 Mar 2007 3:38 PM
Hi,
I'm just a random visitor to your Web site. Bravo to you for standing up for
Natalie Maines. The Dixie Chicks were barely on my radar until Ms. Maines
stood up and spoke her mind. I bought a DCX CD (Taking the Long Way)
because of her views. And lucky me, their music is fabulous! Gotta buy
all of 'em.
Thanx!
DanL
Portsmouth NH

---
Natalie the Outlaw
Emily Robison believes the backlash against the Dixie Chicks had much to do with gender: "Read the stuff on the Internet: 'Just tell that bitch to shut up.' They don't want to hear mouthy women to begin with. A guy would have been an outlaw, the Johnny Cash or Merle Haggard of his generation."
(from Playboy via The Scoop)

---
"SHUT UP AND SING"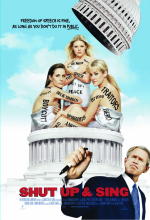 produced by the Weinstein Company;
directed by Barbara Kopple and Cecilia Peck
Dixie Chicks: Shut Up and Sing travels with the Dixie Chicks, from the peak of their popularity as the national-anthem-singing darlings of country music and top-selling female recording artists of all time, through the now infamous anti-Bush comment made by the group's lead singer Natalie Maines in 2003. The film follows the lives and careers of the Dixie Chicks over a period of three years during which they were under political attack and received death threats, while continuing to live their lives, have children, and of course make music. The film ultimately presents who the Dixie Chicks are as women, public figures, and musicians.
DIRECTORS' STATEMENT
"For us, this film is a story of three artists, mothers and citizens who refused to be silenced. The journey we took with the Dixie Chicks in the aftermath of their criticism of the President's war policy is the story of our country right now. As we watched these women standing up for their beliefs, in the face of death threats and boycotts of their music, we saw a spirit of courage and integrity that was deeply American.
Nothing is more vital to us than having a voice, and the respect we gained for these women who did not back down, whatever the cost, was life affirming. Their commitment as mothers, their determination to express themselves honestly through their music, and the steadfast bond of friendship between them are as fundamental to the Dixie Chicks, and to our film, as their opposition to the war."

- - Barbara Kopple and Cecilia Peck
---
Have fun playing in the Dixie Chick "underground":
http://dixiechicks.com/underground/
---
Willie Nelson loves Natalie: Dixie Chicks 'got a raw deal'
Associated Press - Sun, Jul. 30, 2006
NEW YORK - Willie Nelson says the Dixie Chicks "got a raw deal" from a disapproving public following their criticism of President Bush. "I think the fact that they were overseas and onstage had a little bit to do with it because you're speaking to other people about our business," the 73-year-old country crooner said in an interview in this week's Time magazine.
Nelson said he was surprised his remarks about Bush a year earlier during an overseas news conference didn't incite a similar controversy. "I said 'He's not from Texas and he ain't a cowboy, so let's stop trashin' Texans and cowboys.' It got a little chuckle, but I didn't get run out of the country," Nelson told the magazine.
---
A message from an American mother:
Date: 8/1/2006 11:31 PM CDT
I am writing this letter to you in support of Natalie Maines. I recently attended a Chicks concert in Columbus for the Accidents and Accusations tour. As an American woman and mother, I am proud that Natalie was not afraid to speak her mind when it comes to what she believes in. My generation (I am 24) appreciates someone like Natalie. She is a breath of fresh air in a world of staleness. I have always been a fan of the Chicks and will be forever. Don't people realize that Natalie, and many mothers and fathers, are concerned about the world we will leave to our children- a world where war is the most common answer, a world in which people cannot voice their opinions without being criticized and ostracized if others do not agree. We are all Americans, regardless of our views. If you listen to the Chicks' music, you will know they simply want a peaceful world for us to live in. I share that vision.
Thank you, Natalie. You have made this Chicks fan proud!
Sincerely,
Kim Weiss
---
VINDICATION! (4/25/06)
The Dixie Chicks' single Not Ready to Make Nice beat out Rascal Flatts and Tim McGraw to become the current No. 1 country download on iTunes. (Fox 411) "...Go figure, huh? The song hasn't gotten a lot of radio play, however, since that's still controlled by ... well, whatever. So they're releasing a second single, Everybody Knows, in anticipation of their new album, Taking the Long Way."
---
AMERICA HAS SPOKEN!
Dixie Chicks Have Top-Grossing Country Tour EVER!
The concert industry trade publication Pollstar reported Tuesday (12/23/03)... It was a good year for Country music, which had five of Pollstar's top 20 tours. The Dixie Chicks, despite being dogged by controversy over a remark made about President Bush, had the most lucrative country tour of all time... !!!

source:
http://www.salon.com/ent/wire/2003/12/24/bruce/index.html

---
From: Terry Allen
Date: Sun, 23 Mar 2003 12:58:21 -0700
To: <wkerns@lubbockonline.com>
Subject: RE: NATALIE MAINES
When I was inducted into the Walk of Fame in Lubbock, I mentioned Frank Sinatra's comment about Dean Martin. "He was not my brother by blood, but my brother by choice." I mentioned this as a parallel to my own feelings regarding the Maines Brothers. They ARE my brothers and they ARE my family.
I have known Natalie Maines and her sister Kim since they were little girls. Their folks, Lloyd and Tina are two of my oldest and closest friends. More than anyone I know, as a family and as individuals, these four people exemplify the best of what I believe being raised in Lubbock and being an American human is all about.
I've always thought one of the true anchors I have had for my life is my West Texas upbringing. Ultimately, it has been the bedrock of any personal values, faith, sense of fairness, loyalty and morality that I try to live by...all with a deep need for personal independence and belief in human freedom. "This best part" of myself, I think was instilled by the people who raised me, my folks, and by the heart of the place I was raised, Lubbock, Texas, United States of America.
So, I find it an incredible irony and hypocrisy that Natalie Maines, one of the great American talents and true full-of-life humans to come out of Lubbock, is being targeted for speaking her mind...attacked by the very forces that inspired her courage of heart and taught her to believe in her God-given rights to do so. It is a disgrace and it is un-American.
"To announce that there must be no criticism of the president, or that we are to stand by the president right or wrong, is not only unpatriotic and servile, but is morally treasonable to the American Public."
--Theodore Roosevelt
(President of the United States and a Conservative Republican)
Sincerely,
Terry Allen
---
NOTE: The Lubbock Avalanche Journal printed neither Terry's letter, above, nor Tommy's letter, below. I'm pleased to print them at virtualubbock. - c.o.
---
Subject: Natalie the Chick
Date: Tue, 18 Mar 2003 10:27 EST
From: Tommy X Hancock
To: Family

Hello Friends,
Below is a statement I sent to the media recently. One critical response was that the Bush Family are also West Texans being bad mouthed and that I don't know them. True perhaps. I have met President Bush and visited with Laura Bush but cannot really say I know them in the sense that I know the Maines Family. Nontheless, I stand by my statement. Bad mouthing, like revenge, only perpetuates a problem.
Love from Tommy
----------
The original Maines Brothers Band were all three good friends of mine. They exemplified the fine West Texas men that they were. Then the next generation of Maines Brothers were about as perfect a group of American boys as you could hope to know. They were very popular and pretty much blew off a successful music career at its high point, I believe, because of the sometime sleazyness of the music biz and the need to leave Texas to go any higher than they were.
I don't know Natalie Maines nor the Bush Family but after knowing all the men in Natalie's family I feel like anyone bad mouthing her is insulting the true greatness of Texas, the South, and America. God bless Natalie Maines.
Tommy X Hancock

---

While the executive editorial staff at the Lubbock Avalanche Journal seems to have virtually ignored any positive comments made about Natalie, her opinions, or her family's standing among the community, I do have to give credit to entertainment editor William Kerns, who at least gave Lloyd an opportunity to defend his daughter to a bloodthristy hometown readership. As Kern's indicates, "More than 95 percent of those who wrote me were angry [at Natalie]."
Here are Lloyd's statements which Mr. Kerns decently recorded for the Lubbock readers:
from Kerns' Notes: Dixie Chicks Controversy Likely to Linger
(Friday, March 21, 2003)
BY WILLIAM KERNS
A-J ENTERTAINMENT EDITOR
...It took a while to track down Grammy Award-winning music producer Lloyd Maines, Natalie's dad. He stands by his daughter and is furious with the media.
"First of all, I voted for Bush and I figure he's a good guy with a very tough job ahead of him," he said. "This is beside the point. Natalie had no idea that her heat-of-the-moment comment would ever get beyond the walls of the venue where they were playing. The media grabbed it and sensationalized it in a ridiculous manner. I think 'Freedom of Speech' is still in effect. ...
"These comments were made at a concert attended by ticket-buyers. Not a press conference. A better choice of words would have been in order. (There was) no harm intended.
"Those who want to turn their backs on the Chicks because of them voicing an opinion on an emotional topic should get a life of their own. I stand beside the Chicks, and most importantly I stand beside my daughter and hope she never loses the passion to voice her opinion, whether I agree or not. One sure thing: People only want to tackle the one carrying the ball; I'm glad she is not afraid to carry the ball."
He blamed many of the phone calls and e-mails on a "hard-line right-wing group (that) organize attacks of this type" and sent e-mails to their members "with calling instructions and specific times when radio stations were doing the polling."
...
"Her main concern when we talked with her was that it not cause any problems for her grandmother in Lubbock and her grandfather in Austin. She was afraid that their friends and neighbors might hassle them."...
---
from the BBC:
Bruce Springsteen has given his support to the Dixie Chicks:
...Springsteen said the band were merely expressing their "right to free speech" and had received a "raw deal" from critics...In a message on his official website, the star said: "To me, they're terrific American artists expressing American values by using their American right to free speech. For them to be banished wholesale from radio stations, and even entire radio networks, for speaking out is un-American."
...Springsteen said there was a "pressure coming from the government and big business to enforce conformity of thought concerning the war," which, he said, "goes against everything that this country is about - namely freedom".
"Right now, we are supposedly fighting to create freedom in Iraq, at the same time that some are trying to intimidate and punish people for using that same freedom here at home," he said.
"I don't know what happens next, but I do want to add my voice to those who think that the Dixie Chicks are getting a raw deal, and an un-American one to boot. I send them my support."
---

from Salon:
"Mr Middle-America" John Mellencamp joins Natalie's camp after being ambushed by Fox News:
I say, "Look, I'm John Mellencamp, I've been doing this 25 years. For anybody to say I'm un-American is laughable." ...
Then all of a sudden the [Fox News interviewer] says to me, "You wrote a song that took some potshots at the president."
I said, "Whoa, motherfucker! I didn't take any potshots at anybody, that's not my style. I'm not yelling from the back of the crowd or giving somebody the finger. That's not what I do." I said, "Listen, I wrote a song and got the lyrics out of any newspaper in the country."
He said, "Well, you saw what happened to the Dixie Chicks."
I said, "Listen, people have died in World War I, World War II, the Korean War, Vietnam and a bunch of little wars in between so that people will have the freedom to speak out, and then the administration gets on the news and says there's a price for freedom.
Yeah, and these dead guys have already paid for it!
For people to drive by those women's [the Dixie Chicks] houses and call them on the phone and threaten them is CRIMINAL.
What the Dixie Chicks did was legal."
---

from music critic Greil Marcus'
Real Life Rock Top 10:
"For the record, Natalie Maines, on stage, London, March 10: "Just so you know, we're ashamed the president of the United States is from Texas."
Maines was born in Texas--in Lubbock, Buddy Holly's hometown.
George W. Bush was born in New Haven, Connecticut, and to run for office adopted a tough-guy version of what he took to be a Texas accent.
On September 21, 2001, in New York City, for the "America: A Tribute to Heroes" broadcast, Maines introduced the Dixie Chicks' "I Believe in Love" in a deep performance; Bush posed at Ground Zero with his arm around a New York City worker, promising aid he later withheld."

---
Excerpts from Natalie's interview with Diane Sawyer for ABC Primetime Thursday, airing 4/24/03:
"I feel me speaking out is the most patriotic thing I can do," Maines said.
"People have died to give you this right and I'm using it."
Maines said she and her bandmates support the troops "100 percent" and that
there's no connection between speaking out against war and not supporting
U.S. soldiers doing their jobs.
``I'm not truly embarrassed that President Bush is from my state,
that's not really what I care about,'' Maines says. ``It was the wrong wording with genuine emotion and questions and concern behind it. ... Am I sorry that I asked questions and that I just don't follow? No.''
"Accept an apology that was made," Maines said.
"Don't forgive us for who we are."
---

from "Heroines Among Us", Vogue Magazine, December 2003, p. 279/333.
..Despite the attacks on their personal and professional well-being, the women [Dixie Chicks] remain defiant. Especially Natalie. "I don't want to be played on those [Country radio] stations," she says. "And when I watched people smashing our CDs I just thought, Good. Smash 'em. Please don't listen to me. I had no idea you thought I was one of you, because I'm not."
Wait. She's not done. "And I don't want to go to any [country music] award shows. And if we did win, what would I get up there and say? I have nothing to say to these people." In fact, Natalie, who issued an apology at the height of the dustup, says that today it is the apology, not the original offending comment, that she'd take back if she could. "It was all mine - nobody made me apologize and nobody wrote it for me - but when I look back and read it, I don't stand behind what I said. That will make people extra-mad, because some were like, Well, at least she apologized."...
---
from Salon contributing writer Charles Taylor:

...Offered the chance to take it all back and make nice, the Dixie Chicks instead chose to turn the interview around. Sawyer wanted answers; the Chicks offered questions, hard questions. Sawyer wanted to talk about the damage they may have done to their career; the Chicks talked about the damage being done to America in an era where Vice President Dick Cheney has proclaimed "You're either with us or against us." ..."That's not true -- it's not true," Maines said of Cheney's comment.

...Given an hour for prime-time damage control, the Dixie Chicks instead stopped the network cheerleading for the war dead in its tracks and expressed the honest confusion many people are feeling far more effectively than any of the strident rhetoric that has emanated from the left as well as the right.
[click here to read entire article - "recommended" - c.o.]
---

Subject: Natalie Maines
Date: 7/22/2004 7:36:41 AM Eastern Daylight Time
From: james coyle

Hello my names is James, and I am from Glasgow Scotland. I would like to commend you on this great site and the defence of one Natalie Maines and the Dixie Chicks. I was at the show on march 10th 2003 at the Shepherds Bush Empire in London. I flew down that morning from Glasgow and stood with other good Chicks fans who have been like me regular posters and defenders of them on their web sites, official and fans web sites. One flew in from Iceland and one flew in from Germany. We stood for over 7 hours to get right in front of Natalie and it was all of us first time seeing them and we were so proud. It was a great show...
I defended the chicks on all these sites from the onset of the abuse, mostly I was alone doing this but I was determined to defend them. So it's great now people are starting to see the chicks were right; yes it has taken time and they could have done with this support when the threats happend but people are scared.
I got all kinds of threats online because of my support but the difference is I am over 3,000 miles away. The Chicks were in the belly of the beast so to speak.
I went over and seen the chicks in Toronto and America and 4 times in the UK and, I was so proud to see them and proud to be part of a great Chicks community who defended the girls. The best part was the fans who turned out in their tens of thousands in the USA, going to the show even at the risk of being abused or being called unpatriotic. ...We were told nobody would turn up; they were wrong! The same right wing people who own the media, who tried to block the truth, to destroy anyone who didn't agree, didn't win. But at last we see Natalie was right. Freedom and talent was the winner.
I cant wait untill 2006 to go back to Canada/America to follow the Dixie Chicks and wear my fan club t-shirt with PRIDE.
Thanks for the great site.
All the best,
James.

---

Subject: Free Natalie
Date: Thu, 17 Apr 2003 11:26 EST
From: Kim Maguire
To: virtualubbock
I can't thank you enough for printing the letters and statements of support for Natalie. It seems that there are so many people ignoring those 'positive' messages. As her sister, I know first-hand that Natalie Maines is a loving, compassionate, proud mother, wife, daughter and sister, American and Texan who lives her life in the truest sense. Her values reflect my values and the values of those who taught us to be true to ourselves - our parents.
Thanks again,
Kim Maguire [nee Maines]

---

"More Love"
Natalie Maines - "A Good Patriotic Song"
transcribed from "An Evening With The Dixie Chicks - Live, from the Kodak Theatre"
Los Angeles, 8/16/02.

Natalie: "As usual, I've been getting in trouble with my mouth, lately. I don't know if anybody heard, but I made some comments about Toby Keith's "Red, White & Blue" song. ["Don't get me started," Maines told the Los Angeles Daily News in August 2002 about Keith's song. "I hate it. It's ignorant, and it makes country music sound ignorant. It targets an entire culture--and not just the bad people who did bad things. You've got to have some tact. Anybody can write, 'We'll put a boot in your ass.' But a lot of people agree with it."]
I don't not-like you if you like the song, so I would hope you don't not-like me because I don't like the song. This next song is sort of our version of a good patriotic song, because we do love our country." [Applause]
More Love
I'm so close to you baby
But I'm so far away
There's a silence between us
And there's so much to say
You're my strength, you're my weakness
You're my faith, you're my doubt
We gotta meet in the middle
To work this thing out
Chorus:
"More Love", I can hear our hearts cryin'
More Love, I know that's all we need
More Love to flow in between us
To take us and hold us and lift us above
If there's ever an answer, it's "More Love"

We're afraid to be idle
So we fill up the days
We run on the treadmill
Keep slavin' away
'Til there's no time for talkin'
About trouble in mind
And the doors are all closed
Between your heart and mind
Chorus:
"More Love", I can hear our hearts cryin'
More Love, I know that's all we need
More Love to flow in between us
To take us and hold us and lift us above
If there's ever an answer, it's "More Love"

Just look out around us
People fightin' their wars
They think they'll be happy
When they've settled their scores
Let's lay down our weapons
That hold us apart
Be still just a minute
Try to open out hearts
Chorus:
"More Love", I can hear our hearts cryin'
More Love, I know that's all we need
More Love to flow in between us
To take us and hold us and lift us above
If there's ever an answer, it's "More Love"

I can hear our hearts cryin', "More Love"
I know that's all we need
More Love to flow in between us
To take us and hold us and lift us above
If there's ever an answer, it's "More Love,
More Love"

(words & music by Tim O'Brien & Gary Nicholson)
© Gary Nicholson Music, L.L.C., by Sony/Howdy Skies Music (ASCAP), by Universal Music Corp.
---
from Austin American Statesman, 4/3/3
[Natalie] Maines says she is still shocked about the amount of attention her comment got: "What is wrong with the world when what The Dixie Chicks say is more important than the war?"
---
Read an article written by Chris Oglesby inspired by the Dixie Chicks' music and current events.