Fire in the Water, Earth in the Air: Legends of West Texas Music
by Christopher Oglesby
Published by the University of Texas Press:
"As a whole, the interviews create a portrait not only of Lubbock's musicians and artists, but also of the musical community that has sustained them, including venues such as the legendary Cotton Club and the original Stubb's Barbecue. This kaleidoscopic portrait of the West Texas music scene gets to the heart of what it takes to create art in an isolated, often inhospitable environment. As Oglesby says, "Necessity is the mother of creation. Lubbock needed beauty, poetry, humor, and it needed to get up and shake its communal ass a bit or go mad from loneliness and boredom; so Lubbock created the amazing likes of Jimmie Dale Gilmore, Butch Hancock, Terry Allen, and Joe Ely."
"Indeed, Oglesby's introduction of more than two dozen musicians who called Lubbock home should be required reading not only for music fans, but for Lubbock residents and anyone thinking about moving here. On these pages, music becomes a part of Lubbock's living history."
- William Kerns, Lubbock Avalanche Journal
---
We are pleased to announce our participation in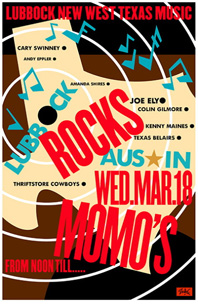 The Lubbock Music Showcase
Official 2009 South by Southwest Music Festival Events Showcasing Legendary Lubbock
Wednesday, March 18, 2009
VISIT LUBBOCK PARTY: Noon - 4:00pm
SxSW SHOWCASE: 8:00pm - 1:30am
Momo's Real Live Music (upstairs from Katz's)
618 W. 6th St # 200 (6th & Rio Grande)
Austin, TEXAS USA
On the opening night of the 2009 South by Southwest Music Festival, on the beautiful rooftop at Momo's on 6th Street for the Official Lubbock Music Showcase, we spotlighted great new music from Legendary Lubbock.

Featured artists at the SxSW'09 Lubbock Showcase included:
Cary Swinney, w/ Richard Bowden & Michael O'Connor - 8:00 p.m.
Thriftstore Cowboys - 9:00 p.m.
Texas Belairs w/Ponty Bone and John X Reed - 10:00 p.m.
Colin Gilmore - 11:00 p.m.
Joe Ely and Joel Guzman - 12:00 a.m.
Also, that afternoon, Visit Lubbock sponsored a party highlighting performances by some of the most recognizable Lubbock artists, including:
Cary Swinney Trio - 3:00p.m.; Andy Eppler - 2:00p.m.; Amanda Shires - 1:00; Kenny Maines - noon
This event brought to you by Sandstorm Picnic, - virtualubbock's Chris Oglesby and Jeff Kehoe of 30+ Years of Austin & Texas Music.
Cary Swinney Trio SxSW09 - #2
Thriftstore Cowboys SxSW09