Chris Oglesby Interviews
Ponty Bone
Ponty's Home
Austin; 6/22/00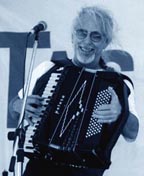 PB: A lot of people think I grew up in Lubbock; But I really grew up in San Antonio. The first time I ever went out to that part of the world at all was to go to Texas Tech. And on the way up there, somewhere north of Midland, we encountered these migrating hordes of tarantulas, bigger than a man's head. The body of it was about as big as a fist. Horrible! They're walking across the highway in broad daylight, and there's nothing to do but just run over a few. When your tires rolled over 'em, they went plkkcrrssstd. You couldn't dodge 'em all.
It was like the biggest Omen…
Chris: I was gonna say, "That's quite ominous." Did that psychologically set you for coming into Lubbock?
PB: How could it not? At that time in my life, I look back on it now as if I was lookin' at life through a veil and didn't really participate in it much; I didn't really have a clue yet.
Chris: This was before you came to Lubbock?
PB: Up until I was about 36 years old. [Laughs]. I was just kind of following the path of least resistance.
Chris: So your experience in Lubbock has affected you a great deal; So much that people even think you're from Lubbock. How long did you live in Lubbock?
PB: I spent 15 years there, on two separate stretches; Six years the first time - A very interesting six years. I was in college the first three of those. Then I married a Lubbock girl and settled into life there. Me and my wife had twins after about two years; I had a day job; a car, a TV…
Chris: You told me earlier that you were calling yourself "a painter" when you first moved to Lubbock...
PB: That was really when I was in college. But I thought of myself as some sort of artist long after college. I really have thought of myself as "a character in a novel," all my life. At that time, I just knew I was different.
I knew something was up; I didn't know what it was but I knew that it wasn't right to just tell people that I was "a surveyor" or "a draftsman," because I didn't feel connected to that. That was like saying, "I work crossword puzzles."
See, I was in architecture in college; then I switched to art. But my dad was real technical and retentive, and I sort of inherited that as a mirror image of my other side. I'm a Libra, and I've just had this lifelong fascination with the entire spectrum - both ends of the poles.
Chris: The accordion is a very technical instrument.
PB: There you have it! My dad started me on the accordion when I was five years old. And he immediately taught me that, "I'm paying a quarter for these lessons, and you're gonna practice an hour a day. And when your next lesson comes up, you're gonna have your lesson ready to impress your teacher." And of course, I immediately - at the age of five - say, "No! I'm not gonna."
We had this relationship until I was twelve, at which I time I finally asserted myself at the age of twelve to quit taking the accordion and start taking trumpet.
But the technical part of the accordion that you referred to; If you learn that when you're 5 to 12, it's not a problem at all. Because you're just a machine then, and you're soaking up information; You can learn so much…like kids today with these computers.
Chris: So you were lucky. Not a lot of people start the accordion at age five.
PB: I was very lucky, even though I hated it.
Chris: How did that happen? Did your dad play accordian?
PB: No. Dad never told me when he was alive, but his father and his two uncles were musicians. They had a band in north Texas called The Bone Brothers. I found it out from my Aunt Inez. She produced a clipping from the newspaper about where they'd interviewed ol' A.P. Bone and all about his early days as a musician. The point of this article was that sometimes they wouldn't agree on a certain harmony note to go with the main note, and they'd go outside and fight over it and whoever won was the way they went!
So I think my father realized right off that I was an artist, and he didn't really want to encourage that. But he wanted me to learn things, and he wanted me to have music as something for leisure. He basically wanted me to be well-rounded.
But it was only very much towards the end of his life that he kind of encouraged me musically. After he died was when I really began to pursue music.
Chris: You had been in Lubbock going to Tech, got married and had twins, and you were working as a surveyor and a draftsman.
PB: About that time is when I met Joe [Ely] and Jimmie [Gilmore] and everybody. Me and my wife moved to Phoenix and began to be the sort of midway point for all the Lubbock bunch who were constantly trekking back and forth to California.
Chris: I've heard a story about Jesse Taylor comin' out to your place when he was 16 years old; What's your connection with Jesse Taylor?
PB: While we were livin' in Phoenix, we took trips constantly; Any excuse to come back to Texas - to visit her folks in Lubbock; or come down and hear some of our friends play in Austin - We would do it. When we started a band, the first thing we did was come to Austin and play the Vulcan Gas Company.
That was New Moan Hey, our first band.
Chris: Who was in that band?
PB: Sarah - the lady I was married to at the time. And we had a young guitar player named Dana Smith. We had a couple of different bass players, and a couple of different drummers. We put this band together in Arizona.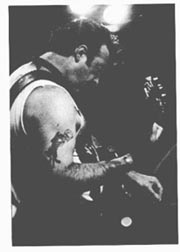 Jesse as a young man looked very mature for his age; He was already playin' in Black bars and just blowin' everybody's mind by how he good he was. Of course, he's completely self-taught.
So I came to Lubbock on one of those trips, and I met Lewis Cowdrey and Angela Strehli who had a Blues band called Sunnyland Special.
I asked Lewis, "What are you doin' back in Lubbock?"
He says, "We come up here to get a guitar player, and we got one – Jesse Taylor. He's in the living room."
I go in there and there's young Jesse Taylor, about 16 years old: tattoos, muscles, beard…I mean, he looked like he had already been to sea for 30 years, for Christ sake! He's sittin' there, just playin' his ass off!
So we all hit it off. They were among the real constant visitors while we were out in Phoenix.
Chris: Should we come back to Lubbock? You came back to Lubbock when?
PB: '71. First of all, I moved to Slaton. Well, actually first of all, I came to Austin and saw Lewis. And Lewis, at this point, had just met Jimmie Vaughn, who had just come down from Dallas; They were starting a band called The Storm, and Lewis wanted me to be in it. He said, "How many nights a week do you feel like working?"
And I said, "Well, Man, I don't know. Listen, I gotta run to Lubbock and visit my mother-in-law & father-in-law, and I'll be back on Monday." And I never got back. I went to Lubbock, and next thing I know, I'm sittin' there at my old job again. Right back where I had been six years earlier. Same damn job as a surveyor. I just ran into one of the guys I used to work with and he said, "Man, we're needing somebody right now. You'd be great."
Chris: So you went back to that technical, surveyor thing? That's interesting.
PB: I had done some of that in Phoenix, obviously, because I had these twins. We all had to eat. As a matter of fact, we had to have a little extra money because we were in a band. You'd think you'd be making some extra money 'cause you're in a band. But every musician within the sound of my voice KNOWS that, in fact, it takes money to have a band.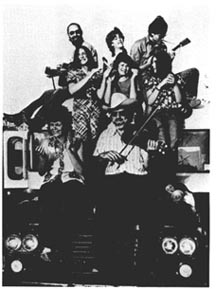 So it's 1971. I've got my old job back. We've moved to Slaton, Texas, 'cause it was so cheap to live out there.
We commenced to start having these wonderful, wonderful jam sessions on Sundays out there with Tommy Hancock and all of his family, Joe [Ely], Jesse [Taylor], Jimmie Gilmore, lots more that I could name. And I began to play The Cotton Club with Tommy Hancock and his Country band The Roadside Playboys and his wife Charlene. In '73, I moved back into Lubbock.
In '76, my first marriage went on the rocks, and I'm out in the front street playing Frisbee with my twins. And Joe Ely drives up on his bicycle. He says, "Hey, Ponty. It looks like MCA is gonna do my first album. Listen, we're getting together tonight over at my house on 9th Street; Man, get your accordion and come over there and jam with us! I got some songs I want you to play on the album."
So I go over there that night…Lloyd's [Maines] in the band; Don Caldwell's in the band but Don's leaving; So Joe asked me to take Don's place on his first album for MCA.
Well, the next 6 and half years is history because I took the job.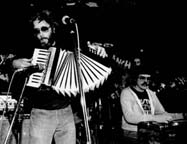 I had decided to completely quit drinking because it was a real challenge to play with Lloyd. I quit that day job, and we started touring. I was about to buy the surveying company, and - to make a long story short - I went on the road with Joe Ely instead!
Chris: Wow! It's that Libra thing.
PB: Yea. It was about that time that I realized that I was still alive, and I had these interesting thoughts. I began to start keeping a journal- contemplating the idea of whether I had any control over my future or not.
I wasn't thinking much back then. Before, I had noticed that I had real contrary, rebellious ideas but that was about the size of it.
From day one in Lubbock - the first time, when I was a college student - I immediately began meeting larger than life characters. I immediately met a Black Bluesman who would come to my house and play. This guy was like a Lighting Hopkins! He was a yardman who lived in the alley of some apartments. In the alley! And such a beautiful guy! Smoked a pipe....He loved us. We always had wine. Me and my brother had a house there on 14th and S.
I met gamblers. I met graduate students who were geniuses, who would grow on to become well-known in their field of literature and art like Grover Lewis
.
Chris: And what's his story, in a nutshell?
PB: . When I first met Grover Lewis he was a graduate student in English. And he was very, very well known on campus for being an intellectual with a circle of friends that partied. And immediately…you know me, little naive little under-graduate…I'm hangin' with him and a bunch of guys like that.
Chris: What would we know him for now? What did he go on to do?
PB: Well, he went on to be a writer. He lived in Los Angeles. He was on everybody's list in the '70s. He passed on early of some life-threatening disease he had all his life; He was almost blind. He wore real thick glasses but he could hardly see. He wrote quite a few interesting things in Rolling Stone in the early '70s.
I agree with your thinkin' about Lubbock being unusual. Although skeptics will say, "Ah, y'know! You read other authors; It's the same wherever they grew up. What you're really celebrating is your passage and the things you know. Every town is the same…"
Well, I don't think so! People who think that's true weren't ever in Lubbock! It's true that there's a lot of other towns that have amazing music scenes. But you know what? A lot of the people in their amazing music scenes - THEY lived in Lubbock!
I am always amazed, when I mention Lubbock to other musicians I work with in Austin; they say, "Oh, did you live in Lubbock?"
"Yea. I lived there, 15 years."
"Oh, Yea? I used to live in Lubbock. I worked for Jay Boy Adams," something like that. Or, "I was working with the Traveling Salesmen." They was two brothers; a cover band. They were excellent! They wore suits and ties, and they were on the road constantly. Their mother was their booking agent. And she was smart as a whip, and she made money with that band. They played all the right parties.
Lubbock's always been a lucrative market. A lot of great bands came out of Lubbock. And a lot of great bands came to Lubbock. A lot of 'em were there because of, "something a little bit more on the intellectual side of the equation." Like being in a band, or going to Texas Tech, or having some kind of a connection with the arts...
Chris: See - That's the kind of thing that people would laugh at; If they read: "This intellectual thing in Lubbock"…A lot of people would laugh about that. But you know that it's true…
PB: Of course it's true!
Chris: 'Cause you will meet some strange person - some brilliant artist - who lives down the street from you, and think, "How has this person survived in Lubbock for all these years? …"
That's part of what I'm celebrating here. This phenomenon REALLY exists there! It's not just people bragging ,or reminiscing, or waxing philosophical…It's really kind of astonishing, actually! The number of brilliant artists you into in Lubbock.
PB: I agree. Lubbock has got a uniqueness about it.
Go to page 2
-continued-