Fire in the Water, Earth in the Air: Legends of West Texas Music
by Christopher Oglesby
Published by the University of Texas Press:
"As a whole, the interviews create a portrait not only of Lubbock's musicians and artists, but also of the musical community that has sustained them, including venues such as the legendary Cotton Club and the original Stubb's Barbecue. This kaleidoscopic portrait of the West Texas music scene gets to the heart of what it takes to create art in an isolated, often inhospitable environment. As Oglesby says, "Necessity is the mother of creation. Lubbock needed beauty, poetry, humor, and it needed to get up and shake its communal ass a bit or go mad from loneliness and boredom; so Lubbock created the amazing likes of Jimmie Dale Gilmore, Butch Hancock, Terry Allen, and Joe Ely."
"Indeed, Oglesby's introduction of more than two dozen musicians who called Lubbock home should be required reading not only for music fans, but for Lubbock residents and anyone thinking about moving here. On these pages, music becomes a part of Lubbock's living history."
- William Kerns, Lubbock Avalanche Journal
---
One of my greatest pleasures editing virtualubbock is the e-mail I receive from readers with valuable pieces of lore about Lubbock music and art. Some of the most precious stories I've collected have come from the suggestion of readers' comments. I'd like to share some of that gold, below. Thank you for your contributions! - Chris Oglesby
<click here to e-mail me>
---
From: Nancy Reyes
Sent: Wed, Apr 27, 2011 11:25 pm
Subject: The Sparkles
Was reading comments on The Sparkles and what some don't know is that Gary Blakley started the original Sparkles and also played drums for Buddy Holly up until the unfortunate plane crash. Gary and Waylon were lucky that day. Gary is a very dear friend of mine and I always find different articles interesting to read but disappointing because there is more to the stories that most don't even know.
---
-----Original Message-----
From: Terry Madeira
Sent: Mon, Oct 18, 2010 4:24 pm
Subject: The Traveling Salesmen
I played drums in that band the spring semester at Texas Tech in 1969. It was Tim and Danny Atchison , Joe Don Davidson and me on drums. I remember playing on the Tech campus for the name change concert or protest. Some wanted "Tech" out of the name. The alumni didn't. Anyway ift was a good band. We really worked on doing good covers. "Sookie Sookie" by Steppenwolf was one of my favorites. I think of that when I see the "Sookie" character on "True Blood." LOL! The Sparkles were big then. At the end of May I headed to Austin and so did The Sparkles. I saw their drummer in a night club, and it freaked him out that I was also from a Lubbock band. That drummer pulled out a flute for the end of "Fool on the Hill" I believe. Man that was the golden age of great sounds and songs. I remember a really good band in Lubbock called The Brutes. There was also a guy on campus that played guitar and percussion instruments at the same time. Had a huge voice. John Deutschendorf was his name. Later changed to Denver. Far Out!
Regarding Jerry (Goolsby), I bet he joined the Salesmen after I left. Danny had decided to go back to drums, from bass anyway. They had top notch equipment. Double bottom Custom amp for bass. Tall Custom for Joe Don. Maybe it was his? Custom for Rhythm guitar also and a McIntosh P.A.. They did have a recording contract with RCA and showed me one of their songs on a juke box. I never recorded though. Those three guys could sing. We did a kick ass job on "Eleanor" by The Turtles. I prided myself on the doing a good job on "Good Times, Bad Times" and "Communications Breakdown" by Led Zepplin. Also "The Wind Cries Mary" by Hendrix.
- Terry Madeira
---
This is the story of my musical career. - Dan Atcheson
When I was in early grade school, everyone thought I was stupid; especially the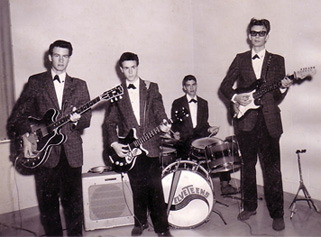 teachers, so when they pulled out all the percussion instruments for us to play, I ALWAYS got stuck with the damn sticks--the stupid instrument. I so longed for the more colorful things such as the triangle, bells, tambourine, etc., I promised myself I'd someday earn a more sophisticated instrument. God eventually gave me the ability to play six of them. But in the end, a drum set was my bag, so I once again ended up with nothing but some damn sticks.
Click here for more stories and photos about the Velveteens and Travelling Salesmen
---
Go to - http://ritaboxpeek.com/
Message from Rita Box-Peek:
It was a wonderful experience translating my dedications along with artists Brian McRae, Richard Bowden, Doug Smith...as I prepared for the project, I knew that Brian would be the one to play the 1959 hard-tailed Fender Stratocaster of my late brother, David Box, provide important lead acoustic throughout and co-produce...we connected at the first note and off we flew! The first session of 3 tracks was recorded late afternoon in the formal dining room of my strawbale home located on the canyon rim "Aries & Leo", "Flying With Hawk", "Echo For Peace" in that order. The remaining tracks were recorded at Alan's Rt.1 studios.

I knew that Richard Bowden would play my dad's 108-year-old fiddle..."Boxy" was a 1940's-early 1960's western swing band/live radio singer/musician...it was great featuring the instruments that defined our family...Doug agreed months before the accident to play on the album, and his performance is what I originally had in mind...so amazing and very grateful for his contribution!

Thank You! Chris for your support of my inspired Impressionist Music!
---
-----Original Message-----
From: Darlene Youts
Sent: Wed, 13 May 2009 4:29 pm
Subject: hello from old Lubbockite
Hello Chris,
I found your website via The Flatlanders FB page and took notice of your book and its theme. Let me introduce myself a bit. I was born in Lubbock, grew up there attending several elementary schools and junior highs, inc. J.T. Hutchison and Monterey High School. My family moved to Colorado Springs, CO during the summer of 1961…just before my senior year. But I made it back to Lubbock to attend Texas Tech. One reason was because I missed the cotton fields and the big skyline. One of my friends from junior and senior high is Phil Eagleton. In my Monterey High School yearbooks are photos of Phil, Jo Carol Pierce, Jimmie Dale Gilmore and others you might know.
I knew Buddy Holly an d Elvis sort of. You may have found in your research of Lubbock the story of the original KDAV. That was the fulfillment of my step-father's dream. Dave Stone. He started working at KSEL as a bookkeeper. KSEL used block programming back then and had a 30 min. country music show. The DJ on that program hated country music. Dave loved it and took over. Dave had a smile in his voice and literally put on a big smile each time he spoke into the microphone. Dave came to dream of building his own radio station and that dream came to fruition. He had two partners – Dave Worley and Leroy Elmore. KDAV went on the air in 1952 as the first full-time country radio station. KDAV's signal reached into New Mexico. Dave promoted country music and country artists with every thought and breath. And he promoted the local talent. Every Sunday afternoon KDAV aired live music on a program called the Sunday Party. Buddy Holly and the Crickets played regularly on the Sunday Party as did Buddy Knox, Ace Ball, Billy Walker, Sonny Curtis and Terry Nolan. During the hours of the Sunday Party the radio station was packed full with people, standing room only with lines out the door of area folks that came to see the live entertainment. It was Dave Stone that took a tape of Buddy Holly's to the record company. The call came to our house that they wanted to sign Buddy. My mother answered the phone and t ook the message. I watched and listened to her and I can remember her facial expressions, excitement during the call and even what she was wearing. Without Dave's recognition of Buddy's talent and Dave's encouragement Buddy's story might have turned out differently.
During those early years of KDAV there was a teenage boy that attended Lubbock High who DJ'd the last hour of the schedule playing rock n roll music that appealed to the teenagers. His name was Cary Hobbs. Now as a retiree he is living in a small town outside of Salt Lake City and he's a DJ again at a small local station. And he deserves a lot of credit for his contribution to the music scene in the middle 50s.
Dave Stone promoted country music. He eventually came to have other radio stations – KPEP in San Angelo, KZIP in Amarillo and KPIK in Colorado Springs. He sponsored concerts at the Fairpark Auditorium in Lubbock and later at Jones Auditorium on the Tech campus. Sometimes he promoted the shows in e ach town he had a radio station as the Highway 87 Tour. Dave made it a point to know the artists and their stories and gave tidbits of that when he was on the air playing their music. I like to think that his interest, participation and promotion of country music left a legacy to others and for others to follow. Of course, others got involved, i.e. the Corbin brothers opened KLLL playing only country music. And now there is another KDAV in Lubbock emulating the original KDAV. There was a springboard effect encouraging those with a longing to sing, write and perform. People worked as DJs that later became known as country artists – Waylon Jennings, Roger Miller, Arlie Duff (This ole House), Charlie Phillips (wrote SugarTime) and Bill Mack. And one of the partners of KPEP wrote "Don't let the Stars get in your Eyes". Lots of talent everywhere.
I like to tell people about the friendliness of folks in Lubbock, saying that they're friendly because there's nothing else to do. Back when I was young most families had someone in the family that could play the guitar and someone that could sing. Before TV became popular people entertained themselves in the evenings often by pickin' and singing. 0AFriends and family gathered around the kitchen table and joined in. Everyone was welcome and encouraged to join in.
And as someone expressed in one of the Lubbock youtube videos…the weather etches something on the psyche…and that's true and I had an ah ha moment when I heard that because it gave an explanation to something I couldn't quite capture with words that explains my own psyche. Living through intense dust storms, tumbleweeds, tornados and sudden blizzards does that. The older generations that carved out farms, ranches, towns on the plains left tenacity and talent that imprinted the following generations.
I do hope you read this and if you do, I thank you and hope to hear from you. And thank you for writing your eloquent book about west Texas music.
Darlene Youts
Baylor University
---
From: Cindy Martin


Sent: Wed, 11 Mar 2009 1:27 pm
Subject: Heart Beats
I'm looking for information on the Heart Beats, the all-girl band in Lubbock in the late 1960s. Members of the band were:
Linda Sanders -Drums, lead vocals
Deb Sanders-rhythm guitar
Deborah McMillan-bass
Jeannie Foster-lead guitar and organ
They were on Happening 68 and won $10,000 and opened for Glen Campbell at Municipal Auditorium in 1969. Do you know where any of them are today?
Cindy Martin
---
From: Renee Emmett
Sent: Thu, 29 Jan 2009 10:59 am
Subject: nice website
Chris, I ran across your website on a Linked-in group discussion from Johnny Hughes. I accidentally sent him the message below which I am now forwarding to your attention:

Very interesting website. As a former Lubbockite, I found myself immediately back in Lubbock after spending some time on your site. I left Lubbock after graduating high school and ended up at Texas A&M where I met my musician husband and moved to Nashville. We have been together for 25 years, living in Nashville. If you ever get to Nashville, look us up. Thanks for the memories--Lubbock is where my soul was created.
Renee Emmett
President - Auris Marketing
Nashville, TN
---
From: Allen
Sent: Friday, November 21, 2008 2:08 PM
Subject: Interviews
Chris,
Last night I reread several interviews in virtualubbock. They're just too interesting. But, I'd like to suggest that you talk to one guy that always gets overlooked when the subject of Lubbock musicians gets mentioned and he is Leland Parks. If you aren't familiar with him, ill give you a little background. Leland was with the Cobras from the outset with Angela Strehli through the Jr. Medlow days and on into the Paul Ray era. This of course includes the Stevie Ray Vaughan times. He was with Miss Lavelle White and is currently with Mike Milligan and the Alter Boyz who won the Texas Blues Challenge at Antone's last week and are on thier way to Memphis to the International competition in Feb. He has toured the world with some of the greats in blues and jazz. Oh yea, he sat behind me in homeroom at Lubbock High. I never hear his name mentioned and I think it's about time someone did. I saw MM&AB at the Deli Werks in Lago Vista not long ago and I'll guarantee you that it's an act you can't help but enjoy. You can find them gracing the stages in Austin on a regular basis. you should check ' out if you haven't already,
Go Raiders, Allen
---
-----Original Message-----
From: leslie@visitlubbock.org
To: Chris Oglesby
Sent: Tue, 21 Oct 2008 10:46 pm
Subject: Stubbs
Chris,
I have an interesting question which I haven't found the answer to - so I now turn to you. Where is CB Stubblefield buried? I heard he is buried here in Lubbock but have been completely unable to unearth a web/google hit on the cemetary or an obituary.
Regards,
Leslie Mathews, CITM, Sales Manager
Visit Lubbock - The Convention & Visitors Bureau

From: Chris Oglesby
To: Leslie Mathews
Sent: Thursday, October 23, 2008 9:00 PM
Subject: Re: Where is Stubb buried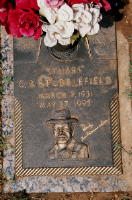 Lesley,
I got the information from my friend Eddy Patterson at Stubb's Legendary Kitchen. (Eddy's dad Tommy Patterson actually found the information for us.) Glad to help. I will post it on virtualubbock.com for future reference.
chris oglesby

For those who wish to pay their respects to Stubb:
C. B. Stubblefield is buried at Peaceful Gardens Cemetery located in Woodrow Community, Lubbock, Tx, on Hwy 87 South of Lubbock. Stubb is buried in Section C, Lot 128, Space #1
Peaceful Garden phone # is 806 863 2241.
---
-----Original Message-----
From: Sandy Snowden


Sent: Mon, 15 Sep 2008 4:10 pm
Subject: Jack Huddle
I was on your website and could not find anything on Jack Huddle and the Circle 13 Dude Ranch. My dad, Harold Giese, played the base fiddle in the band. Charlene Hancock sang in the band and I sent Conni Hancock pictures of her mother, in the good ole' days. Everyone wants my recording of "Starlight, Starbright" by the band. KDAV played it for me and Jerry Coleman could not believe anyone would ask for it! He had great memories of Jack Huddle.
I remember my dad telling me about Buddy Holly. Buddy always wanted to play with the band and they would let him, sometimes. Buddy borrowed my dad's base fiddle and did not return it, as soon as my dad would like. Also, Buddy asked my dad to play in his new band. Dad told Buddy he did not like his kind of music! I have asked and no one knows, if Buddy was playing in the recording of Starlight, Starbright. It sounds like him. I believe, it was recorded in 1958 in Clovis, NM.
Enjoyed the article about the Maines Brothers. I was too young for the Cotton Club but remember Mom and Dad going. The Palm Room was the other gathering place. Many Tech parties being held there!
Sandra Giese Snowden
Chris,
Posting my message was great! Now, look at this, when you have time.
http://www.youtube.com/watch?v=A_ZlgSgoLLg
My girlfriend found this. I might have found my answer to the Buddy Holly question. Thanks, Sandy
Hi Chris -
My friend, Sandy Snowden, recently sent you info on Jack Huddle. I have what I think is an interesting story, but it doesn't go with the theme of West Texas music, but it's close. For what it's worth...
In 1967, Sandy and I worked, for free on Saturdays, at KLBK-TV on their dance show Swingin' Set. Every week we had a band on the show to lip sync their latest song. On one show we had THEM. Van Morrison had recently left the group and Kenny McDowell had taken his place. After the show, Sandy and I went with THEM and their driver to the Embers for lunch. A few days later they played at one of the local clubs and I had a date with Kenny and Sandy had a date with Alan Henderson. After they left town, Kenny called me from Los Angeles, but my parents wouldn't let me come to the phone!!! So, I never heard from him again. I was 19 yrs. old and he was 23 yrs. old.
Flash forward to Aug. 2007 - I'm preparing to move back to Lubbock from Los Angeles and while packing, I find the old snapshots that I took that day at lunch. I decided to try and find Kenny, wouldn't THAT be fun. One day my search paid off, I got an email from Kenny. Today he is singing the blues at the local pub in Belfast, living with his second wife and doing well. He still had his copies of the pictures I took that day in 1967! He said they traveled with him in 43 states, Canada and Europe.
We have emailed now for a year and he sends me music (some are his "garage tapes" from the 70's and 80's) Kenny left his family band at the age of 15, after hearing Buddy Holly. He replaced Van in the group and by 1967 he came to the states for a few years where he got to meet the Crickets and Buddy's brothers. What blew me away is that he became a Plains Indian buff while living here. He loves Buddy Holly and the Indians.
I also sent him the link to VirtualLubbock today since he knew Sandy.
I get an email from him nearly every day - I hope that you find this interesting.
Sincerely
Mary Hall

-----Original Message-----
From: Hills Snyder


Sent: Wed, 8 Oct 2008 9:09 pm
Subject: Fwd: APC
Greetings Chris,
Just getting in touch with some personal news. Last May I married my former

Coronado High School sweetheart from 68/69, Caralyn Pendley. ( Cara Daniel was her stage name before changing to Caralyn Snyder professionally.)
Here she is from the 68 annual.
She's been acting on stage since those days in all kinds of shows, including a one woman performance she wrote about Cynthia ann Parker, titled Her Eyes Were Blue. Here is a bit about her next show below. - Hills Snyder
ALWAYS, PATSY CLINE!
Returns to Thunder River Theatre Company
(Carbondale, Colorado) with FOUR Encore Performances
OCT. 22, 23, 24, 25, 7:30 p.m.
Starring JEANNIE WALLA and CARALYN SNYDER
=
p.s. Here is my new print "Jones for the Nazz"
Also, please check these out when you have a chance:
-----Original Message-----
From: Jean Patterson
Sent: Mon, 4 Aug 2008 8:57 pm
Subject: 1970s Rock Music Festival
Hi Chris,
I was perusing your site again when preparing to link it to the site I am building (http://www.Monterey59.org), when I discovered these articles about the Easter weekend 1970 Rock Festival.

It brought back a vivid memory. At the time, in process of getting a divorce and working at KLBK TV to put bread on the table for me and my two children, ages 7 and 2, I rented one side of a "no frills" duplex immediately abutting the Dept. of Public Safety headquarters on Ave. Q.

We had just been too close for comfort there for the May 11 tornado, and I guess I was fairly jumpy about living with only the kids and their dog for company. I had already gone to sleep on Thursday night when I was awakened by what sounded like an oncoming army outside my bedroom. When I got up and looked, I saw what looked to me to be hundreds of DPS cars revved up and moving out of DPS headquarters and right past my bedroom window.

I had heard about Woodstock, of course. And I knew there was going to be a rock concert near Lubbock that weekend. But in my innocent mind I couldn't connect this massive show of force with that. I thought there surely must be some massive natural or even unnatural disaster in progress, and the DPS had been called on to protect and to serve the citizens of West Texas.

There was no chance of sleeping for a good while, so I read for about 30 minutes while that DPS "army" marched past my home and off to some "war." When at last peace returned, I returned to a fitful sleep. When I found out the next day that all of that was just for a bunch of kids who had no better sense than to want to listen to rock music in a West Texas field, I was incensed. It was just so crazy. What was everyone so afraid of?

I still don't understand what prompted the overkill reaction by the DPS. The "kids" listening to music then are in their 50s now. I wonder if they are as afraid of their children as their parents were of them.
Jean Patterson
---
From: Tommy Hancock
To: Bill Kerns ; Cc: Chris Oglesby
Sent: Sat, 26 Apr 2008 6:40 pm
Subject: Lubbock Music
Dear Editor,
I know the people of Lubbock will enjoy knowing how well the current music talent from West Texas was received in Austin at the recent "Sandstorm Picnic."
Every act of The NEW West Texas Music Showcase was an ongoing hit for six hours of constant entertainment at the packed house. Paul Bullock kept the audience very happy between acts with his unique poetry and professional emceeing.
Most people already know of the many well known musicians from Lubbock but this show included only the as yet unknown. It verified the theory that there is a continual phenomenon of terrific musicians in Lubbock--for whatever reason.

When I was an active musician, being from Lubbock was a wonderful help to me. The current people are sure to enjoy this honor as well. Thank you Lubbock.

Tommy Hancock

---
From: Jean Patterson
Sent: Wed, 12 Mar 2008 9:15 pm
Subject: Fire in the Water, Earth in the Air
I just finished your book. Thank you, thank you, thank you for Fire in the Water, Earth in the Air! Finally I have something to counter the "You're not just a liar you're a damn liar" look I get when I tell people the truth about Lubbock talent. Have you ever gotten that look? I imagine that most Lubbock expats have at one time or another. It's happened to me so often I really try to behave myself now. I'll be at a party just introduced to a stranger and the conversation will go something like the following:
"So you're from Lubbock, Texas. Didn't Waylon Jennings write a song about Lubbock?"
"Hm-m-m. Not that I know of. You may be thinking of Luckenbach, Texas. It's a common mistake."
"I know something happened in Luckenbach. Oh, I remember. That's where Buddy Holly was from!"
"Well, actually, that would be Lubbock, and yes it is."
"Did you know Buddy well?"
"Not well. Not at all, really. When I was in first grade at Roscoe Wilson Elementary School he may or may not have been in sixth grade at the same time. Some sources say that is the case, but others say he went to another school for sixth grade. In either case first and sixth graders don't mingle much. I saw him once at the roller rink."
"Yeah. I saw that movie. It must have been exciting having a big star like that in a little town like Lubbock."
"Not so much. You know, he wasn't a big star until he was dead. His day job was at a dry cleaners. We didn't have any idea what his influence would be. Just like all the others, Buddy was 'a prophet without honor,' etc."
"What others?"
Now here is where if my better angels are not asleep at the switch, I just toss off Dixie Chick Natalie Maines (Yes, that Dixie Chick) and maybeMac Davis and we're done. But no. As often as not I hurl myself right into the "You're not just a liar you're a damn liar" look by saying something like:
"Well, let's see. If we shorten the list by limiting it only to the kids I personally walked the now hallowed halls of Monterey High with in the four years from fall 1955 to spring 1959, we have:
Jo Harvey (Koontz) Allen, Monterey '61, who has had considerable success as an actress and playwright. You probably saw her in Fried Green Tomatoes.
Terry Allen, Monterey '61, is about as close to a renaissance man as Lubbock has produced so far. Terry does just about everything. He is an illustrator, sculptor, composer, singer, author. There aren't many alive today who can top Terry for sheer creative accomplishment in so many media. His stuff is in MOMA in New York City, San Francisco's Moscone Center, Citicorp Plaza in L.A. and it goes without saying the Museum of Fine Art in Houston. He designed the Perrier label. And two Rolling Stone covers.
Barry Corbin, Monterey '59, is the actor who is probably best known as the cantankerous former astronaut in television's Northern Exposure, but there is so much more. Currently you can catch him on TV's The Closer and One Tree Hill, as well as the movie No Country for Old Men.
Jimmie Dale Gilmore, Monterey '62, is a singer, songwriter, actor, recording artist and producer, and one third of The Flatlanders.
Glenna (Maxey) Goodacre, Monterey '56, is often referred to as "America's Sculptor." Among many other works she designed and sculpted the Women's Vietnam War Memorial in D.C. and created the bas relief of Sacagawea that is on the U.S. golden dollar coin. In addition to her prodigious accomplishments as an artist, she is the mother of model Jill Goodacre (Victoria's Secret) and therefore mother-in-law of musician/actor Harry Connick, Jr.
Butch Hancock, Monterey '62, was trained as an architect and picked up photography as well somewhere. But of course he also sang and wrote songs and was another third of the Flatlanders. He started a gallery in Lubbock called "Lubbock or Leave It."
Jo Carol Pierce, Monterey '61, is another singer songwriter who hangs out in Austin now. Oh yes. Forgot to say that she has written several novels and a play that was performed at Lincoln Center. While she was doing a lot of this she had a day job as a social worker and all that is probably why she didn't get her recording career started until she was 51 years old.
Al Strehli, Monterey '59, plays many instruments and has been singing since I knew him in grade school, but is best known today for his compositions. Jimmie Dale Gilmore says he writes the most beautiful music in the world. Al's sister Angela is probably the preeminent Caucasian blues singer in the country today, but I said I was limiting this to Monterey students attending between '55 and '62.
Of course, if you want the long list, we can add Joe Ely as 1/3 of the Flatlanders who is extremely popular in Europe, but I had cycled out of Monterey High when he got there, and there is Ralna English who went to Lubbock High with Mac Davis while I was in Monterey but I knew her in junior high school. Ralna was with Lawrence Welk, of course, and still tours. . ."
Generally by this time the "You're not just a liar, you're a damned liar" look is replaced with frantic searching over or around my head for someone, anyone, to bring into this conversation and break it up.
Occasionally -- rarely -- instead of bolting, someone actually gets big-eyed and asks why Lubbock produces so many artists of every stripe. I suggest the usual. Something in the water turned our teeth brown but drew our creative spirits in sync with the universe? The flying saucers showered us with stardust? Nothing to do in Lubbock but entertain ourselves? The ol' if Buddy could do it we could do it, too, thing? The truth is nobody knows why. It is a great mystery why all these people have done what they have with little encouragement from their environment. And it's a mystery I enjoy relating whenever I can.
Fire in the Water, Earth in the Air is a big help. I have one copy to carry with me and another for the bedside table in my guest room.
---

From: Steve Rogers
Sent: Wed, 6 Feb 2008 12:50 pm
Subject: LOVE Your Website!
Chris,
I just stumbled across your website and I can tell I'm gonna be spending many hours on it in the near future. I lived in Lubbock from shortly after I was born in 1955 when my dad took a job as an assistant basketball coach at Monterey High School, until 1980 when my job with Southwest Airlines took me to Beaumont/Port Arthur. I've lived in Midland/Odessa since then, and raised my family in San Antonio where my wife grew up, though we met at Texas Tech. My roots are in Lubbock and I've been back there many times, since my folks still live out at Ransom Canyon. My oldest daughter is a junior at Tech, and my second daughter will be a freshman there next year. Unless he changes his mind, my son will probably end up there, too, so I'm happy they'll get to spend at least a few years in my hometown.
My first exposure to the Maines Brothers was at the KLLL Saturday Night Oprys they had at the Municipal Auditorium for a few years. An excerpt from one of those shows is on their first album. My wife taught Lloyd Maines' oldest daughter, Kim, in second grade, and our oldest daughter is named after her. Kim was nice enough to remember her favorite elementary school teacher and invite us to her wedding, so we were in Lloyd Maines' Austin backyard along with the Dixie Chicks (pre-controversy) a few years ago to see Kim get married.
My wife, Karen, and I were at the first two Tornado Jams, including the deluge. We took a couple of tarps due to the threat of rain. She went to stand in the tremendously long line for the port-a-potties. Karen was in that line when the cloudburst hit. She told me that five or six people were cramming themselves into each portable toilet to get out of the rain. Given that choice, Karen decided she's just rather be wet. After the rain, she finally got to do her business and returned to the spot we had staked out, looking like a drowned cat. I started to gather up our stuff, figuring she'd want to leave. Karen said she was as wet as she was ever going to get so we just stayed and enjoyed the rest of the concert. I believe my daughter has my Tornado Jam and Maines Brothers T-shirts with her up at Tech. I think I still have my T-Jam cap here somewhere.
Your dad must be Corky Oglesby, and I'll be he knows my dad, Gerald Rogers. After he coached at Monterey, where he gave Gerald Myers his first coaching job, my dad was the public address announcer for Tech football and basketball for thirty-one years.
Though many of my growing-up friends have left Lubbock, I still have a good friend there who works at the A-J, Joe Gulick. I'm mostly an old talk radio junkie these days, but I still have all the Maines Brothers albums, several Joe Ely albums and Terry Allen's "Lubbock...On Everything" album, all on vinyl. I'll have to find those CDs, or figure out how to convert my albums to MP3s so I can share them with my kids.
Thanks again for a great website and I'm looking forward to checking out the rest of it. I had searched in vain for a Maines Brothers website for several years, and my wife told me yesterday that they finally had one. I had toyed with the idea of putting up a fan site for some time but never got around to it. A Google search for "Maines Brothers Band" led me to your interview with Lloyd, the Tornado Jam stories, etc.
Steve Rogers
---
From: Freddie Steady Krc
Sent: Thursday, January 17, 2008 7:27 AM
Subject: Re: WHAT'S NEW
Hey Chris,
Know anything about Lanny Fiel? He's very talented, from Lubbock and still lives there. Played and recorded with Jimmy Buffet in the early days.
I met Lanny in the 90s. He produced an R C Banks record I played drums on and I got to know him pretty well. I returned to his home studio in Lubbock a few years ago to play drums on Lanny's record of his wonderful original songs. In the process of spending time with him, I heard quite a few stories. He was really the first guy of all that Jimmie, Butch, Joe & Terry gang to leave and make his mark.
Also, do you know Ralph De Witt of Ralph's Record Store? There's another
guy who is definately part of the fabric of Lubbock. Not a musician, but
a music person.

Your pal,
Freddie Krc


---
From: Debora Parks
Sent: Wednesday, January 16, 2008 10:55 AM
Subject: "sky" short film premiere
hey chris--i lived in lubbock for a long time; i went to lubbock high and texas tech. my best friend was (and still is) curtis cates. i was married to chex parks for 5 years. my ex brother-in-law is leland parks (bass player in austin). i've lived in los angeles for about 20 years. i've included some brief information for you regarding my latest project...thought you might be interested...
the short film's website is: www.skyshortfilm.com
my website is: www.deboraparksdesigns.com
Sincerely,
Debora Parks
Sent: Tue, 5 Feb 2008 12:09 pm
Subject: sky short film


hey chris--fyi: our short film, "Sky," was accepted to the san francisco independent film festival and the 32nd cleveland international film festival. i've attached a copy of our movie poster--enjoy! thanks for the exposure!
Sincerely,
Debora Parks
---
From: Bob Livingston
Sent: Wednesday, January 16, 2008 10:49 PM
Subject: Re: WHAT'S NEW
Chris- I'm in Thailand playing the craziest tour of all. spent 2 weeks in Vietnam playing sometimes twice a day and now here. the king's sister dies and a lot of shows were cancelled for a mourning period but's we've been playing a t colleges. my guitar was smashed on the trip, we've been crazed and exhausted and want to get home. playing for the US Ambassador's party tonight.
check out my blog: http://boblivingston1.blogspot.com
see you soon,
bob

---

More Reader Mail
click here to read more archived letters from our readers