Fire in the Water, Earth in the Air: Legends of West Texas Music
by Christopher Oglesby
"Indeed, Oglesby's introduction of more than two dozen musicians who called Lubbock home should be required reading not only for music fans, but for Lubbock residents and anyone thinking about moving here. On these pages, music becomes a part of Lubbock's living history."
- William Kerns, Lubbock Avalanche Journal
---
Sandstorm Picnic, Lubbock music showcase in Austin
by Chelsea Roe, contributing writer - April 26, 2008.
Chelsea Roe is a contributing writer for virtualubbock.com. She lives and writes about her life in Lubbock. This article originally appeared in the Texas Tech University Daily Toreador.
---
At 7 p.m. Friday, the torch officially was passed.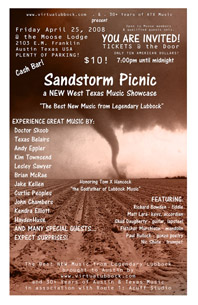 Legendary Lubbock musicians paid tribute to the new wave of Lubbock music sweeping across West Texas at the "Sandstorm Picnic," which was hosted at the Moose Lodge on E.M. Franklin Avenue in Austin.
Innovative artists Tommy X Hancock - the godfather of Lubbock music, Joe Ely, Terry Allen, Natalie Maines and, of course, Buddy Holly all originated from Lubbock, the city of sandstorms and firewater, and they once reigned as royalty. Though their influence still holds strong in this city, these giants now gracefully and willingly have been pushed aside.
A new regime has taken over Lubbock, and Friday night, it showed Austin why the best music comes from the west. Only out here would you find a mandolin, a trumpet and an accordion - along with guitars of all sorts and drums - on stage at the same time. Not just that, but only at a party celebrating West Texas music could you find Tommy X Hancock - dressed head to toe in a slick white suit and hat - still getting down and more funky on the dance floor with his wife than people half their ages.
And only here could they manage to make the stage full of talent not sound cluttered or like the musicians were competing for attention.
Instead, it only turned them on more. The opportunity to play with people they not only loved like brothers but respected like authority was something no one wanted to miss out on. They were feeding off each other's energy and driving the sound harder and like never before. During the set for Lubbock's newly elected king - Doug "Dr. Skoob" Haines - the dance floor finally began hopping as the residents of Austin who came out to catch the Lubbock showcase became enthralled.
In fact, Austin has been so enthralled with the idea of a Lubbock showcase down south that radio stations played selections from the headlining artists all day prior to the show. Representatives from all sorts of media outlets were present to cover the event.
The bill for the show was comprised of what many have argued are the most interesting musicians you can find here. Artists like Doug Haines, Andy Eppler, Nic Schute, Joel Smith, Mike Bernal, The Texas Belairs, Lesley Sawyer, Brian McRae, Kim Townsend, Jake Kellen, Curtis Peoples, John Chambers, Kendra Elliot and Hayden Huse represented the Hub City with pride.
The event cost $10 - an awfully small amount to pay for such a large amount of talent. It was well worth it. The almost seven-hour drive was well worth the trip, too. It was even worth the power outages resulting from the large storm, and the lack of the sand was the icing on the cake.
All in all, Austin got a taste of the crazy weekends spent in Lubbock listening to great music and dancing with great friends, but one never fully can recreate the atmosphere of West Texas - no matter how hard you try. You literally have to be here to see it before you ever really can appreciate it for what it is. Watching the raging storm roll in on the back porch as the music sounded in harmony with the rain, however, came pretty damn close.
---
More Articles by Chelsea Roe - Chelsea Roe is the music critic for the Daily Toreador at Texas Tech University
---
Return to Stories