Fire in the Water, Earth in the Air: Legends of West Texas Music
by Christopher Oglesby
Published by the University of Texas Press:
"As a whole, the interviews create a portrait not only of Lubbock's musicians and artists, but also of the musical community that has sustained them, including venues such as the legendary Cotton Club and the original Stubb's Barbecue. This kaleidoscopic portrait of the West Texas music scene gets to the heart of what it takes to create art in an isolated, often inhospitable environment. As Oglesby says, "Necessity is the mother of creation. Lubbock needed beauty, poetry, humor, and it needed to get up and shake its communal ass a bit or go mad from loneliness and boredom; so Lubbock created the amazing likes of Jimmie Dale Gilmore, Butch Hancock, Terry Allen, and Joe Ely."
"Indeed, Oglesby's introduction of more than two dozen musicians who called Lubbock home should be required reading not only for music fans, but for Lubbock residents and anyone thinking about moving here. On these pages, music becomes a part of Lubbock's living history."
- William Kerns, Lubbock Avalanche Journal
---
---
February 14, 2008
Lubbock Memorial Civic Center Theater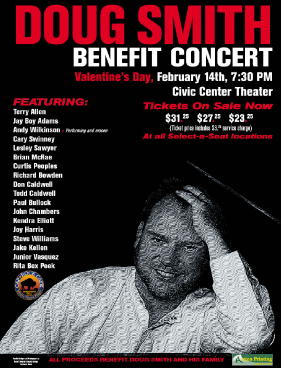 West Texas piano legend Doug Smith suffered paralysis from a severe back injury in a single-car accident on July 25, 2007. Back in West Texas and continuing physical therapy, Doug shows marked progress toward recovery. On February 14, 2008, an amazing group of West Texas musicians, including Terry Allen, Richard Bowden, Jay Boy Adams, Cary Swinney, Lesley Sawyer, Brian McRae, Todd Caldwell, Don Caldwell and many more -- gathered in Lubbock, Texas at the Civic Center Theater to honor Doug and raise money for his family and continuing therapy. The night featured over four hours of live, original music by more than a dozen artists.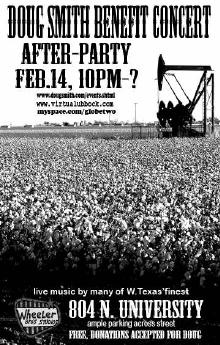 And afterwards, Chris Oglesby author of Fire in the Water, Earth in the Air: Legends of West Texas Music and editor of virtualubbock.com, hosted the exclusive after-hours party, along with Jeff Kehoe of 30+ Years of Texas Music, and Wheeler Bros. Studio located @ 804 N. University. Free admission; donations for Doug Smith were accepted. Several local musicians performed, including Los Sonsabitches, Doctor Skoob, and Andy Eppler, and many other special guests joined in on the fun.
The party lasted into the wee hours thanks to keg beer provided by virtualubbock.com, and all the great minds and personalities who gathered at the fantastic venue provided by the Wheeler Brothers. Good times in the Hub City!

Photos and video of this unforgettable night of music, joy, and love.
---
AMAZING GRACE - Doug Smith's Return!
This video is of the grand finale, featuring Doug's first performance on piano since his injury. Please note that Doug has only limited use of his right hand at this time. We dare you to keep a dry eye as Doug Smith and the band perform "Amazing Grace." The show was produced by Alan Crossland. Brian McRae led the stage band.

Exclusive video from backstage by author Christopher Oglesby.
More exclusive video from the concert

Brian McRae sings the blues for Doug Smith; Todd Caldwell - organ; Joy Harris - bass; Steve Williams - guitar.

Lubbock legend Jay Boy Adams - vocal & guitar; Don Caldwell - saxophone



Lesley Sawyer, with Cary Swinney, Richard Bowden and Brian McRae


John Chambers and band debut John's song "Lacey"

More concert video to come soon! (3/05/08)
Terry Allen, with Doug Smith's singing debut!!!
---
Video and photos of the post-party hosted by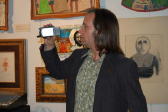 www.virtualubbock.com,
30+ Years of Austin & Texas Music,
and the Wheeler Brothers Studio.
Exclusive VIDEO by Chris Oglesby
shot live at Wheeler Bros. Studio


Los Sonsabitches, featuring co-host Bryan Wheeler on vocals, Shad Daugherty - electric guitar, Nic Shute - horn; drums - ?

Doctor Skoob and friends; Brian McRae -drums; Kim Townsend - bass; Nic Shute -horn; Austin Davis - electric banjo

Cary Swinney with "Sandstorm Picnic" (impromptu house-band)
---
PARTY PHOTOS (from Lubbock Online and Jeff Kehoe)
-CLICK THUMBNAILS TO ENLARGE-

---
Read all about it!
Recommended reading about the festivities of 2/14/08: